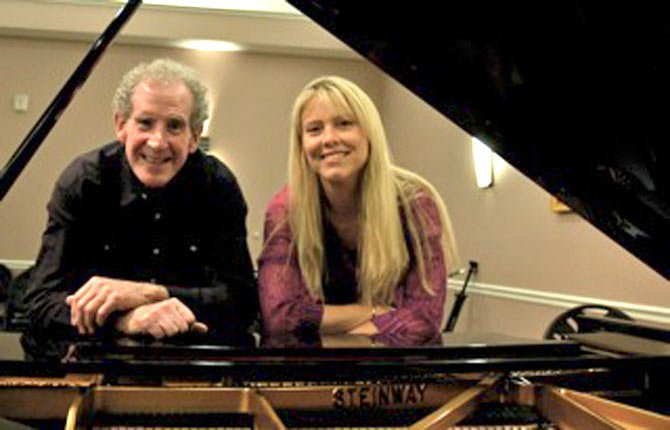 Walworth Foundation Recital Sunday
The Walworth Music Foundation is holding its third annual fall fundraising recital this Sunday, Oct. 13.
The program includes piano performances by local professionals Rule Beasely and Robert Tupper in addition to Columbia Gorge piano teacher Diana Beterbide, who will be joined by her student Zaira Castillo. Pieces range from the early Romantic period work of Franz Schubert to twentieth century Russian composer Sergei Rachmoninov.
The recital is scheduled to take place this Sunday at 3 p.m. at the Christian Science Society 701 Washington St.
Since its inception in 2004, the Walworth Music Foundation has aimed to assist motivated k-12 students who are both residents of the Columbia River Gorge and face financial challenges that make furthering their musical educations a challenge or, in many cases, almost completely impossible. What the foundation does is provide these children and young adults with the means to improve their skills through the private instruction they would otherwise never have been able to access.
Founder Lloyd Walworth said the emphasis on private lessons is due to the "special teacher-student relationship" they foster and the importance of individually-focused lessons to a quality musical education.
"I grew up on a farm with four brothers, and we were all very musical. Our parents were able to afford private lessons, but not all families are like that… I'm playing the Bach cello suites right now just for fun, and that's because I had access to those private lessons when I was a kid."
This, he said, is why the foundation decided to have such a specific focus in making sure that the students "be grounded" in musical training and experience at the individual level with guaranteed access to invaluable "one-on-one" mentorship.
Typically serving five to ten student musicians a year, this year's recipients are already off and running with their lessons. The students this week's recital is designed to benefit are those future applicants who will be in need of the foundation's support by September of next year.
Although the foundation's recipient pool has been primarily composed of piano students, Walworth says with a laugh that, "We would support the dedicated bag pipe player if they applied… That would be great!"
Walworth also remarks that the foundation's been around long enough that they've had a few students "age out" of the program after being supported in their musical educations for years.
"After 43 years of teaching, of being so connected (to the kids) on a day-to-day basis, I missed having that connection once I'd retired… So to still be able to do something that makes a difference in kids' lives— talk about gratifying!"
While admittance to the recital is free, Walworth said donations to the student fund are greatly appreciated.
"People should come to not only enjoy the wonderful performances of a few of our best local musicians," Walworth said, "but also to lend a hand in supporting next year's foundation kids… There are families out there who are really struggling to support their children's interests, which is why events like this are so important to help us reach out to the community."
Guests at the Civic Auditorium's piano gala this Saturday evening will be entertained by a performance that has become something of a rarity in modern days: a classical dual piano performance.
"There's been some superb music written for two pianos, but it isn't performed very much," said Ron Potts, one half of the virtuoso piano due of Potts and Karen Eddleman. Doors open at 6:30 p.m. for the Saturday, Oct. 12, event, which features elegant hors d'oeuvres from the Concourse A Café in Dallesport. Potts and Eddleman take the stage at 7:30 p.m., and will follow their performance with a meet-and-greet. Mid-Columbia Medical Center is the title sponsor.
The concert launches the Civic Theater Rehabilitation Capital Campaign. Engineering and architectural plans are under way. The campaign represents the final push to raise money to restore the Civic's theater to its original splendor.
"There are only a handful of true professional duo pianist teams in the world, really, and we thought we'd try our hand at putting together a series of performances and performing them," Potts said. "We love the music. We love playing together. It's very different to have two percussion instruments, which pianos are, to sound like they're in sync all the time. You have to feel the music and sense what the other person is going to do. Otherwise, it's clickety clack."
One of the pianos featured at the concert is the Grotrian-Steinweg concert piano housed at the Civic. It was purchased on behalf of the Mid-Columbia Music Teachers Association in 2005 as a result of a fundraiser led by Jill Minnick and a grant from the Oregon Cultural Trust. The piano has been housed at Columbia Gorge Community College, without charge, because the Civic has not had a place to keep it, said Rebecca Gooch of the music teachers association.
"Now that the Civic is in a position to build a temperature-controlled box for it, they are ready to finally have it at the Civic," Gooch said. Both pianos will be acclimated and tuned before the concert.
Potts and Eddleman launched their piano duo in 2010, when the pair, both classically trained pianists, decided they wanted to explore the works written for two pianos. Two-piano music was popular in the late 1800s and quite a few works were written at the time. The duo's interpretations of works by Alkan, Mozart and Piazolla will be featured in the concert.
A performance by the duo in Liechtenstein drew raves: "a veritable feast for the ears," "the duo brought goose bumps to the audience," and "their performance of works by Astor Piazolla brought the audience to their feet."
Potts and Eddleman, who are former Mosier residents, have also done works for four hands on one piano, which Potts said provides added challenges. He said the performance is "more of an acrobatic feat. It's sort of a dance. You never know what's going to happen."
Eddleman received her bachelor's degree in piano with James Steem and flute from Florida State University and a master's in piano performance from The Manhattan School of Music under Solomon Mikowsky. For seven summers she was a scholarship student of Herbert Stessin of the Julliard School at the Aspen Music Festival. She has performed in Argentina, where she learned to play with tango performers and competed as a chamber musician. After winning first prize in the Pau Casals National Chamber Music Competition, her ensemble was awarded six weeks to study with renowned chellist Luis Claret Barcelona, Spain.
Potts is a native Oregonian, who also had a solo career, though he pursued a career in emergency medicine before retiring in 2004. He has played piano since age 4 and gave his first public recital at 8. Over the years, he has given many benefit recitals for humanitarian, visual and performing arts organizations. He studied with Donna Eason, a pupil of Theodor Leschetizky, and Paul Schenly at the Cleveland Institute of Music, among others.
"I became interested in the world of amateur piano competitions several years ago," he said. "I was a finalist at the Seattle International Piano Competition in 2008, receiving audience favorite award, and I placed third at the Bosendorfer Vienna International Competition for Amateurs in 2009."
Mark Seder of Seder & Associates architects is working on the engineering and architectural reviews for the theater, which is preparatory work for renovation, said Steve Lawrence, who leads the Civic board in addition to serving as The Dalles mayor.
The Civic has also enlisted the volunteer help of retired federal employee Merlin Berg to write grants.
"This is the only big event [of the capital campaign]," Lawrence said. "We will then be starting to look at corporate donors, large donors and government donors, which will all occur before we submit applications to foundations. We are working through the MCEDD [Mid-Columbia Economic Development District] Agora Program." Agora links likely funders with projects in need of funding. Lawrence said it has been "informative."
Asked how much needs to be raised to complete the main project, Lawrence said, "We think the total will be about $3.5 million."
That's less than projections made in 2012.
"We're looking at what we can do without having to do a major remodel of the areas we don't need to do right away," Lawrence said. "Our goal is to get the theater up and running, then, if we want to do more remodeling underneath the stage or in the dressing room, we can tackle that later. But let's get the theater up and running. The gala event is truly intended to showcase the wonderful theater that it is."
"It's the only venue of its size between Portland and Boise and that's its importance," Lawrence added. The theater won't be the only thing showcased at the event. Lawrence, longtime Civic carpenter and board member Gerald Richmond, and Civic supporter Randy Haines will all be decked out in tuxedos for the event.
The Civic has retained the backdrop from the recent downtown fashion show and added new carpeting in the foyer and aisles of the theater with the help of Oliver's Flooring.
"We're trying to make it a memorable event," Lawrence said. "There will be free champagne and we're going to dress up."
Tickets to the benefit are $50 available at Klindt's and Waucoma bookstores.