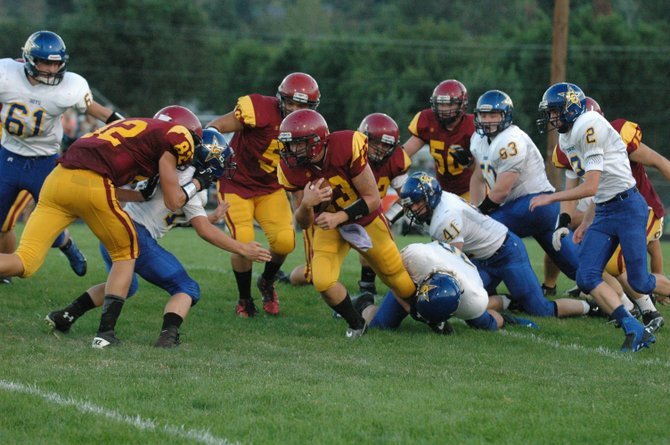 Finishing drives has been a focal point for The Dalles Wahtonka football team.
It starts at 7 p.m. tonight against Jefferson.
Last week in a 28-14 loss at home to 4A Ridgeview, when the game was scoreless, the Eagle Indians had a pair of first-half drives in the red zone, but turnovers eliminated any scoring, thus leaving the Ravens close.
"If we cash in on those, it is a different ballgame," said TDW head coach Steve Sugg. "In high school football, it is a momentum thing and we just could not take advantage. When you play an offense like that, you need to score early and get them out of synch in what they want to do, and take them out of their comfort zone, but we could not do it."
The Eagle Indians amassed 270 yards of offense, 243 through the air, against Ridgeview and got two scoring grabs by senior wide receiver, Austin Dehart.
With Ridgeview running its ball control offense, however, TDW mustered nine first downs and 13:36 of possession time.
"We got in a groove there in the third and fourth quarter, but we ran out of time," Sugg said. "I think we ran 50 plays tonight. We have been averaging like 80 plays a game, and in a couple of games, close to 100. So we ran only half the plays we normally run so it cut down on our opportunities."
The Tribe will match wits against a Jefferson defense that is ranked ninth at 18 points a game.
Three times this year, the Democrats have allowed less than 10 points in a game, with three of their four wins coming when that occurs.
While Jefferson's defense is lights-out, the offense has struggled at times, as three times this year, they have been held to less than 19 points.
TDW's defense will once again prepare for a physical ground game in the same way as the Ridgeview matchup.
The Ravens rushed for 4.9 yards a carry and 347 yards, holding the ball for more than 34 minutes.
They also converted 7 of 14 third downs, so Rich Belanger's group will need to make the necessary stops and create turnovers to give the offense a chance.
In order to stop their current two-game losing streak, the Tribe needs to play one of their better games against the state's No. 15-ranked team.
Sugg said the goal is to win out and finish the season 6-3 and make the playoffs – anything can happen from there.
"We just need to put these two losses behind us and learn from our mistakes," Sugg said. "We need to shore things up, keep pushing and getting after it. We are close and the kids know that. We are close, but we are still missing a few blocks here and there or making a poor decision here or there. We hope that one of these weeks we can put it together."
Radio station 1440 AM will broadcast the game.
Rangers ready for test versus Ione
Cole Parke, Nick Little and the rest of the Dufur Rangers have to be licking their chops for this matchup.
The state's No. 2 scoring offense gets the opportunity to test their wares at 7 p.m. tonight against an Ione defense that is ranked among the worst in the 1A classification, at 56 points a clip, including 68 last week in a 20-point road setback to the Sherman Huskies.
Coming off a bit of a slow start last weekend, the No. 5 Rangers used their running and passing game to slice and dice St. Paul for 447 yards in a 64-30 rout.
At one point, St. Paul led 22-16, but the Rangers then scored on five consecutive first-half possessions adding to build a sizeable cushion from then on.
Head coach Jack Henderson liked the bounce back ability his squad displayed.
"I think the kids just threw the switch," Henderson said. "This is really the first time all year that this group has had to bust through the wall. This was the first time they had been faced with adversity all season long really and they just came through and played well."
Of the 447 yards gained, Parke toted the rock 10 times for 138 yards and a pair of scores.
From the pocket, the senior completed 7 of 15 passes for 128 yards and three tallies.
Trever Tibbets rushed 16 times for 106 yards and two paydirt trips, and he tacked on five catches for 62 yards and two touchdowns.

Another element parking the turnaround was the stingy Ranger defense.
In all, Dufur forced St. Paul into four turnovers and six punts, but from the one minute and 36 second mark of the first quarter on, the Buckaroos managed just 134 yards of offense.
Dufur's defense allows 23.6 points a contest, good for 11th in the state.
One thing of note is that Ione has an ability to put some points on the board as well, especially after last week's season-best 48-point output.
Parke assured that his team would not take the upset-minded Cardinals lightly by any stretch.
"We are just going to work on not starting slow," the all-state quarterback said. "Our goal is to play well for four quarters, instead of just coming out in the second quarter and playing hard."
The undefeated Rangers still have four games left on the docket, the first tonight, but then the task gets tougher with matchups versus Sherman, undefeated Condon and Crane.
Dufur is not looking past Ione, however.
"These boys are developing a state of mind that is similar to our good teams from the past," Henderson said. "Just the way they act and go to work. You can actually coach them and they are coached pretty hard. They continue to work hard and they continue to keep going in the right direction."
The game will be broadcast on 102.3 FM.
Huskies try to derail CW train
Of all the matchups across the 1A football landscape, tonight's Sherman and Condon-Wheeler contest is one of the more intriguing.
The Knights boast an unblemished 5-0 record with an average margin of victory at 29.2 points a game.
Condon ranks 11th in the state in scoring offense with 264 points racked up.
Last week, the Knights ran the ball with relative ease against Echo with 544 yards on the ground for a robust 11.1 yards a carry.
Zach Irzyk and Trevor Woody both eclipsed 100 yards rushing for the Knights, who scored 30 straight points in the second half of their 52-point triumph.
Sherman defensive coordinator Kyle Blagg is well aware of the threats Condon poses to his crew.
"Condon-Wheeler plays a physical style of football on both sides of the ball," he said. "They line up and hit their opponent in the mouth play-after-play."
In order to stop the Knight's power running game, Sherman's defense, which has given up 244 points in six games, will need to be geared up for the physical challenge.
"Ideally, we would like to be able to play our base defense for four quarters," Blagg continued. "That being said, we have been working on a couple of different fronts and coverages to give them a different look if and when we need them."
Much in the same vein, the Husky offense is at the top of the state in points scored (254) and uses its three-pronged rushing attack of Blake and Brett Evans along with Maverick Winslow to slow teams down.
Any one of the trio can break through for long gains. Senior quarterback Nick Coleman has steadily become a major threat as well with his arm and his legs.
Three times this year, Sherman (4-2 overall, 2-0 league) has scored more than 62 points, all wins.
"It's no secret that we like to run the ball," Blagg said. "I expect them to stack the box and put a lot of pressure on our o-line to pick up the blitz."
Sherman's offense will contend with a Knight defense that has been steady in its own right, allowing 23.6 points a contest.
This group held strongest against Echo's running attack.
The Cougars managed just 171 total yards and 14 points in a 66-14 setback.
With the recent additions of Daniel Aguilar and Austin Kaseberg, the Huskies have developed more depth.
Added to that, the young freshmen players appear to be making gains on both ends of the field.
This entire group has bought into the system and now it appears that a postseason berth is well within reach.
It is still a critical challenge to perfect the cause opposite a rough and rugged team in Condon -Wheeler playing its best ball in some time.
"I think it's fairly straight forward – the team that plays a better football game will win," Blagg added. "By that I mean the team that blocks and tackles best, limits penalties, and eliminates turnovers will come out on top."
Action starts at 7 p.m. tonight in Moro.