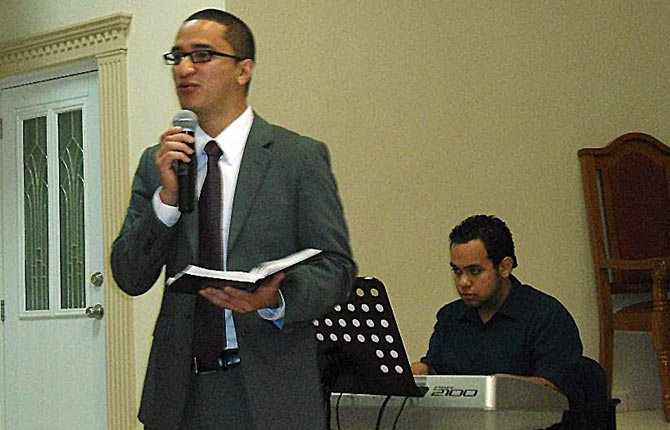 The Dalles — A new, 50-strong Hispanic congregation has started at the Seventh-day Adventist Church, all at the suggestion of a member of the church's congregation.
Seventh-day Adventist Pastor Del Griebel said, "One of our members, David Cox, he's an electrician here in town, and he just had a brainstorm that we should hire a bilingual Hispanic man and see what happened and everybody thought, much as I did, that it was a little bit of a crazy idea.
"But all of a sudden, 50 people started attending," Griebel . "I just think it was the right place at the right time."
The church hired Sergio Ochaeta, a seminary student from Puerto Rico, to come to The Dalles for the summer to start the Hispanic congregation.
"He just was Mr. Charisma," Griebel said. "Young, charismatic man and the time just happened to be right in this little community for a band of Christians to start to meet together."
The Hispanic congregation is drawn from a wide area, including Dufur, Parkdale, Trout Lake and Wahkiakus as well as The Dalles.
The group meets Saturday at the former building of the Seventh-day Adventist Church, at 1100 Pentland St. The Anglo church now meets at the Adventist elementary school, at 3339 E. 13th St, Griebel said.
Griebel is technically the pastor of the congregation, he said, and he gives a sermon to it once a month, with someone translating for him.
"I'm just kind of supporting the group," he said.
The rest of the month, Enoch Marquez, from Portland, has been leading sermons, and a new, permanent replacement has just been selected. Hipolito Moralez, who was a pastor in Kelso/Longview, will be the new pastor of the congregation.
"He's moving here to town," Griebel said.
Seventh-day Adventists differ from other Protestant denominations in that they worship on
Saturdays. The faith began in the 1840s in New England as part of
a religious revival.
The name of the church, Seventh-day
Adventist, refers to celebrating the Sabbath on Saturday, which was the tradition of the early Christian church for hundreds of years, Griebel said.
"Adventists see themselves as an ongoing Protestant Reformation. Luther got it started and Adventists got in that line that we need to keep this reform," Griebel said.
The Protestant Reformation of the 15th Century saw the creation of new churches as reformers broke with the Roman Catholic Church.
Adventists also believe the Second Coming of Christ is coming soon.
In fact, when the church was formed, it was believed the Second Coming would be in the 1840s, Griebel said.
Adventists have the second largest religious education system in the world, behind Catholics, and also have an emphasis on health and evangelism, he said.