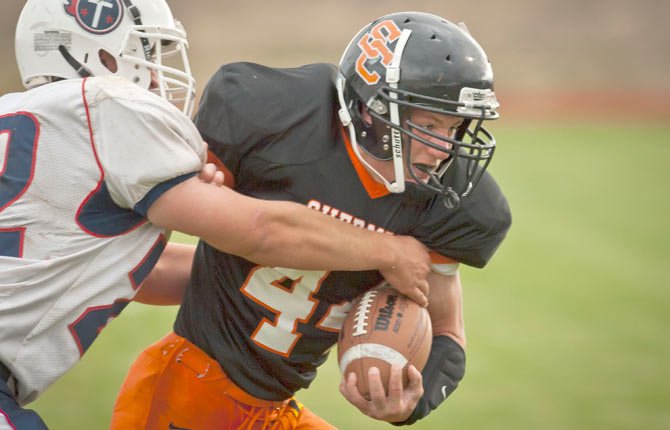 Entering Thursday's tilt with undefeated Condon-Wheeler, the Sherman Huskies knew they were about to engage in a 15-round slugfest.
The Huskies answered the bell with more than 500 yards of offense and posted a 46-20 win over the previously undefeated Knights in a Big Sky Conference gridiron battle in Condon.
"I was proud of how physical our kids played," said Sherman coach Todd Swan. "You could see that they wanted that game. The offensive line of (Isaiah) Coles, (Wyatt) Stutzman, (Cody) Jauken, (Kevin) Hart, and (Austin) Kaseberg had one of the most dominating physical performances I have seen since I have been at Sherman County."
Leading the offensive charge was the brother act of Blake and Brett Evans, who accounted for 407 and three touchdowns.
Blake Evans totaled 256 yards and two scores, surpassing 250 yards for the second straight game. Brett Evans tacked on his second consecutive 150-yard output with 151 yards and a trip to paydirt.
Senior quarterback Nick Coleman scurried home for a rushing score, and he connected on air marks with Kyle Fields and Kaseberg.
"Nick Coleman continued to lead the team with poise and intelligence as he orchestrated our option running game to perfection," Swan said. "We have really focused on improving our passing game. Tonight Nick threw very important touchdowns to Austin Kaseberg and Kyle Fields. Fields' touchdown was huge for us. Not only was it a high degree of difficulty, but it solidified our lead and in a sense, put the game away."
Aside from the offensive exploits, Sherman's defense stepped up to the plate in a major way, holding a stout Condon (5-1 overall, 3-1 league) to its lowest score of 2013.
It is quite an accomplishment for the Huskies, who had given up 214 points in their previous four matchups.
"The defense has been slowly getting back to its early season success," Swan said. "Last night, we only allowed two total scores until midway through the fourth quarter. In the end, to hold Condon's high-powered scoring attack to 20 points is huge. The quality of defense we have played has been a direct result of the players. I would hate to single anyone person out on the defense because they are truly producing as one unit. It is fun to watch."
Dufur starts slow, finishes strong
While curiosity has proven to kill some cats, complacency assuredly can derail any football team's championship hopes.
The No. 5 Dufur Ranger stumbled out of the gates early, but restored order in time to break open a 14-all first quarter deadlock for 50 consecutive points to pull out a 64-20 victory over Ione Thursday in Big Sky Conference gridiron action at Dufur High School.
Dufur head coach Jack Henderson was irked by the way his team kicked off this division battle.
"We weren't ready to play at the start," he said. "I'm afraid our kids have been listening to how good they are and not how good they could be. I do expect this group to have greater focus this week and amp up their performance."
Dufur scored on a 80-yard kick return by Cole Parke and a 16-yard pass from Parke to Nick Little, but every time the Rangers landed a jab, the Cardinals countered with scores of their own.
However, once the dust settled a bit, Dufur reeled off four straight first-half touchdowns by Parke (30-yard run) and Trever Tibbets (5 and 3).
Parke capped the scoring spree with jaunts of 3 and 2 to move the Rangers ahead, 52-14 at the break.
In the third quarter, Parke showed off his arm a bit with a 24-yard touchdown pass to Bailey Keever and a 25-yarder to Jake Little to give the Rangers a 64-14 at one point.
Tibbets paced Dufur's ground game with 12 carries for 68 yards, and Keever tacked on seven rushes for 37 yards.
Kolbe Bales added seven yards; Kurt Nuevo managed two yards, and bruising fullback Jon Keyser rumbled for eight yards.
Parke went 6 for 13 through the air for 126 yards, and Keever was his favorite receiver with three grabs for 49 yards.
Jake Little and Tibbets had two catches each for a combined 77 yards.
Although blessed with the state's best scoring offense, 434 points in seven games, Henderson desires added consistency more than anything else.



"We showed flashes of good things, but we never really played consistently all night," he said.
Dufur (7-0 overall, 3-0 league) hosts Sherman (5-2, 3-0) at 7 p.m. next Friday where first place in the Big Sky will be up for grabs.