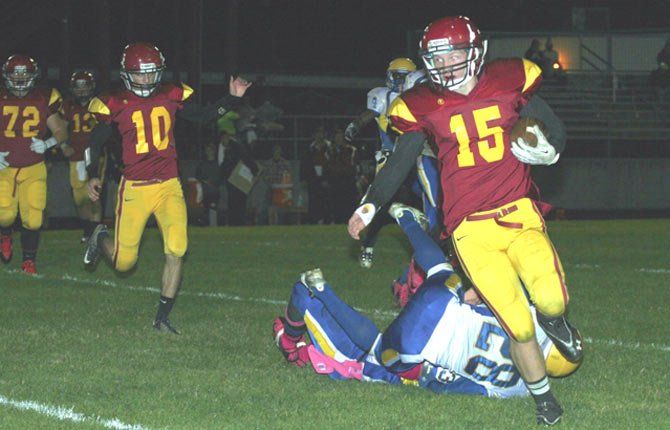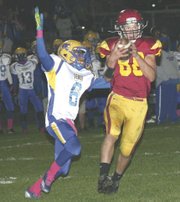 After 48 minutes of football, The Dalles Wahtonka senior running back Blake Diede had a noticeable limp as he walked from the team's post-game huddle.
Everything hurt.
At this point in the season, every player is dealing with a few bumps and bruises — it is a matter of fighting through those for the good of the team.
Diede rushed for a career-high 119 yards and added five catches for 98 yards, and the No. 13 Eagle Indians overcame a 15-12 halftime deficit with a 24-6 output in the final 24 minutes to defeat No. 17 Jefferson Thursday in 5A football action in The Dalles.
"We are down on numbers, so the little tiny injuries are going to have to wait," Diede said. "I guarantee every single one of us who played tonight is dealing with an injury. We cannot use that as an excuse. Everyone is dinged up. We need to come together and overcome those in order to come out on top."
After a frustrating first half that saw TDW miss on a pair of red zone drives and two other possessions went by the wayside in Jefferson territory, Tribe head coach Steve Sugg challenged his team to come back stronger in the second half.
From the four-minute and 49 second mark of the third quarter on, the Eagle Indians responded with scoring drives on three successive possessions.
"The last couple of weeks, we have been kicked in the teeth a little bit, so I put a big question mark on the board and asked if they were going to fight or roll over," Sugg said. "I had to remind them a little bit about laying it on the line, fighting and having some heart. And they did. They sucked it up in the second half and got the job done."
With less than five minutes to go in the third frame, TDW went on an eight-play drive from Jefferson territory.
Diede had 20 yards rushing and added pair of grabs for 25 yards, including a 19-yard swing pass from quarterback Chaise Shroll.
On third and 1 from the Democrat 3, Shroll punched in a scoring run and added the conversion to give the Tribe their first lead of the game since the opening quarter, 20-15 with one minute left.
Jefferson went three and out on its next time with the ball, and TDW answered with another long drive, capped by a 27-yard strike from Shroll to tight end Zach Nerdin to move T-Dub ahead by a 28-15 margin.
After another Jefferson punt, Shroll and Nerdin hooked up again for 13 yards to move chains down to the Jefferson 3.
On first and goal, Damion Morris capped the drive with a three-yard scamper to paydirt to swell the cushion up to 36-15.
In the second half, TDW racked up 242 of their 456 yards.
Sugg discussed in detail how his offensive coaching staff devised a plan of action to deal with Jefferson's blitzing style.
The coaches instituted a few tosses, had better success with some zone reads and screen passes to loosen up the Democrats little by little.
Jefferson coach Karry Cameron could only stand and watch as his defense was physically dominated by T-Dub's patchwork offensive line, which included a new center, two new guards and a new tackle.
"The biggest thing is The Dalles has a little bit of size," Cameron said. "They were able to beat us down. We just do not have the manpower to compete with some teams. We have two guys over 200 pounds on the team and when you have teams that like to play a physical game, it can wear you down."
Of Jefferson's three scoring drives, the first touchdown came in the opening quarter on a deflected pass for 78 yards by Kaseen McClendon. Another tally came on a drive that started in TDW territory, and the last tally was on a 35-yard pass play where Vaquan Sanders broke a tackle and sped past the Eagle Indian defense to make the score 36-21 with 3:23 left in regulation.
Like much of the story of the Eagle Indians' second-half defense, the right adjustments were made.
Jefferson had five second-half possessions, and managed two punts and two loss of downs to go with the lone scoring play.
They had 13 rushes for 22 yards, went 0 for 4 on third downs and had six of 17 plays go for negative yardage.
"We played a really aggressive defense tonight," Diede said. "I think our coach is proud, our team is proud and I think the community is proud about that. To hold this quick team to about 15 (points) for most of the game shows we can play tough defense."
In all, TDW had 39 carries for 251 yards, as Billy Brace, who had six rushes for 38 yards and a score, followed up Diede.
Devin Wilson had five totes for 54, Shroll scored twice, and the trio of Morris, Payton Eaton and Dominique Seufalemua had four rushes for 24 yards.
In the passing game, Shroll completed 17 of 33 passes to seven different receivers for 205 yards and a touchdown.
Nerdin had three grabs for 38 yards, Austin Wilson added two catches for 21 yards, Eli Holeman amassed 22 yards on his two snares and Austin Dehart went one for 15.
"Our offensive line did a huge job of blocking tonight," Devin Wilson said. "They should get all of the credit for what we were able to do on offense. Blake Diede had a great game too. He was tough. I am really proud of my teammates. We came out and did it."
With the win, TDW is 4-3 on the season, and now they face one of the toughest parts of the schedule in the next two weeks with games at Pendleton and home versus Hood River Oct. 25.
Sugg described it as his team fighting for their playoff lives from here on out.
Diede said it would come down to wanting it more. He is a senior and this is his last run around the track.
"I feel like this is a turning point," he said. "Those two losses (to Hermiston and Ridgeview, leading up to Thursday's tilt) were a big downfall for us, but this win is a turning point for us where we all turn this around for the better."
The No. 13-ranked Eagle Indians (4-3 overall, 0-1 league) next travel to No. 20 Pendleton (5-1) for a league game at 7 p.m. next Friday.
The Buckaroos are in Hood River (1-5) at 7 p.m. tonight for a league contest.