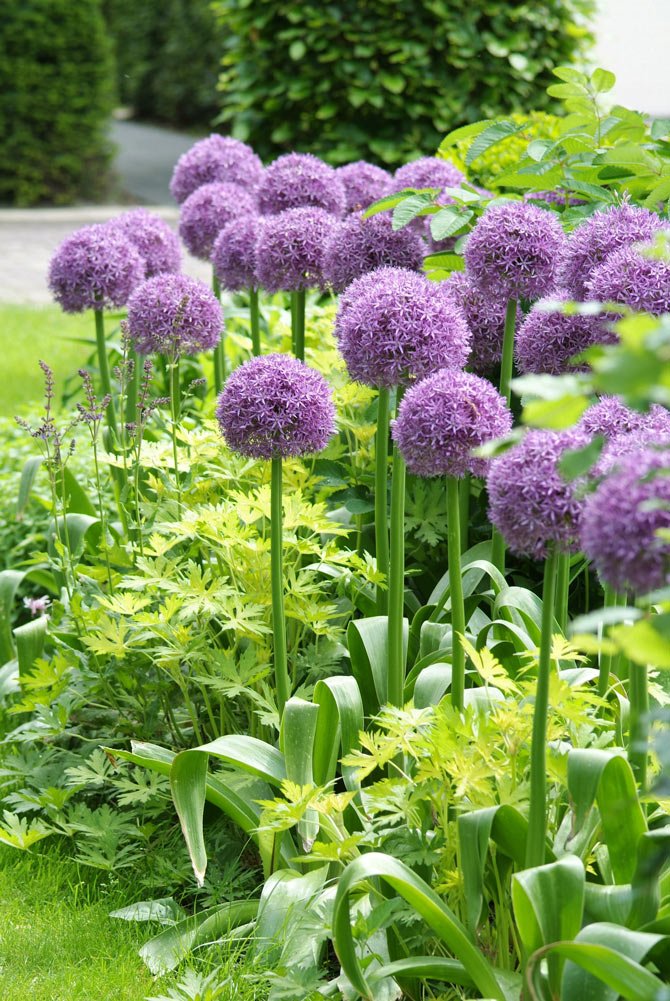 Beautiful and sturdy with a flair for the dramatic, alliums are a graceful way to add color and architectural dimension to a garden.
With large globes of tiny white, purple, yellow or blue flowers that rise from bulbs on slender green stems as high as 5 feet tall, they look like giant, fluffy lollipops — something Willy Wonka would have planted in the Chocolate Factory garden.
Most bloom in late spring or early summer, so they fill the gap between spring bulbs and summer perennials.
They're also easy to grow, and resistant to deer and many other pests.
VARIETIES
While many people think of the trademark Globemasters, there are dozens of varieties of ornamental alliums.
Try the shimmering white flowers of the Mount Everest allium, or the fuchsia with metallic undertones in the Stars of Persia variety, says Kim Fusaro, head gardener at the Mohonk Mountain House resort in New Paltz, N.Y.
If you like the look but need something a bit shorter, Fusaro suggests the yellow shades of the moly Jeannine or the flavum alliums.
Looking to plant allium in a shady spot? Try the triquetrum, also known as three-cornered leeks, which bear delicate white flowers with shades of blue and a triangular stem.
Want something unusual? The drumstick allium produces egg-size (and egg-shaped) heads in a rich burgundy color, while the bulgaricum blooms are creamy and bell-shaped with tinges of green and pink that hang from baseball-size flowerheads.
USES
Alliums are typically displayed best among perennials as a border plant, says Amy Dube, a bulb expert with Dig.Drop.Done, a North American educational campaign promoting flowering bulbs. Hans Langeveld, co-owner of Longfield Gardens in Lakewood, N.J., recommends using some of the shorter, smaller varieties in rock gardens, where they can thrive in the well-drained pockets between rocks. Some alliums can do well in containers, while the larger varieties are perfect for cutting gardens.
PLANTING
Alliums grow best in full sun, though some do well in part-sun or shade, and they prefer well-drained soil.
Plant them in the fall as you would any other spring-blooming bulb. Wait until the weather cools to allow them several weeks to develop a root system before the ground freezes.
The bulbs should be planted at least 6 to 8 inches deep, even deeper for the larger bulbs, which can be the size of a tennis ball.
"The general rule of thumb is to plant bulbs three times the depth of the bulb itself, and then you just want to make sure that the root is facing down toward the soil," Dube says.
She recommends spacing the smaller bulbs about 3 inches apart and the larger ones up to 8 inches apart.
Deer, squirrels and other garden pests don't like the oniony taste of allium bulbs and will generally leave them alone.
---
Online:
Dig.Drop.Done: www.digdropdone.com
HGTV: www.hgtv.com
Longfield Gardens: www.longfield-gardens.com
Rachel Cho Floral Design: www.rachelchoinc.com
Copyright 2013 The Associated Press. All rights reserved. This material may not be published, broadcast.