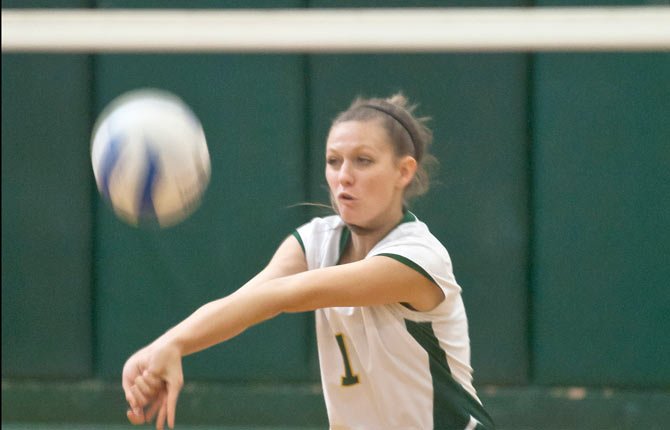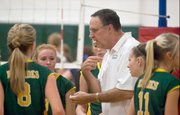 Just when they were going to be counted out, the South Wasco County Redsides found enough in their inner reserves to come out on top when it mattered most.
SWC dug its way out of a 2-0 hole and reeled off three consecutive wins to defeat Echo 3-2 in Big Sky Conference volleyball play Friday in Maupin.
"It was a long, hard-fought match," said SWC head coach Ron Townsend. "(It) was nice to see the girls continue to battle and pull out the win."
The visiting Lady Cougars had things working in their favor early and often in this league match with wins of 25-16 and 25-21 making the difference for a 2-0 cushion.
However, faced with that adversity, SWC inched closer in the third set by running a 25-17 margin to make it 2-1.
Out of the five games, the fourth proved to be the largest margin of victory, as the Redsides had their passing and hitting game right on cue for a 25-12 winner to force a decisive fifth game.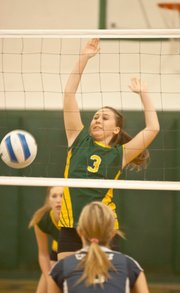 In the fifth game, SWC and Echo traded a few blows throughout, but the Redsides had a few extra tricks up their sleeves to garner a 15-10 score for the win.
One of the biggest areas of improvement shown was in the serving game, where the Redsides connected on 96 of 102 attempts for 94 percent with 12 aces.
"We served well down the stretch and continued to play aggressive against a good defensive team," Townsend added.
Zoe Morelli paced the hitting barrage with 14 kills, and Joy Kelly tacked on eight kills and a pair of aces.
Kelsie Olson notched four aces and three kills, Katherine Popchock was good for four aces, and senior libero Sonya Schmitz had two digs.
Leading up to Friday's stout performance was a dominant effort Thursday in Maupin where the Redsides had everything working in their favor in a three-game sweep over Horizon Christian.
In this match, the Redsides amassed an average margin of victory of 19, setting the positive trend in the opening game with a 25-5 winner.
Horizon put up its best fight in the second game, but SWC still had things rolling for a 25-7 decision before capping matters in a 25-6 route to preserve their eighth sweep of the 2013 campaign.
"We were able to play some different combinations tonight and it was nice to see everyone contribute," Townsend said.
In a season where SWC has already surpassed last year's number of sweeps and non-tournament match wins, there are goals and aspirations of taking this upswing to greater heights in the post-season.
They were able to win one district tournament match last season, and some of the differences have been shown in every match thus far.
"Last year, we did not have as much communication," Kelly said in an earlier interview. "This year, we are really communicating well and the gym isn't as quiet as before. We are definitely getting on the floor and running across the gym to get to balls instead of just letting it hit and being OK with it."
After this weekend, the Lady Redsides head to Moro for a league tussle against the Sherman Huskies, before ending the regular season slate with back-to-back matches Thursday and Friday versus Dufur and Condon-Wheeler.