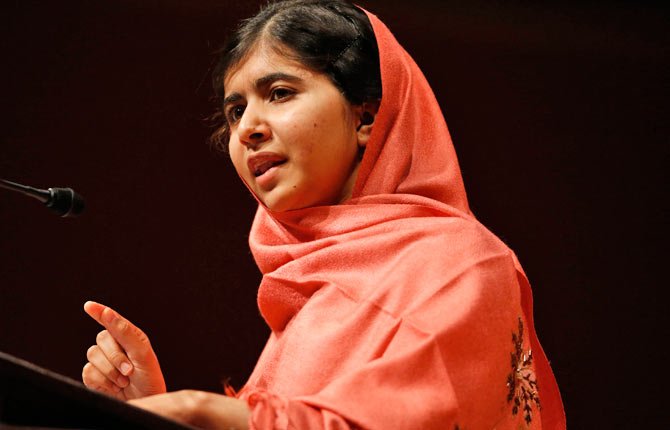 The Norwegian Nobel Committee took a predictable turn in awarding its Peace Prize this past week, selecting a watchdog group working to destroy Syria's stockpiles of nerve gas and other poisonous agents.
As many of its decisions have been in recent years, the move was political in nature — a statement on world affairs and conditions in a nation torn asunder by civil war.
But the committee left a different opportunity sitting on the table, a chance to tell about strife in the Middle East — and to touch on a variety of problems throughout the world on a much more intimate scale.
Among Mahatma Gandhi's famous quotes is this one: "Be the change you wish to see in the world."
Perhaps no one is more an embodiment of that challenge than 16-year-old Pakistani girl, Malala Yousafzai.
Malala was targeted for Taliban assassination for the simple "crime" of wanting to be educated.
Almost exactly one year ago, at an age when many girls in this country have little more on their minds than texting their friends, shopping and the next school test, Malala was speaking up as an advocate for educating women — which runs sharply contrary to Taliban teachings.
"I'm never going to give up," she said, even after repeated death threats.
The militant group tried to make good on its threats. It sent a masked gunman to shoot Malala while she and other girls were riding home with friends. The man identified his target and shot Malala in the head, and injured two other girls.
The assassination attempt drew worldwide attention to the struggle for women's rights in Pakistan. But Pakistan's women are not alone in facing severe challenges.
Globally, women experience sexual mutilation, human trafficking, spousal abuse and imprisonment, ostracism, and barriers to employment and education, among many other forms of discrimination.
While unequal pay, spousal abuse and sexual harassment are perhaps the most talked about challenges of women in this country, all of the global challenges facing women exist within these borders, too.
The United States is on the short and ignominious list of nations that have refused to ratify the United Nations Convention on the Elimination of All Forms of Discrimination Against Women along with Palau, the Holy See, Iran, Somalia, South Sudan, Sudan and Tonga.
Despite her youth, Malala can serve as a role model to all women. But her story has a much broader theme, too.
She is the living embodiment of how individual human beings can make a difference in the world — how they can be the change they want to see.
Had she not been shot, she may never have gained the same level of international renown. Regardless, she spoke out and continued to speak out despite the risk to her life.
Today, she dreams of becoming her country's prime minister in the hope of creating positive change where war and bigotry have caused so many reversals.
Her young life tells the story of the consequences of hate and strife on an intimate, human scale, and it may well serve as inspiration for a new generation of young activists. That story might have reached more young people had the Nobel Committee recognized her.
The committee missed its opportunity to talk about peace at its most basic level.