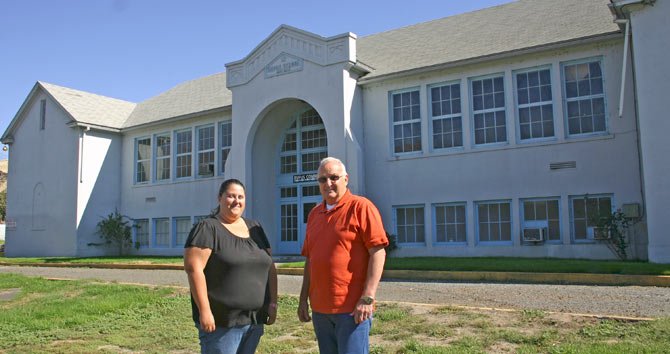 Rufus is ready to do business.
A two-year-old industrial park with 50 acres of shovel-ready land and a brand new 20-lot residential subdivision mean the small Sherman County town's doors are open for businesses and the workers needed to operate them — as well as retirees, recreationists and others looking to locate in Oregon's sun belt.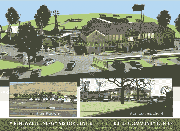 The town's leaders are also working to create a community centerpiece for the town: a community center incorporating a renewable energy visitor center. The center would be a gathering place for the town and draw visitors off the freeway for an interactive and informative experience focusing on the energy resources that surround Rufus.
Before the Columbia River was dammed, Rufus was home to many orchards. But those lands have been submerged beneath the river's backwaters.
"When the aluminum plant [Golden Aluminum on the Washington shore] was running, a lot of people lived here and worked there," said Cliff Jett, who has served as Rufus mayor for the past 15 years. "When it closed, a lot of those people moved on. For the most part we're heavy in retirement-age people."
But that's changed a bit in recent years, as Rufus has become a popular hangout for kiteboarders and windsurfers. Fishermen also fill the town's two recreational vehicle parks in the summer, searching for northern pikeminnow bounties.
"We are getting a few more younger families," Jett said.
Changes in the energy world have also had an impact on the small town of about 250 — 275 during summer recreation season. Today Rufus is a renewable energy nexus, with the John Day Dam snug against its borders and windmills stippling the cliffs on both sides of the river. It also has enough sun to make it a solar energy dream.
"Many people don't think of hydropower as renewable energy, but it is," Jett.
Jett and City Administrator Jaclyn McCurdy have been working with Mark Seder of Seder Architecture + Urban Design of Portland on the design for the center.
"We're telling the stories of renewable energy … in the readily accessible heart of 'America's Foremost Renewable Energy Corridor' … while renewing a community landmark to do it!" is the mission of the project.
The design envisions solar panels atop parking lot canopies, and atop both roofs, and a windmill blade placed out front to show just how large they are, said McCurdy.
"A lot of people just think they're amazing and would like to know more," she said.
The facility would be open almost every day, McCurdy said.
The plan is to renovate the former Rufus School.
"When they took the school out of here they took a central thing out of the community," Jett said. "It was a meeting place where people could come and visit and watch Christmas programs. Our original thrust when we purchased the school and property was to get that central meeting place back — to get that feel back for our citizens. We haven't accomplished that yet, but that's what we're working for."
Jett and McCurdy hope the renewable energy center will create added interest in Rufus from people outside the community.
The main gym would be converted into a hall. Downstairs, the two rooms flanking the entrance would be dedicated to the renewable energy visitor center, Jett said.
Envisioned are OMSI-style interactive exhibits that will appeal to adults and children alike.
"We're at an ideal spot where motorists coming from south, north, east and west can stop," McCurdy said. "It's a middle spot where the kids are getting tired of sitting in the car."
The center could also provide services to the renewable energy industries it hopes to represent.
"Our vision of the thing is to provide a place where we can provide some services to the wind farms," Jett said. "They can have on-the-ground education stuff."
Jett has also been talking to Columbia Gorge Community College about providing educational opportunities there.
"Columbia Gorge Community College welcomes community partnerships, and is interested in exploring use of the facility for its Small Business Development Center, Child Care Partners Resource and Referral, and preparatory studies leading to certificate or degree programs including renewable energy," said Dan Spatz, the colleges chief institutional advancement officer.
The center would also include a commercial kitchen, she noted, and the stage will remain, allowing theater performances, concerts and other cultural events — events that could piggyback off the town's close proximity to Maryhill Museum of Art and the big concerts at Maryhill Winery, both just a short hop over the Sam Hill Bridge in Washington.
The 1929 building is operating now as a community center in a limited capacity, housing the annual Fourth of July and Halloween Celebrations, but the steam boiler has been condemned so the building has limited heating capacity. That means activities like a Thanksgiving dinner and a Christmas celebration had to be cancelled, Jett said. The center could also serve for private events like weddings and trainings. An amphitheater and courtyard will add to the options.
Rufus is also centrally located for meetings, McCurdy noted. The Mid-Columbia Economic Development District holds its annual meetings at the school. State agencies have talked about the prospect of holding their regional meetings in Rufus.
"And we're renewing a community landmark as part of doing it," said Seder, the architect.
But getting to that point is a challenge. The community center project has been in the works since 2006, but finding enough money to totally remodel the building is a big challenge for a small town.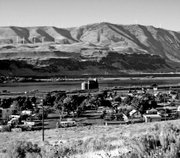 In some ways, the wind industry is already helping. Sherman County has promised money for a matching grant, using money from wind farm payments. The project has also won a grant to do smaller work from the Sherman Development League, another wind power-funded organization.
"We're working on a solar array and part of the grant money is to be used for planning and ground prep," McCurdy said.
She and Jett have made Power Point presentations in Portland before the big wind energy players and at OMSI, which they say has been interested in becoming involved.
"They are more than willing to help us get that going," McCurdy said, "but we have to have the building renovated, the heating and electrical upgrade, and the rooms ready for them to put the displays in."
Overall, the cost of the project is expected to be about $8 million. Rufus is getting its plans in place to apply for more and bigger grants soon from outside Sherman County.
Wind energy firms have also expressed interest in the project, Jett said.
"Like everything else, they're really willing to do something if there's something there first," Jett said.
The project is part of a bigger plan of renewal and revival in the sleepy town of Rufus. The Oregon Department of Transportation is in discussions about rebuilding old Highway 30, which serves as the town's main street in a project similar to what was done in Moro and Maupin years earlier.
Matching that project with the new industrial park, the new housing development, the community center and the growing recreational interest in the town and Jett hopes Rufus has a winning recipe to attract more residents and commerce.