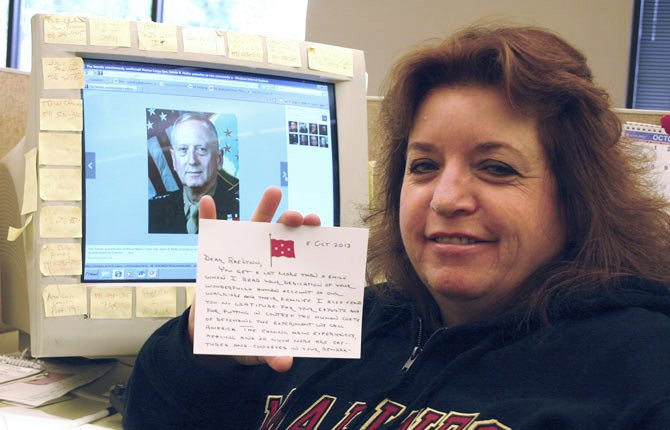 Marine mom, author and journalist RaeLynn Ricarte found a surprise in her mailbox Oct. 10, a handwritten card from the general who had led the wars in which her son had served.
Ricarte describes Gen. James Mattis (U.S. Marine Corps retired) as "her hero." Mattis served as the 11th Commander of the United States Central Command from 2007 to 2010, overseeing both the Iraq and Afghanistan wars before retiring this year after 41 years of service.
When she wrote her book, "Living the Oath: Warriors Live it: Families Endure it," (Black Opal Books) she dedicated it to Mattis, a fellow Northwesterner who was born in Pullman, Wash.
After it was published Sept. 11, she mailed a copy with a letter to the general. The book is a collection of first-hand accounts of war experiences on the battlefield and on the home front, an effort to provide a true account of the sacrifices of military personnel and their families.
Ricarte hoped to see her book included with Mattis collection of more than 7,000 military books. She envisioned her "connect-the-dots, kindergarten" version of war sitting alongside Mattis' many complex military treatises.
"I have asked many Marines why they hold you in such high regard and they have spoken of your love for the men under your command and how they trusted you with their lives because of it," Ricarte wrote to Mattis. "In true Marine style, they were energized by your forthright manner that I'm sure has caused you problems with the political powers-that-be on more than one occasion."
She told Mattis that she had long wanted to sit down with him "over scotch and a good cigar" to discuss current events, saying she dedicated the book to him out of deepest respect.
Ricarte's veteran son, Jesse Atay, assured her she would hear from Mattis, but the weeks stretched out as she
waited.
"I was starting to get irritated," Ricarte said.
Then a plain white envelope arrived in her mailbox Thursday. The return address said simply, "J.N. Mattis."
"I looked at it and I was like, 'Wow!'" Ricarte said.
Inside was a card imprinted with a red flag bearing four white stars, the flag that flies over his car at official functions.
"You get a lot more than a smile when I read your dedication of your wonderfully human account of our warriors and their families," Mattis wrote. "I also send you my gratitude for your efforts and for putting in context the human costs of defending the experiment we call America. The coming home experiences, healing and so much more are captured and conveyed in your remarkable book."
While Mattis said he is not often in the Northwest these days, he promised to call ahead if he is driving through the gorge so they can link up for coffee, signing the letter, simply, "All my best and Semper Fi, Jim Mattis."
Ricarte was tickled by the casual name, but said, "I would never call him 'Jim. I would only call him 'sir.'"
Now Ricarte is pondering where she will take Mattis for coffee, if he drops by for a visit.