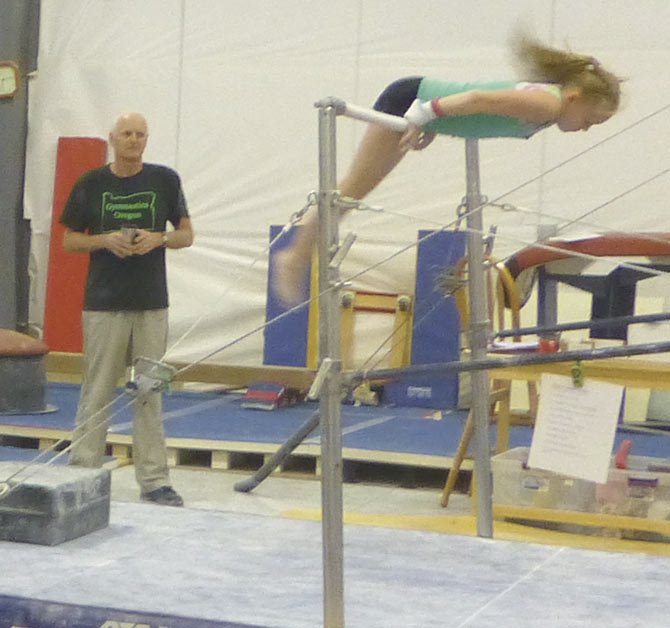 If McKenna Bailey has her way, her feet will be way above bar when she competes in front of family and friends this weekend at Riverside Gymnastics Academy.
The 12-year-old level 5 gymnast and her teammates will be host to more than 160 gymnasts from around the state as Riverside holds its annual Oregon Trail Invitational meet.
Bailey and teammates are coming off a strong first meet in Beaverton and hope to expand on scoring, bringing some hardware to the trophy bin.
Bailey took first place on bars at the Stargazer meet in Beaverton on Sept. 21.
But she's not satisfied.
"I need to get stronger on my back hip circle and pushing away at the end," she said of her routine.
Alexa Baldy, 11, who took first all-around in Beaverton, went into a high pitched voice and said "home town advantage," when it came to performing on home turf. "This week I want to get all 9's and take 1st all-around," she said.
Baldy, Bailey and 27 of their teammates have been strength training all summer in preparation for the season.
It's time to make pushing stack mats across the floor pay off, they said.
Coach Candy Smith is excited about the progress athletes are showing thus far.
"I was delighted," she said. "They have had to learn brand new routines. The kids did a phenomenal job, especially with harder dance elements."
A third of the team grabbed first-place honors at the Sept. 21 meet.
Krissy Carter, 12, also nabbed first place all around with a sizzling 37.325 score out of a possible 40.
Daisy Morales, Nina Snachez-Macias, Gabbe Haskins, Maddie Stembridge, Karla Hernandez, Poppy Miller and Meara Crawford also rocked the podium with first place finishes.
Better yet, strong routines led to team trophies – first place for the level 3 team and a third place for the level 4 team.
Riverside Gymnastics is a nonprofit offering both team and recreational programs for boys and girls.
For more information, go to www.riverside-gym.org.