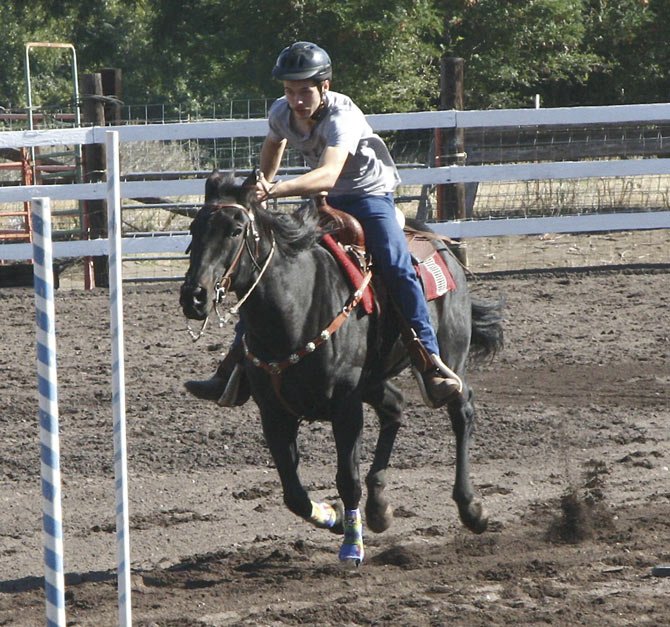 With an opportunity to give back to the community, The Dalles Wahtonka High School Equestrian team hosted its annual Play Day Fundraiser at the Fort Dalles Riders Club facilities.
Horse enthusiasts not only had the chance to rub elbows with some of these equestrian athletes, they had a bird's-eye view of the timed events done in OHSET (Oregon High School Equestrian team) events, some of which are a little different than what executed at local play days.
On the day, more than $550 was raised, which will go toward team expenses such as uniforms, team jackets, and clinics.
In all, there were 25 participants on hand for the hands-on tutorial in five individual events ranging from pole-bending, barrel racing, figure 8, individual flags and keyhole.
In addition, there were two team events like the two-person bi-rangle and four-person Canadian flag race.
These events are the same T-Dub's athletes compete in at the OHSET meets.
Kylie Brehony had the high point mark for the peewee category and Callista Howell garnered high point status on the junior front.
On the senior side, Melissa Weimer cut the rug for her high points, and Siri Olson earned her stripes in the adult classification.
Three participants were named as reserve high point winners, as Tate Howell moved his way to the top in the junior division.
Carsen Cordell claimed her status in the senior standings, and Marie Cordell claimed reserve marks in the adult class.
Just a few of the names were on hand at this fundraiser from last year's team.
Carsen Cordell will be another key cog on this squad along with Jordan Fus and Shyanna Nails.
Cheyenne Renard, Thomas Richman, Jacob Richman and Andrea Beckley were also members who lent their knowledge to the cause.
The equestrian season begins Dec. 1 and there are still open roster spots.
There will not be any official practices until then, but the team is still doing some additional fundraising activities to offset some major expenses.
This fall, members of the community who would like to hire a group of teenagers for yard chores such as raking fall leaves, washing windows, barn chores, etc. can do so by contacting team advisor, Debi Ferrer, at 541-980-2047.