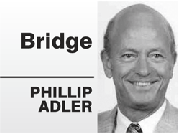 Henri-Frederic Amiel, a 17th-century Swiss philosopher and poet, said, "Doing easily what others find difficult is talent; doing what is impossible for talent is genius."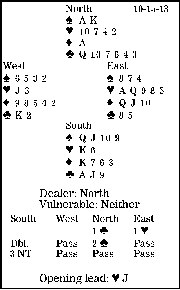 Yesterday's deal was difficult; today's requires genius. But as you have been warned to look for something unusual, maybe you will see the winning play for South. He is in three no-trump after East has overcalled in hearts. West leads the heart jack and East encourages with his nine. What should declarer do?
South's negative double showed exactly four spades. His second-round jump to three no-trump was a tad precipitate. He should have made a game-forcing two-heart cue-bid. Then, perhaps, North-South would have reached five clubs, which would have been bulletproof with this layout. (Even four spades can be made!)
South starts with eight top tricks: four spades, one heart (given trick one), two diamonds and one club. Obviously, numerous more winners are available from the clubs. And if East has the courtesy to hold the king for his overcall, South might take all 13 tricks. However, note what happens if declarer makes the natural-looking play of winning the first trick, playing a spade to dummy's king, and running the club 10 (or playing low to his jack). West produces the club king, then leads his second heart. East takes four tricks in that suit for down one.
To make his contract, South must duck (lose) the first trick! Yes, West may lead his second heart and East can win with his ace, but dummy's 10 is still a stopper. And East has no entry card.