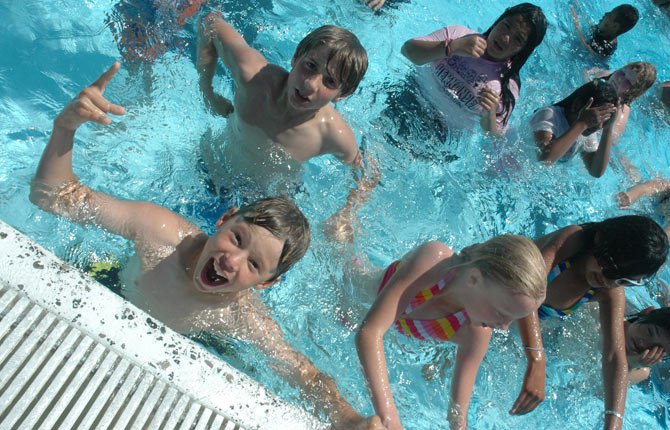 Take a look at the photo at right — a bunch of happy, energetic kids enjoying an afternoon at the pool.
This photo was taken a few years ago by a Chronicle intern, but it's a scene that has played out throughout the summer year after year since 1938, when the Natatorium was built.
We could show pictures of cracked concrete, rusted rebar and flaking concrete deposits from the decay that is about ready to claim the life of the 75-year-old pool, but that's not the real story.
This scene at right, played out generation after generation in The Dalles, is what it's all about: fun, fitness and the chance for hundreds of kids (and adults) to cool off on a hot summer day.
If you grew up in The Dalles, the odds are high you remember more than a few days like this one at the "Nat." If you didn't grow up here, hopefully you had the same opportunity somewhere else.
The $3.7 million pool bond facing a vote on the Nov. 5 ballot is about offering the same opportunity for future The Dalles children.
Ballots on this issue will go to the post office this Friday and should reach local mailboxes over the weekend.
We urge a "yes" vote on pool bond measure 33-80.
Planners for the proposed pool replacement have worked hard to pare back the cost of the project from earlier requests, but still provide a few extras:
• a slightly wider pool, allowing not only 50-meter swim races along the length, but 25-meter races along the width;
• a bulkhead that can divide the big pool into smaller areas, allowing two uses instead of one.
• new locker rooms and a concession stand capable of serving food and generating revenues to help pay for pool operation (plus office space for Northern Wasco County Parks and Recreation to provide improved supervision of the district's facilities);
• umbrella tables inside the pool fence for watchful parents, plus more picnicking area near the planned splash park (already paid for);
• a transparent climbing wall that can be removed for races.
The facilities are designed to provide more activities for kids and adults, at a much smaller price-tag than previous requests.
Eventually, designers hope private fundraisers will pay for a water slide and a natural playground as part of the complex.
It may seem like a lot during these challenging times, but the cost is estimated to be about 28.6 cents per $1,000 of assessed valuation — about $4.44 per month for 16 years or less. Since the Oregon Veterans' Home bonds were retired earlier this year, district tax bills won't change much as a result of this bond.
The Dalles residents formed Northern Wasco County Parks and Recreation District in the 1980s because residents recognized the importance of recreational facilities and activities to their own wellbeing.
They are that much more important today as we battle the lifestyle diseases that plague our society.
The Ted Walker Memorial Pool, a.k.a., the Natatorium, has been a town centerpiece of park facilities — and an asset in attracting people to the community, but it has reached the end of its lifespan.
If we fail to replace it we will lose one of this town's most vital amenities.
Vote "yes" on 33-80.