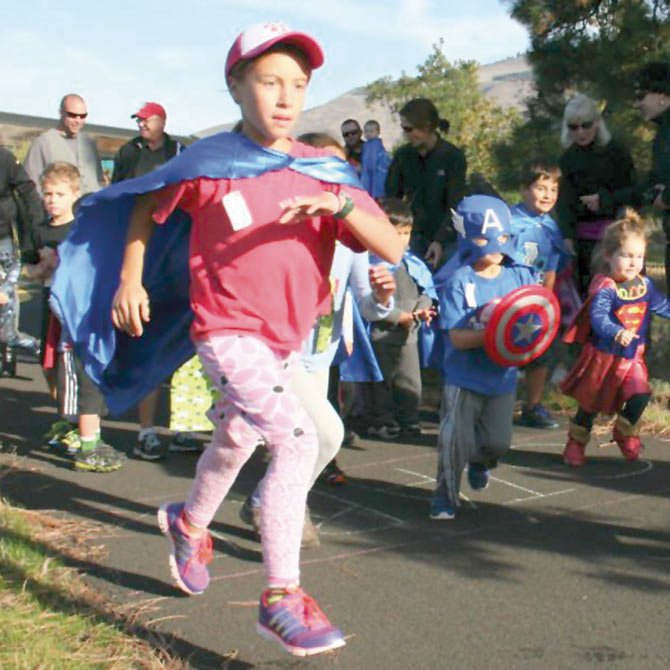 Although three weeks shy of Halloween, there were several youngsters and adults alike dressed to the nines in their favorite costumes for the CASA Superhero 3k and 5k run/walk on Oct. 6 in The Dalles.
All told, there were 48 members penciled in for racing action where an average of one minute and 49 seconds was the margin of victory in each division.
Running away from the group of 16 on the 3k side was Jax Cooper, who had a solid showing of 15:51, besting Jacque Johnson, whose 17:21 was good enough for second place.
Raquel Cooper had a 19:08, Jacy Johnston kicked it into high gear for a 19:26 and fourth place, and the duo of Evan Ortega and Katie Ortega hustled home for times of 20:41 to end up in a fifth-place tie.
MeKenzie Mellow (20:43), Jax Kohltfarber (20:44), Dax Cooper (24:22), Sawyer Case (27:55) and Addie Case (27:56) rounded out the top-11.
In the 5k event, David Bandel had his best running output of the year against a stout field of 32 runners, as he earmarked a time of 23:01 to slip past Bryan Mears (25:20).
Shannon Richardson tallied third place in 26:06, Erin Ford qualified for fourth place with her 26:16, and Evonne Nadelhoffer (26:17) was one tick behind for fifth place.
Victor Cullen (26:25), Hannah Knott (26:27), Trudy Townsend (29:18), Tina Neal (29:33), Patricia Cooper (30:52), Anya Kafka (31:00), Bridget Bailey (32:32), Elena Bandel (35:05) and Hudson Case (34:14) all championed their efforts for the top-11 places.
Up next is the Maryhill Loops Fun Run at 10 a.m. on Saturday, Oct. 19.
Costs are set at $10 for all participants.
For more information on this event or to volunteer, call 509-773-6690 or email lthayer@gsd404.org.
Hammack wins 10K Hope race
With a small field to compete with, Elizabeth Hammack put on one of her best displays at the 23rd annual HOPE 5k and 10k race at Kiwanis Pocket Park in The Dalles.
Hammack took top 10k honors with a final time of 52 minutes and five seconds, with Amanda Hoey grabbing second place in 53:56.
In the 5k event, Vinny Raschio took first place on the men's side, and Sena Raschio won the women's class.
This event is a fundraiser for The Dalles' Emergency Shelter Program.
For more information, call 541-296-9566.