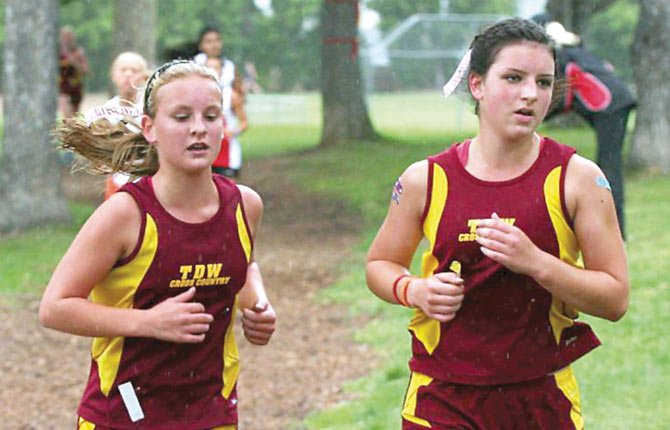 With his team facing some of the toughest competition to date, The Dalles Wahtonka head coach Bob Thouvenel liked the efforts he saw from his group at this past weekend's George Fox Cross Country Classic at Willamette Mission State Park, south of Woodburn.
Before the race started, TDW was bumped up to the Elite Division, which included top teams from 6A, 5A and 4A classifications to help balance the number of teams in different races.
All told, the Eagle Indians logged 20 personal bests and a few seasonal bests.
"Overall, the kids did a good job of rising up to the competition with some excellent times," Thouvenel said.
On the girl's varsity side of the course, Maddie Wood churned out a marker of 19 minutes and 39 seconds for 43rd place and right behind her was Emily Morin, who stopped the watch in 19:39.4 for 44th place in the standings.
Caela Dunagan proved her worth for her varsity mates with 89th place in 20:58.9.
Avery Cardosi kept her rise going with a 21:17.3 for 102nd place, Katie Burns added a 21:30.8 for 108th and Kellina Coy motored in at 128th place for a 23:34.8.
Rounding out the girl's side was Molly Nelson, who had a 23:38.3 for 129th in the books.
"Maddie Wood, Emily Morin and Caela Dunagan had some very good times for us," Thouvenel said of his squad.
Summit had the best ended up in first place as a team with 62 points, and South Eugene tallied 105 points for second place. TDW carded 33 points on the books for 15th place out of 17 teams.
Kenai Central's Allie Ostrander paced the field with a time of 16:47.8, and Grant's Ella Donaghu placed second at 16:54.1.
There were five harriers signed for junior varsity action, and Luisa Meyer had the best finish of the group at 23:17.5 for 89th place.
Tai Rogers (24:02.7), Hannah Weeks (24:57.4), Rebekah Kohltfarber (27:26.5) and Allie Wood (29:25.0) capped the field.
Summit's Matt Maton ended up breezing past the boy's varsity field with his stout time of 14:32.7, more than 11 seconds better than Kodiak's Levi Thomet, who made it through for second place in 14:43.9.
Summit led the boy's standings with 78 points, South Eugene had 144 points for second place, and Snohomish notched 153 points for third place overall.
TDW had 484 points for 18th place.
Once again, Elijah Kohltfarber took an early lead and maintained his steady pace for a good display of 17:10.4 for 85th place.
Jony Nelson was right behind in 17:29.3 for 104th place, and Chase Snodgrass picked up the pace in 17:31.7 for 105th.
Mark Johnson shuffled his way to 110th place with his tally of 17:34.7, Mark Dunagan had a 17:48.9, Clayton Ringer crossed the tape in 17:49.7, and Luke McLean had an outcome of 18:04.0 for 129th place.
"Elijah Kohltfarber, Jony Nelson, and Chase Snodgrass (Jony and Chase, both freshmen) led the boys," Thouvenel said. "We continue to improve each meet."
TDW had 15 junior varsity harriers on the docket against a field of more than 400.
John Miller spearheaded the charge for 57th place in 18:18.9, and teammate Andy Felderman wound up in 58th place at 18:21.8 for T-Dub's only top-60 runners.
Mitchell Waters had a time of 19:18.6, Ethan Shubert enjoyed a marker of 19:40.8 and Robert Westhafer ended his stride at 19:48.7.
Murphy Goldsberry (20:08.5), Joseph Linebarger (20:33.7), Ian Corey (20:47.9), Chase Nagamatsu (21:03.1), Paul Clark (21:35.8), Ming Ou (21:52.1), Peter Jubitz (23:00.5), Killian Strassheim (23:05.8), Danny Hughes (25:02.6) and Max McClennan (25:04.0) rounded out the JV scores.
As a team, the junior varsity group placed 15th with 442 points.
TDW hits the courses once again for the Kyle Burnside Wildhorse Invitationa on Friday at 2:30 p.m.
In two weeks, The Eagle Indians have their district meet at McKay Park in Pendleton.