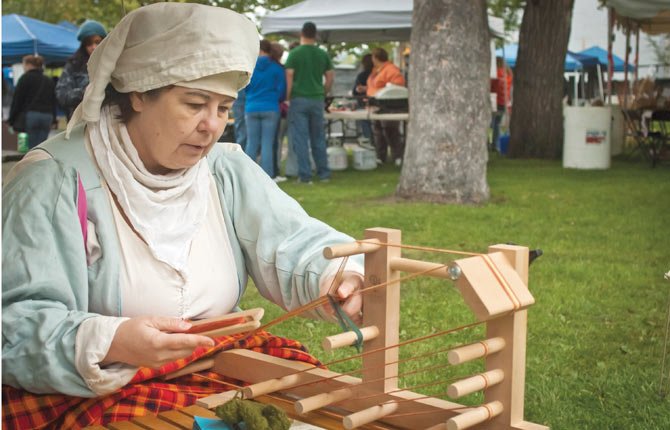 A Lady's Work
Jaqueline de Lioncourt (Jennifer Berry of Portland) works a Inkle Loom based on those used in the Middle Ages. The loom was used to create narrow work: Belts, trim and bag handles, for example.
She was at City Park in The Dalles Oct. 12, as part of a "History Lives" presentation by The Society for Creative Anachronism, which demonstrates and studies life from 600 to 1600 A.D.
The simple loom is quite complex, noted Berry, and had a big impact. With fabric design based on the over and under, or 1 and 0, movements of the loom, the art of weaving foreshadowed even modern computing, explained Berry, a physics teacher.
Demonstrations included ancient cooking techniques, sewing and other crafts. and the popular hand-to-hand combat.
"Lets go pick a fight," yelled one armored man after a short break in hostilities. The combat is overseen by "referees" and has it's own set of rules to ensure safety and historical accuracy.