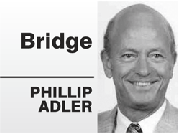 Jim Boren was a humorist and writer on "bureaucratese," in which he poked fun at what he called "the vacuumental thinking and idiotoxicities of Washington." He said, "I got the bill for my surgery. Now I know why those doctors were wearing masks."
Some bridge players would benefit from being allowed access to a bridge doctor, who would explain how to keep a contract alive.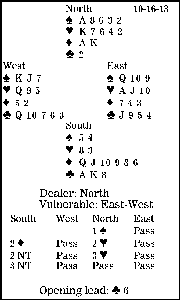 In this deal, South is in three no-trump. West leads a low club and East puts up his jack. How should South plan the play? What would the doctor recommend?
In the auction, South considered rebidding three diamonds to show his six-card suit and game-invitational values. But he had two solid club stoppers and knew that usually nine tricks are easier to win than 11. (Note that five diamonds goes down, declarer losing one spade and two hearts.)
South seems to have nine top tricks: one spade, six diamonds and two clubs. However, that lead is annoying because it has cut declarer's communication with the dummy. If he takes the first trick and cashes dummy's diamonds, he cannot get back to his hand. What would a doctor do?
The only chance is to duck the first trick, letting East win with his jack. If he does what most players would do, he will lead back a club. This allows South to win with his king and cash the ace, discarding both of dummy's annoying diamonds. After that, South takes his six diamond tricks and dummy's spade ace to cruise home.
Then West might suggest that East's brain could do with some medical attention.