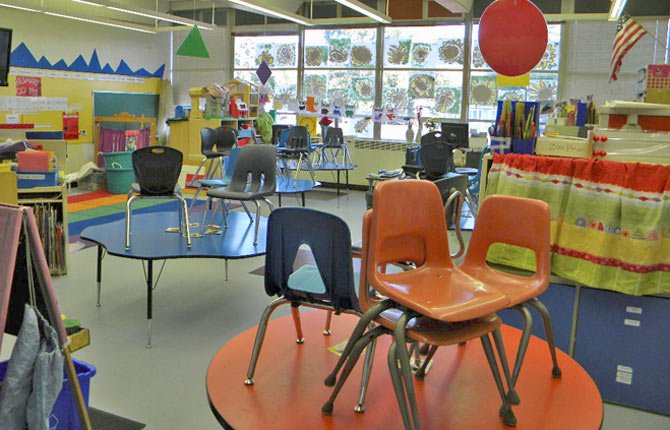 The Dalles — Touring the facilities on Saturday, Oct. 5 proved illuminating for board members currently discussing plans to instate full-day kindergarten in all district 21 schools by September 2014.
Empty, Chenowith Elementary's cafeteria looks sizeable enough.
"But you get to the point where it takes three hours to get all the kids through lunch," Dennis Whitehouse, district operations director, said. It really "makes an impact" on the rest of the school day, he added.
Having enough space to accomodate the students, Whitehouse said, is an issue almost everywhere in the district, which is why introducing all-day kindergarten means making the necessary adjustments in each school.
Chenowith Elementary is the only school in the district currently offering full-day kindergarten.
In order to make that happen, eight kindergartners were taken out of each of the original classes and were placed in a repurposed room originally used for office space.
Unfortunately, Whitehouse said, such clean solutions aren't always possible in every school.
Dry Hollow Elementary, which has over 125 kindergartners in total, would need to undergo some drastic changes to make up for the almost doubled class sizes that would result from going full-day.
According to Whitehouse, the district would either need to purchase about five more modulars or add on another wing in order to create the needed space.
At about $25,000 each and with a lifespan of only 10 to 12 years, however, a more permanent solution sounds more sensible to the board's Vice chair, Carol Roderick.
"We have to be realistic with our community, improve what we've got and make it useable for the next twenty years," Roderick said. "That's the only way any changes we make are really going to work in the long-term."
The board will continue to discuss these and other available options in the coming weeks.