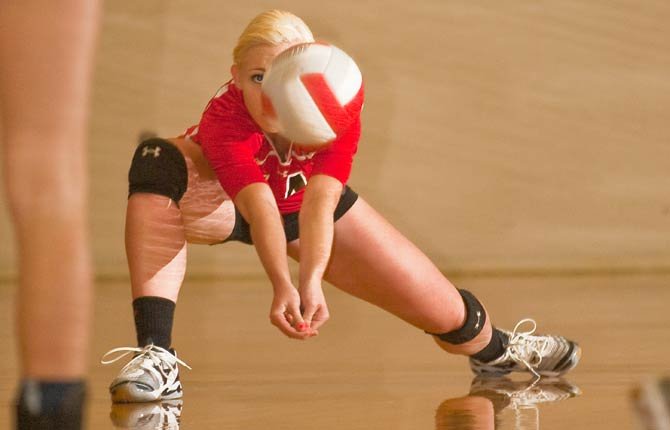 The No. 3 Dufur Rangers ran their sweep streak to seven non-tournament matches in a row after cruising past Horizon Christian in three lopsided sets Tuesday in Big Sky Conference volleyball action in Hood River.
Leading the charge for the Rangers was Tianna Ellis.
She went 17 of 18 on serve attempts with a career-high 12 aces, adding two kills and an assist to her stat line.
"Tianna Ellis did amazing serving for us," said Dufur head coach Kelly Darden.
Just as the theme has gone in the past 22 calendar days, the Lady Rangers dominated when they had to and used the service line for 36 aces from seven different players to do most of the damage.
Dufur started out with back-to-back 25-8 winners in the first two games, and then lowered the boom in the finale with a 25-5 split to grab the sweep.
Alexa Macias had seven aces and 12 assists, and Montana Ferres doled out four kills and two aces of her own.
The all-state duo of Taylor Darden and Teneille McDonald combined for 10 aces and 12 kills, Kelsey Johnson had two more aces, and Abbey Stelzer added a dig and an assist.
At this point in the season, Ferres has been happy with the progression of the team, noting that there are a few areas to clean up.
In order for this offense to keep firing on all cylinders, however, passing is a critical element.
"That is all we have been working on this week," Ferres said. "Passing always leads to getting a good set and getting a good hit, and that is our main focus. Another thing is encouraging effort with every point, whether you win a point or lose a point, we are always as a family."
With South Wasco County coming up on the schedule, Ferres said the Rangers would need to be aware of a varied attack SWC implements in its offense.
"We need to be ready for anything like deep shots, the sharp angles and the tips over our blocks," Ferres added.
Dufur has a grueling slate of matches this week, with the Redsides on the road Thursday and Sherman at home Friday on senior night in Dufur.
Starting at 9 a.m. Saturday, the Rangers host their year-end tournament where they will play a pair of top-ranked schools in Lowell (8:30 a.m.) and Portland Lutheran (Noon).
Sherman plays its first match at 3:45 p.m. (Klickitat) before capping the day at 5:30 p.m. against Echo.
Redsides keep up pace with sweep
A mark of a tough team is how well they play away from the friendly confines.
South Wasco County had another top hitting performance with 12 kills from senior Joy Kelly and the Redsides posted their third road win in the last four non-tournament matches in a three-game sweep over Sherman Tuesday in Moro.
"It was nice to get a good road win even though we did not play our best tonight," said SWC head coach Ron Townsend.
The first set was the closest on the night, as Sherman posed a threat to the Redsides.
SWC managed to get things moving late in the opening set, working a 25-20 score to jump in front, 1-0.
In the final two sets, the Redsides had everything working in their favor, as they tallied consecutive double-digit wins, 25-10 and 25-14 to complete their ninth whitewash of the campaign.
Katherine Popchock had five kills and an ace, and teammates Joy Kelly and Roxanne O'Neal checked in with a combined nine kills.
On the night, the Redsides missed only one serve on 74 attempts, as Kelsie Olson paced the serving trend with a 17 for 18 effort and a team-high four aces to go with her two kills.
"I thought our serving was very good, which allowed us to overcome the many unforced errors we had," Townsend said.
The Redsides have two matches left on the schedule with a home date at 5 p.m. Thursday versus Dufur.
At 5 p.m. on Friday, they host Condon-Wheeler before finishing out Saturday in Dufur for tournament play.
SWC plays its matches at 8:30 a.m. (Condon) and 10:15 a.m. (Country Christian).
After that, SWC gets it focus on the district tournament on Oct. 26 in Hermiston for a chance at punching a state ticket.
Junior setter Molly Foreaker knows what needs to happen in order to make that vault.
"Intensity and communication need to happen for us to be successful," she said. "Holding ourselves accountable is important too. Coach tells us that all the time. It is so true because that is what you need in order to win."