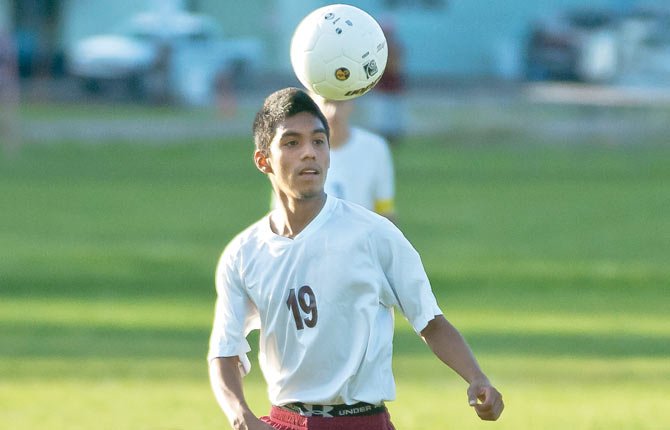 The Dalles Wahtonka may have lost 3-0 to Hood River Tuesday, but head coach Luis Gamez and starting forward Tony Morales called it a moral victory, especially given the numbers difference across each program.
"This game, even with a loss, I am proud of them," Gamez said. "I tell the guys to play to your maximum capacity and leave it on the field. They did that today."
In their Tuesday boy's soccer matchup, the No. 5 Eagles used a first half goal from Giovani Magana and tacked on a pair of second-half tallies from Tuan Nguyen and Luis Perez to provide the scoring.
"We knew it was going to be a dogfight," said Hood River coach Jaime Rivera. "Basically, in order for us to be successful, we knew we had to play our style of game, which is passing on the ground, combinations, crosses from the wings, and we really did not get going until the second half."
The toughest part to take was the fact that TDW had several scoring chances off free kicks and open shots from Aldo Rivas, Leo Hernandez, Julio Manzo, and Ernesto Rodriguez.
Hood River goalkeeper Enrique Rueda had five saves in the opening half, and teammate Diego Vaca had seven saves in the final stanza, including two point-blank glove stops on Rivas and one in close on Manzo.
"We played good. I think it is a positive for us playing good against a good Hood River team that is ranked high," said Morales. "I think if we were to finish and score it would be good for us because we need to score more. It is not like we are not trying, but we have to do a better job of finishing."
Heading into the game, Gamez devised a plan to try to stop a Hood River offense that had previously scored seven goals twice and five goals once.
He played Sergio Rios, Leo Hernandez and Julian Gutierrez in a Flat-3 formation, with the hopes of stacking the middle for some counter attacks.
That trio limited most of Hood River's chances, and all-league goalkeeper Bryan Sanchez made four saves.
"Playing a Flat-3 against a team that is as skilled as Hood River is almost insane," Gamez said. I took my chances and I was very impressed with our defense tonight. I think those three did an outstanding job."
While the chances for a playoff berth are a longshot, Gamez said his goal was to have his team finish the final three games on a winning streak in an attempt to sneak into the postseason mix.
As of today, the Tribe is ranked 30th, but needs to jump up to No. 24 to make those playoff dreams a reality.
"I talked them a lot about believing in what they do," Gamez said. "They are good athletes and good soccer players. This game needs to be played with intelligence and heart. If you put those two things together, you have a fighting chance."
In one respect, TDW needs some good fortunes to fall in their favor, but for Hood River, they are at No. 5, and leading the Columbia River Conference for another league crown.
Rivera liked that his team was put to the test at the right time.
"We need this going into the playoffs," the Hood River coach said. "We will definitely go back to the drawing board. This will challenge us to get better."
TDW (2-6-2 overall, 1-2 league) next hosts No. 19 Hermiston (6-4, 2-1) at 4 p.m. Thursday for senior night.