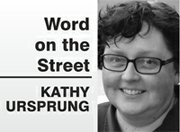 Knit while you sit: As a service to furloughed federal workers, Sarah at Knot Another Hat in Hood River and Paulette at the Whole Ball of Yarn in downtown The Dalles are offering free "Learn to Knit" classes to furloughed federal employees.
They are invited to drop in any time during regular business hours for lessons. Sample needles and yarns are available to use in the shop.
"We hope to see you back to work soon, but until then, come learn to knit," wrote Paulette.
Call Sarah at 541-308-0002 or Paulette at 541-506-9276 for details.
A tip of the hat to the Court Street businesses, which for their stellar use of planter boxes. The street is a particularly pleasant garden setting as fall starts to set in.
Encountering the planters on a morning walk brightened my day and made me more aware of the many colorful planters around the area. Hampton Furniture also has a particularly showy display, as do several others.
It's not too late for those of you who have let their planters die off. Chrysanthemums and other cold-weather plants are perfect and beautiful this time of year.
On the road to history: The Dalles Area Chamber of Commerce Government Affairs Committee will play host to Marc Berry and Judy Davis this week. The duo will provide an update on the work of the Historic Columbia River Highway Advisory Committee.
Government Affairs meets Thursdays from 7 to 8 a.m. at the Barbecue Restaurant, 1013 W. Sixth St.
Upcoming guests include John Huffman (Oct. 24), Teri Thalhofer of North Centrla Public Health (Oct. 31), and Jenn Garnder on foster parenting in Wasco county (Nov. 7).
Visit the angels: Registration is under way for the Nov. 5 Gorge Angel Conference which will be at the Columbia Center for the Arts in Hood River.
Reduced earlybird registration fees are in effect until Oct. 30.
The event will feature lunch from Boda's Kitchen, investing trends from Chris Logan, investor previews of six emerging company pitches, and accounts of real experiences with crowd funding, bootstrapping and angel funding.
For more information, email Robin Cope at robinc@oen.org.
Email items to Word on te Street to kurpsrung@
thedalleschroicle.com.