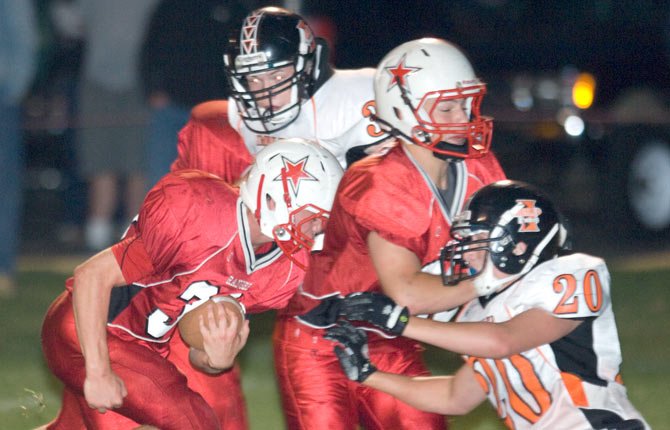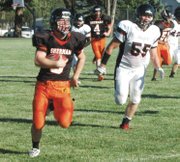 Last season, the Dufur Rangers were able to erase a three-year slide against the Sherman Huskies with a 14-point win on Oct. 19, 2012 in Moro.
While a lot has changed since last year, both teams head into Friday's matchup with three dominant Big Sky Conference wins to their record.
The fourth for each team, could very well decide who is the eventual league champion.
Some of the changes come on the Sherman Husky sideline where new coach Todd Swan, a former long-time assistant, sends out a roster of seven freshmen to play against an experienced Dufur squad.
"Dufur is a historic program," Swan said. "We have a lot of respect for Coach (Jack) Henderson and his program. We have developed a solid rivalry over the years and we are excited to put another chapter in the rivalry book Friday night."
Sherman's numbers are very respectable in the grand scheme of things – they have a win over currently No. 8 Perrydale – and they have scored more than 60 points three times thus far.
As with any Husky football team, they lean heavily on a physical running game and consistent quarterback play to break teams down.
Sherman (5-2 overall, 3-0 league) ranks 14th in scoring offense at 42.8 points a game, and have added a new speed dimension to the passing attack with Austin Kaseberg lined up at one end slot.
Last week, the Huskies amassed more than 500 yards of offense, as Blake and Brett Evans combined for 407 yards and three touchdowns in a 46-20 road win over previously undefeated Condon-Wheeler.
Dufur coach Jack Henderson gushes over the job this offense has done.
"Offensively they are quite diverse, they can slam it at you with their option attack, and then spread you out and attack you in space," the Ranger coach said. "They are very difficult to defend."
In trying to slow down Sherman's offense, the No. 7-ranked Rangers (7-0, 3-0 league) bring an aggressive, hard-hitting style led by Austin Olson, Brent Sumner, Nick Little and company.
On the year, Dufur has allowed 162 points for 23.1 points a clip. Four times this year, Dufur has stymied opposing offenses to 20 points or fewer.
"Just like Dufur can make adjustments, we can as well," Swan said of Dufur. "We have a game plan to establish what we like to do, but we will keep a close eye on what they are doing defensively. We will make adjustments as needed."
With the addition of Kaseberg and the emergence of Isaiah Coles and Kyle Fields, the Husky aerial attack has seen an uptick in terms of production.
"In terms of passing the ball, it is not a surprise that we have had success as of late," Swan said. "We have always had the ability, but we haven't had the need. I expect we will need to be more balanced this week, so I am pleased that we have had some practice with it over the past few weeks."
Making the correct reads, sure tackling and being physical at the point of attack are all calling cards for this tough Dufur defense, so Henderson wants his team to identify what Sherman is doing in each of their formations.
On the other side of the ball, however, the great wild card hangs in the balance.
Staked by the play of all-state quarterback Cole Parke, the versatility of Nick Little, the power element of running back Trever Tibbets and the rise of freshman Bailey Keever, Dufur is second in the 1A classification with 434 points scored (62 a game).
Last week, Dufur showed its quick-strike ability with some scoring plays. The Rangers ran less than 40 plays and totaled 266 yards, 126 passing by Parke, in dropping Ione by a 64-20 mark.
"Dufur has a very solid system," Swan said. "They like to run the football with their strong, powerful kids. They also have the ability to throw the ball down the field. With that said, the reason why Dufur is always a top team in the state is because they are not limited by what they like to do. They have the ability to make adjustments as needed. To sum it up, they will take what the defense gives them."
They will stack up against a Husky defense that ranks 18th in the 43-team 1A division at 37.7 points allowed a game.
In a four-game stretch from Sept. 13 to Oct. 4, Sherman gave up 53.5 points a game, but they are coming off an impressive performance last week against Condon-Wheeler.
In some ways, there is hope that the performance of last week is more of the norm as opposed to a quick flash.
Nonetheless, Sherman is going to be tested.
"We have been working at being more physical at the point of attack," Swan said. "We need to meet the ball carrier and make contact sooner that normal. We know their running backs will fight for every yard. As a result, we cannot afford to meet them 4, 5, or 6 yards past the line of scrimmage because they are likely going to fight for a few more."
Tapping on the mindset of if it isn't broke, don't fix it, Henderson does not plan to change his offense.
Of course, he may be inclined to display some tricks hidden up his sleeve.
"Our ability to run the ball has really helped to improve our play-action stuff," Henderson said. "I thought that we would be able to throw the ball better this season and we are much improved in that area. This season, Cole has improved a great deal in the passing game, as has our line."
The great mystery of eight-man football is establishing momentum early, so both coaches look to have fast starts on both sides of the football.
The Rangers have shown an ability to turn small leads with a snap of the fingers, as they showed last week when they broke open a 14-14 tie with 50 unanswered points in a 64-20 drubbing of Ione.
"Dufur is a great team, but they are even a better team when they have a comfortable lead," Swan said. "We will also look to eliminate penalties and protect the football on offense. Basically, the team that plays a better mental game will come out on top."
Radio station 102.3 FM will broadcast the game at 7 p.m. from Dufur.