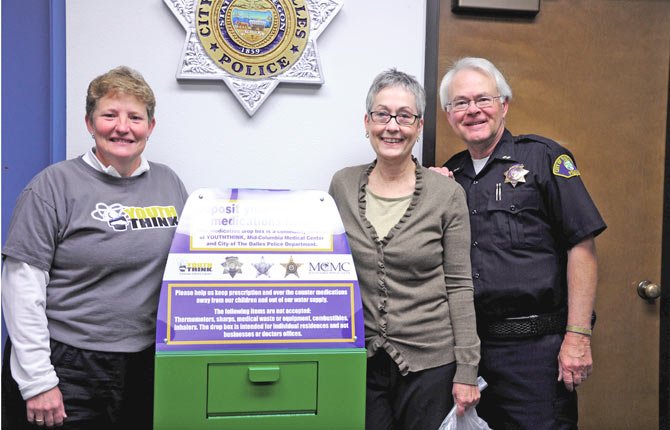 The Dalles — Local area residents may now drop off expired or unwanted prescription and over the counter medications thanks to a permanent drop box recently installed at The Dalles Police Department.

The drop box was purchased through donations from Mid-Columbia Medical Center and YouthThink.
For the past several years, local organizations including YouthThink, Mid-Columbia Medical Center, The Dalles Police Department, local DEQ, Tri-County Hazardous Waste, and the Wasco County Sheriff Department have worked together to sponsor local community drug take backs. Studies show that most people throw unused or unwanted drugs away either by flushing them down the toilet, or disposing of them in household trash. These events provide households the opportunity to safely rid their homes of potentially dangerous unwanted and expired prescription and over the counter medications.
The initiative addressed an important public safety and health issue — the need to dispose of medications safely and reduce accidental poisonings and overdoses. Rates of prescription drug abuse in the United States are very high and studies show that a majority of prescription drug abuse come from drugs found in the home. Flushing medications down the toilet or throwing them in the trash poses environmental health hazards in landfills and waterways.

The Community Drug Take Back program has worked to raise awareness in the community, prompting the need for a permanent drop box where people can deposit unused medicines year-round.
YouthThink and Mid-Columbia Medical Center responded to this need by purchasing the drop box now located in the lobby of The Dalles Police Department at 401 Court Street in The Dalles.
Residents may drop off household prescription and over-the-counter medications, vitamins, nutritional supplements and pet medicines. Not accepted are needles or sharps, thermometers, and medical waste and equipment. The drop box is available Monday through Friday from 8 a.m. to 5 p.m., no questions asked.