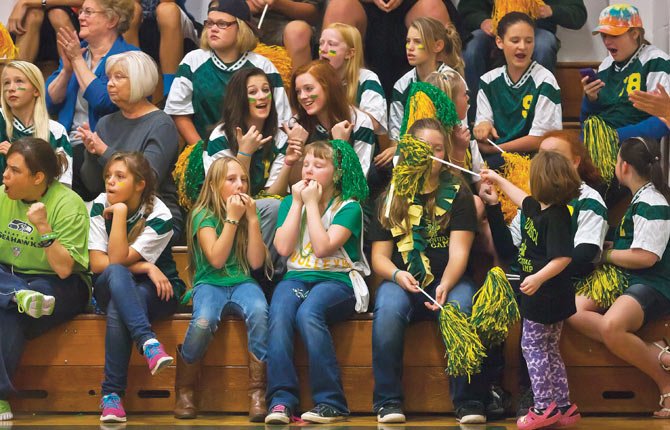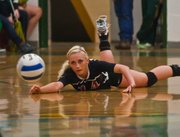 The last time South Wasco County won a set against powerhouse Dufur was Sept. 15, 2009.
Thursday night, the Redsides had one of their closest scores in more than four years, pushing Dufur as far as they could go in a 25-23 decision for a three-game Big Sky Conference setback in Maupin.
"It was a great win tonight against a good team," said Dufur head coach Kelly Darden. "I was pleased with our resilience in the third set when we were down. We stayed composed and battled back for the win."
Aside from the toe-to-toe third game tussle, The No. 3-ranked Rangers had a resounding start to this league showdown with a pair of double-digit wins.
Dufur fired home a 25-12 winner to go ahead by a 1-0 score, and the momentum surge continued in Game 2 with an identical 25-12 margin to take one step closer to one of its many sweeps, leading up to the third game dramatics.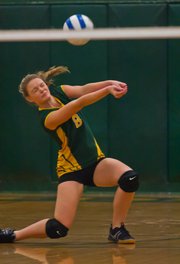 "I thought we played better as the match progressed," said SWC head coach Ron Townsend. "We just had too many unforced errors against a good team like Dufur. We showed flashes of very good play, but were just not consistent enough."
Once again, the service and hitting game were pivotal to Dufur's success.
The Rangers hit on 93.1 percent of their serves with 14 aces, and had a 64 for 77 split on swings and 28 kills.
Montana Ferres had six of those aces and tacked on four kills and three digs.
Teneille McDonald had an all-around match with eight kills, six aces, four digs and two blocks.
Taylor Darden led all hitters with 12 kills, Kathryn Johnson chipped in three kills and seven digs.
Providing all of the soft passes for the hitting brigade was Alexa Macias, who had 23 assists, two digs and an ace.
"Kathryn Johnson had some great digs for us on defense," coach Darden added. "Montana and Taylor passed well from the back row. I thought Montana, Teneille and Alexa did great from the service line, serving tough. Alexa did great moving the ball around to our hitters tonight, as we tried to avoid their big block."
This could serve as a good litmus test for a dominant Dufur squad with a league match and two tournament matches left until the district tourney coming up in Hermiston Oct. 26.
Photo Gallery
Dufur versus South Wasco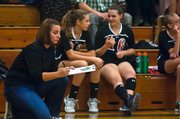 Varsity volleyball match between Dufur and South Wasco County high schools Oct. 17, 2013.
"Exciting match tonight with some great hustle plays from both teams," coach Darden concluded.
The Rangers host Sherman at 5 p.m. tonight, and then they play tournament games against Lowell (8:30 a.m.) and Portland Lutheran (Noon) Saturday at Dufur High School.
South Wasco County does not play tonight against Condon, but gets a match against the Knights at 8:30 a.m. as part of the Ranger Tournament.

After that, the Redsides hit the floor versus Country Christian at 10:15 a.m.