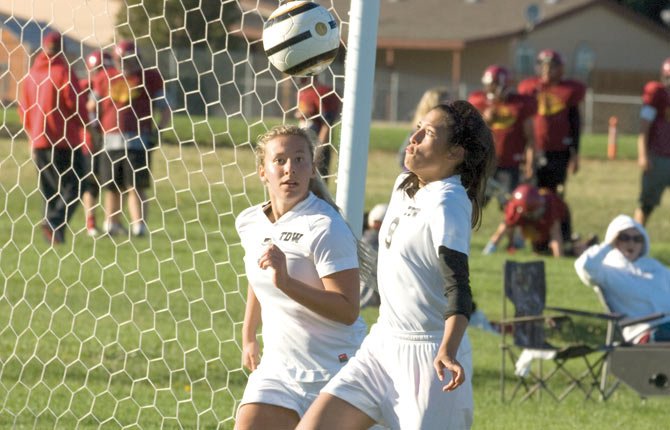 The Dalles Wahtonka girl's soccer coach Colby Tonn had excitement in his voice after his team's gritty road win Thursday over Hermiston.
Not only did they beat a tough team, they moved that much closer toward securing a No. 24 seed and a state play-in match.
Monique Mendiola scored the game-winning goal in the 64th minute on an assist from freshman Sierra Watson and the No. 28 Eagle Indians dropped the host Bulldogs 1-0 in Columbia River Conference soccer play Thursday night in Hermiston.
From the onset, it appeared as through a roadblock was in the Tribe's way. The game had been switched from a 4 p.m. start up to 6 p.m.
In those two hours, Tonn said his team could have easily let that obstacle get in their heads, but they remained focused.
TDW and Hermiston played a rough and tumble opening half and wound up deadlocked in a scoreless draw at the half.
Finally, Mendiola and teammate Melissa Cruz, who had been hounding the Hermiston defenders all game, caught a break.
On the counter attack, Mendiola broke through and had a great shot under pressure from about 15 yards out to put it away.
Tonn credited Watson for making the play work.
"She has been playing with us all year, but in these last three games, she has really stepped up," Tonn said of the prized freshman. "She is hitting the ball on drop passes and laying those passes in the right corner. It was a great thing to watch. She was huge for us."
Tribe goalie Nayeli Lopez earned praise from her coach for her aggressive style on five saves and handful of through balls to stop Hermiston's offense.
Lopez was put in position to make those plays by the sterling defensive trio of Alicia Anderson, Bailey Cordell and Marta Gamez, who was playing sweeper for the first time in her life.

"Marta controlled the back line and did a fantastic job," Tonn said. "Hermiston had fast forwards and they (Gamez, Anderson and Cordell) kept their bodies in front of them and kept a clean sheet."
Given the brutal schedule of seven road matchups in the first 11 games, coupled with injuries, position switches, strategy changes and whatever else could be thrown in their way, Tonn said his team has become closer and more willing to sacrifice for the betterment of the team.
That is what made this win even more special.
"Like I told the girls, this was one of the most emotional wins I have had as a coach," Tonn said. "We have so many girls stepping up and playing well. They are really working hard for each other and that makes it fun as a coach to see that. I know these girls are ready to shoot out these last two games to see where it takes us."
TDW (4-5-2 overall, 1-2-1 league) hosts No. 15 Pendleton (6-5-1, 2-1-1) at 4 p.m. Thursday.