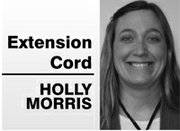 There has been a lot of talk about STEM — science, technology, engineering and math — in recent years, but something you may have not heard more of is the importance of females in STEM-related careers.
The United States has fallen behind other countries in science, technology, engineering and math careers, particularly females and this makes the U.S. knowledge capital that fuels economic growth and innovation at risk unless we do something about it now.
The United States ranked 31st in math and 23rd in science in standardized tests among wealthy nations. Our high-school seniors have competed poorly in advanced math and physics. We rank 27th in college graduates with degrees in science and math. According to the Association for Women in Science, women represent 50 percent of the American population, but represent only 24 percent of the STEM workforce.
Only about 45 percent of our high school graduates are ready for college-level math and approximately 30 percent are prepared for college-level science courses. Of those continuing on to college in a STEM-related degree, only 15 percent are graduating college with that STEM- related degree. Of that 15 percent only about 37 percent are women. Yet more females than males in general are earning bachelor's degrees. Women in a STEM career earn an average of 33 percent more than their counterparts in other fields.
Organizations such as Wasco County 4-H, the Gorge Tech Alliance and Girls, INC. Operation SMART strive to get girls involved in STEM-related activities with the goal to lay to rest the stereotype that girls are not good at science or that girls are not interested. This is false! Females are excellent at math and science and help to create a diverse community of STEM experts.
The Huffington Post is currently taking applications for a STEM mentoring initiative. They believe a more diverse group of scientists in STEM is necessary for our nation to stay competitive, and push the boundaries of innovation. That's why the Huffington Post wants to extend a digital helping hand to the future female leaders of STEM.
This is a free and excellent way to connect high school and college-age girls with an interest in science and engineering to female leaders in these fields. Register up until Jan. 31, 2014, online at www.huffingtonpost.com/rebecca-searles/stem-mentorship-program_b_2288918.html.
Wasco County 4-H offers several out-of-school and in-class enrichment programs focused on STEM. ROV'ology meets once a week on Tuesdays at The Dalles Middle School from 3:30 to 4:30 p.m. Youth in grades four through 12 will design and build a submersible robot. They will also engineer Renewable Energy pedal cars. 4-H Dufur Tech and More meets every Monday from 3:15 to 5 p.m. at the Dufur School. Youth in grades three through eight participate in First Lego League and several other technology focused projects. You must enroll in Wasco County 4-H to participate.
If you have a child who is interested, or if you are interested in becoming a 4-H adult volunteer visit http://extension.oregonstate.edu/wasco/fourh or contact the OSU Extension Office and Wasco County 4-H at 541-296-5494.