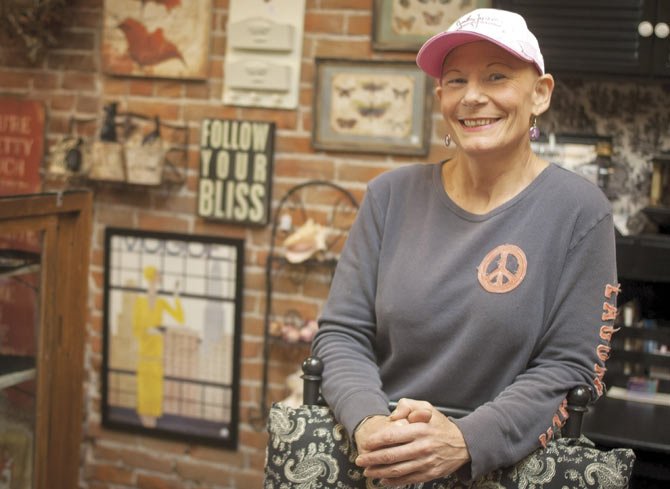 Marti Hunt missed only one day of work during weeks of chemotherapy for breast cancer because she was determined to keep life as normal as possible.
"Sometimes it was a struggle to even think about walking around the room but it was better to just keep going," she said. "If I lay down I just felt like crap and I had nothing to show for the day so I didn't want to do that."
Hunt manages the Breezeway Boutique, 313 East Second Street, in The Dalles, and said it is heartwarming to have people in the community inquire about her wellbeing when they spot her bald head.
"People have just been so wonderful, so caring," she said.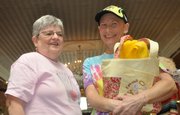 Hunt was also the 100th recipient in September of a Pink Project bag, which she said felt like an early Christmas. The nonprofit organization provides cancer survivors with a brightly colored tote that is filled with soothing lotions and a soft blanket for comfort.
"I was like, 'Wow, that's for me?'" she said.
Hunt, 53, had her last round with chemo to kill off malignant cells on Sept. 12. She is now midway through 33 rounds of radiation treatments and still going strong.
"I had to go through chemo because my tumor was an aggressive form of cancer," said Hunt, who decided to fight her fears about dying by adopting the attitude of a champion prize fighter.
She determined that she was going to conquer the side-effects of having abnormal cells organize enough to threaten her life and then being forced to fight them off by filling her body with toxins.
"Having cancer definitely makes you aware of your mortality," she said. "But those people with optimism are the ones who survive."
Hunt grew up in Dufur and moved away to explore other areas of the country before returning to Wasco County in 2004 and working at the Rerun Shop, which became the Breezeway in 2009. She now manages that establishment and, because she is a people-person, enjoys the opportunity to meet community members. Lately, she has found herself admiring their hair, especially when the lengths are long.
In April, Hunt discovered a painful lump in her breast during self-examination. She tied that discovery to an unexplained weight loss of 16 pounds and felt it was time to seek out medical attention.
"I just knew something was wrong," she said. "But when I was told that it was cancer I just kind of laid there with tears rolling down my face because I was scared to death."
She was scheduled for a lumpectomy, which took place May 20. Her chemotherapy treatments began July 11 and she largely avoided the nausea that often plagues women during chemo treatments.
However, Hunt said she was frequently exhausted and experienced "chemo brain," the tendency to forget anything that was not written down.
"Things that would normally just come to me definitely did not, but it was no big deal because I was still alive," she said.
She felt the same way about losing her hair, which started falling out within days of her first chemo session. After holding a clump styling session one morning, she decided to just shave it off.
"I have all good hair days now," she said with a laugh, showing off the bald head that she typically covers with a colorful hat.
Hunt's grandmother died from cancer, as did a favorite aunt, who lost her battle with pancreatic cancer in July. Marti knew that a genetic predisposition to the disease increased the odds of her getting it, but she hadn't spent much time in life thinking about that potential.
If she had to get some form of cancer, Hunt is thankful it was in her breast instead of in other areas of the female reproductive system, such as the ovaries, that have a much lower success rate for recovery.
"My oncologist says chemo could give me another 30 years and I don't know if that's true, but I'll take it," she said.
However, she is aware that, with one in seven women diagnosed with breast cancer, it is the leading cause of death for her gender. The chances of surviving ovarian cancer drop greatly because there are no symptoms in the early stages but the disease is much more rare, affecting one in 70 women.
It is always in Hunt's mind that her aunt, after being diagnosed with pancreatic cancer, had a survival rate of only 20 percent, with four percent of patients reaching the five-year mark.

"Women need to get regular exams and mammograms, that is something they need to take seriously," said Hunt. "If there is one thing that I've learned from this it is 'Just do it.' If you think anything is wrong, get it checked out."
Although she did not have medical insurance to cover her expenses, Hunt was given financial assistance by Celilo and now wants to raise money to help other women in the same predicament.
"I've got to pay it forward here because there's a whole lot more people like me out there," she said.
By next spring and summer, Hunt plans to have her energy level restored enough to search out yard sales and indulge in her favorite hobby of gardening. She will be on a hormone blocker for five years, which is commonly given to women whose tumor had receptors for estrogen. She will also have more frequent checkups for the next 10 years but the future looks bright for Hunt.
"Things definitely did slow down during chemo but not enough to steal my thunder," she said.