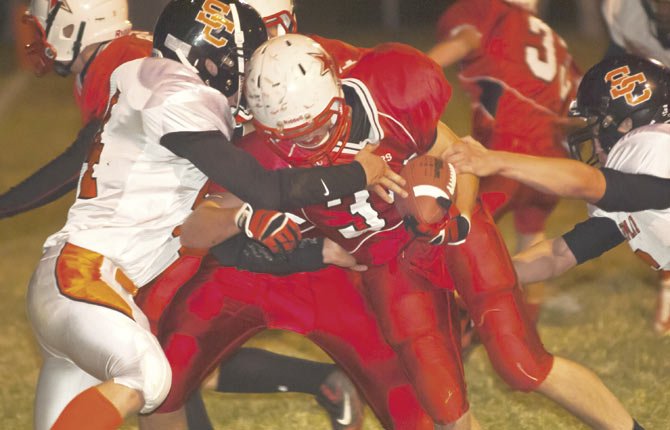 DUFUR — The final 3 minutes and 43 seconds were a thunder and lightning show at Friday's Big Sky Conference football showdown at Dufur High School.
Thrown into late duty in a 44-6 contest against Sherman, Ranger sophomores, Jon Keyser and Kurt Nuevo, did all of the ground work in a seven-play scoring drive, the final capper to a 52-6 triumph over the Huskies.
Keyser rushed three times for 13 yards, and Nuevo added four totes for 39 yards, including a 31-yard scoot down the left sideline for the final tally of the game. Still up by 44, backup quarterback, Kolbe Bales, rolled left for a pass to Nuevo, but found open real estate to scamper in from three yards out for the conversion.
In the first seven games, the young backups had not previously hit paydirt, so Dufur head coach Jack Henderson liked that they all came together for a touchdown drive.
"These young guys work their tails off all year in practice," the coach said. "They are doing the good things fundamentally and they are improving all of the time. It is nice to see them rewarded for that."
Aside from the late-game heroics by Nuevo, Keyser and Bales, junior running back Trever Tibbets had a career night running and catching the football.
The 5-foot-10 inch, 170-pound bruiser had 21 rushes for 227 yards and three scores, and he added four catches for 85 yards and another score to pace a Ranger offense that totaled 438 yards for the game.
On the first snap from scrimmage, Tibbets had things going with a 54-yard run. He added a 4-yarder, an eight-yarder on the ground and snared an 18-yard touchdown pass from Cole Parke with 11 minutes and 54 seconds left in the fourth quarter to give Dufur a 38-6 cushion.
With a few nicks hampering Nick Little and Bailey Keever, Henderson was able to use his power back for some extended minutes.
"Thank God we have Trever Tibbets right now. It is a pleasure to give him the ball. It is fun to watch him run," Henderson said.
Parke had a pair of scoring runs added to his 38 yards on the ground, and he completed 4 of 8 passes for 85 yards.
While the offense put up far less than the 63 points a clip it had been averaging this season, the defense surrendered only a third-quarter touchdown from six yards out to Brett Evans.
Of the 10 Sherman drives on the night, that initial possession of the third quarter was the only one that did not include a negative yardage play, a penalty or a turnover.
Sherman coach Todd Swan said the game plan was to run the ball and move the chains.
They were able to with some success, but a few miscues short-circuited drives.
"We had penalties, a lot of them. Whenever you get in a hole, second and long and third and long, it limits what you are able to do on offense," Swan said. "It allowed Dufur to focus on one thing and take that away from us. If we could ever stop shooting ourselves in the foot, I think we are going to keep being successful on offense."
All told, Sherman had 141 yards on offense, with 138 coming on the ground. Blake Evans carried the ball 21 times for 80 yards. Brett Evans finished with nine rushes for 34 yards. Quarterback Nick Coleman tallied 28 yards on the ground.
Sherman punted five times, had three drives end in a loss of downs and it had one interception. The Huskies also went 3 for 13 on third downs.
So far, the Rangers (8-0 overall, 4-0 league) have allowed 21 points a game, and the starting group has allowed just six touchdowns.
"I was really impressed with our defense tonight," said senior lineman Austin Olson. "We flew around and hit people. We just stopped them. We worked hard and watched film and knew we wanted to get off the ball to start off with and finish all the way through."
Next week, Sherman (5-3 overall, 3-1 league) heads to Gilchrist High School to take on undefeated Camas Valley in a non-league game at 1 p.m. Saturday.
It will mark the third consecutive week that Sherman has faced a top-ranked undefeated opponent.
Before then, however, Coleman wants to see his teammates respond.
"We got to keep a short-term memory and forget about this game," he said. "It all starts again on Monday when we prepare for Camas Valley. I want us to be a lot more mentally tough and I want us to be more physical too. I still think we have a good team. We can't let this one loss define us."
Next week's road game against Condon-Wheeler will be another battle.
"We just need to treat each game like it is the most important game of the year," Olson said. "Every game is a playoff game now, so we have to go out and work hard every week and prepare for our next opponent. We cannot take them for granted."