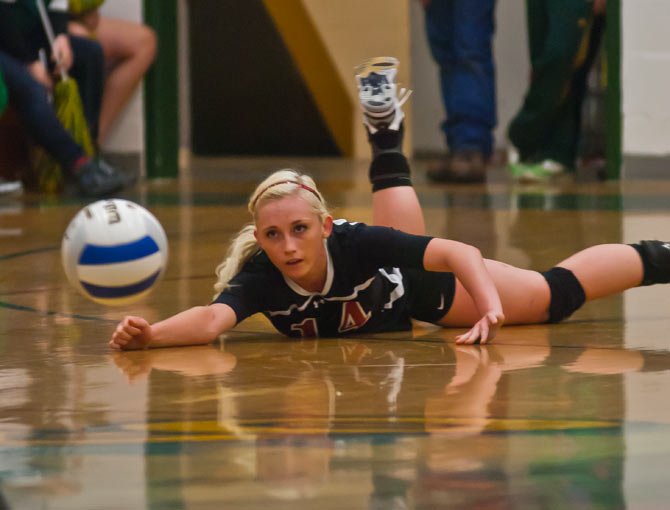 DUFUR — Friday marked the final time of the regular season that four Dufur Ranger volleyball players stepped on the court together in regular season.
Alexa Macias, Kyla Johnson, Teneille McDonald and Kathryn Johnson were honored before Friday's Big Sky conference match and that quartet delivered in spades in front of the home crowd with yet another three-game sweep, this time over Sherman County.
This group has helped Dufur to 24 wins so far, a top-3 ranking and double-digits in sweeps.
It is an accomplishment they can take pride in, as they strive to get this squad deep into the postseason.
"Our seniors have been outstanding this year," said Dufur head coach Kelly Darden. "I couldn't ask for a better group of girls."
The No. 3-ranked Rangers connected on 93 percent of their serves with 18 aces, and added a 53 of 57 split on swing attempts for 30 kills, as the major statistical factors leading to the triumph.
Dufur rang out a first-game score of 25-6 to gain early control, and then tacked on a 25-6 output to go out in front by a 2-0 margin in the match.
In the finale, the swings kept coming at a rapid rate and Dufur came away with another double-digit edge on the scoreboard at 25-9 to finish the deal.
McDonald had another stellar night on the hardwood with a team-high 12 kills and four digs.
Kathryn Johnson tallied four kills and a dig, Kyla Johnson was good for three service aces and two digs, and Macias posted all-around numbers with 17 assists, three aces, one dig and a kill.
Although Sherman has struggled somewhat this season, coach Darden was pleased to see her team execute with precision to keep their edge.
"Our last league match tonight went well," the long-time Ranger coach said. "(We had) tough serves from Alexa, Kyla, and Taylor in the ace department. Teneille, Katie, Mo and Taylor had a great night hitting."
Saturday, the Rangers hosted their annual tournament. Starting on Oct. 26, all of the top teams representing the Big Sky will play in the district tournament in Hermiston.