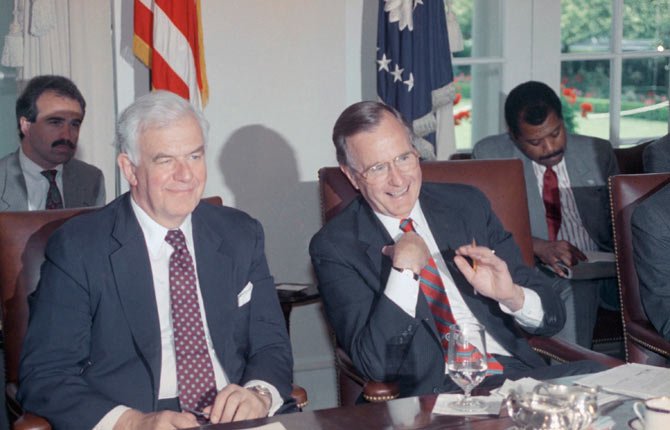 Former Speaker of the House Tom Foley, a dominant figure in the congressional politics of the 1970s, '80s and '90s, died this week from complications of a stroke suffered last December.
While a staunch Democrat during a Democrat-dominated era, Foley, like so many politicians of his era, was able to work across the aisle as needed without fear of being tarred and feathered by his own party. His death at such a pivotal time in recent politics — a day after the end of the partial government shutdown — offered a teachable moment in the world of politics.
"Foley was very much a believer that the perfect should not get in the way of the achievable," Ms. Foley wrote in a 10-page obituary of her husband. She said he believed that "half of something was better than none."
"There was always another day and another Congress to move forward and get the other half done," she wrote.
"Tom never got personal or burned bridges," said former President George H.W. Bush. "We didn't agree on every issue, but on key issues we managed to put the good of the country ahead of politics," despite Foley's role in budget talks that led Bush to break his pledge not to raise taxes, an episode that played a role in Bush's 1992 defeat.
While Foley was booted from office in 1994, the only seated Speaker to enjoy that ignoble honor since the Civil War, he was a veteran of a time when politics actually worked in this country — a time when legislators like Republican senators Mark Hatfield and Bob Packwood could reach across the aisle and work with Democrats like Foley in the best interests of their constituents and the nation.

If this sounds a bit gilded by nostalgia, it is, but modern legislators would be served well by emulating Foley's example.