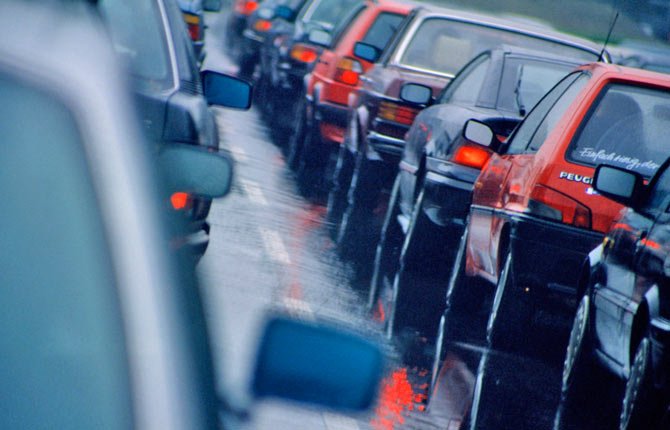 Wasco County doesn't have much in the way of traffic gridlock.
A few times a day we have a "rush minute," as this editor is fond of calling it, where cars back up around four-way stops, stoplights and our little roundabout — enough to add a minute or two to a short commute, but causing no significant inconvenience.
But traffic does appear to increase year by year and, as letter-writer Barbara Snyder indicated below, it can mean plenty of hazards for residents who choose alternative forms of transportation. Cyclists and pedestrians too often tend to be afterthoughts in a car-oriented world.
The Oregon Drive Less Challenge, going on this week, is a reminder for Oregonians to consider the benefit of alternative forms of transportation that can help make this a safer, more healthy world.
The challenge encourages people to become more aware of the alternative transportation options available to them.
In The Dalles and all the other gorge towns, walking and cycling are viable options for most people.
The Dalles is the largest city in the gorge east of the Portland metropolitan area and it spans barely 10 miles from end to end.
Such individual alternatives save money, reduce pollution, increase fitness and reduce traffic congestion — a quadruple win for the community and the person.
The Link's dial-a-ride system offers a viable alternative for planned trips, such as doctor visits, shopping and other destinations for those who either can't or prefer not to drive.
Other Gorge TransLink options include three times daily commuter buses between The Dalles and Hood River, and a bus route from Portland to The Dalles four times a week.
Considering the cost of maintaining an individual vehicle, the slight inconvenience and extra planning required to take mass or alternative transportation may be well worth it.
Average transportation costs are the second largest household budget cost less than housing, but higher than food or health care, according to the Bureau of Labor Statistics. And those costs continue to climb at at a rate much higher than any other budget category: between 2010 and 2012, transportation costs rose more than 16.5 percent, while health care costs rose 12.2 percent, the second highest expenditure on the budget.
That figure includes more than $3.50-per-gallon gasoline. It also must factor in vehicle payments, repairs and maintenance costs, so it's easy to see how the tally can climb.
Even accounting only for gas, mass transit can pay off on a single trip: A bus trip to Portland and back costs $16 total, while the cost of gas for the 180-mile trip at today's average 24.6 miles per hour (Christian Science Monitor) would be more than $25.
Letting someone else do the driving — or enjoying an endorphin-packed walk or bike ride — can save on stress, too, something most of us bank too much of these days.
So break out the bicycle, strap on the walking shoes or dial up a chauffeur this week. Leave the car in the garage and know you're doing something good for you and your community.