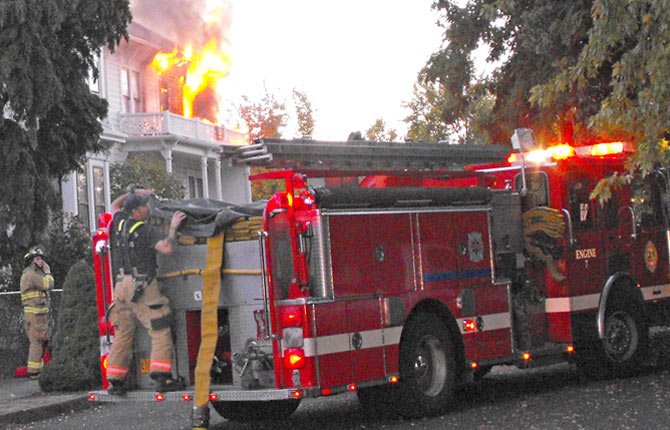 The Dalles — The historic Hudson House sustained about $100,000 in damage following a Sunday evening fire that started in an upstairs bedroom. The four occupants got out safely.
The fire was reported at 6:08 p.m. by someone who wasn't in the home, said Dave Lapof, division chief for Mid-Columbia Fire & Rescue.
The caller also alerted renter Jessica Pfhol and her family, who quickly evacuated, along with their two dogs.
The home, built in 1880, is in the 400 block of West Second Place, behind The Dalles Area Chamber of Commerce. Fire crews knocked down the fire in about 20 minutes, Lapof said.
The home did have working smoke detectors, but they didn't activate when the family evacuated, though responding firefighters could hear them sounding, he said.
Pfhol said she didn't know the man who alerted her to the fire.
"We were downstairs in the house, me and my kids, we didn't know there was a fire above our heads," she said. She, her son and his two friends were watching a movie.
"Somebody banged on our door. I think they broke it open and told us to get out of the house," she said.
"I thought it was a joke. I didn't think there could be a fire," she said.
As she left down the front stairs, she could suddenly feel the heat from the fire a floor above.
"There were flames and there were pieces of wood breaking off and I was afraid it would come down on our head so we ran away from the house."
Her boyfriend had just left five minutes earlier to pick up her two little girls from the babysitter, but she was still frantically trying to look for them.
"I was trying to get back into the house to save kids that weren't even in there," she said.
She was also trying to get back in the house to save pictures, but people wouldn't let her in. Her kids were telling her, "I'm right here,' and I was still trying to save them. Everyone was safe, but I couldn't recognize that. I wasn't thinking rationally, I couldn't form words."
The fire occurred in her son Isaac Einbeck's room.
"My son lost everything he's accumulated in his 17 years," she said.
"His dad died when he was eight months old, and my son was left with certain things that belonged to his dad, and those all burned up. Certain jackets that his dad left behind that he had worn," she said, becoming emotional.
She's reached out on Facebook for help replacing those items that can be replaced. Isaac is a senior at The Dalles Wahtonka High School and a musician and singer. He lost his guitar, but a drum set only received smoke damage and is salvageable.
All the home furnishings his mother was gradually accumulating to get him set up in his own place when he eventually moved out were destroyed.
"We had furniture, TV table, couch, bed, dresser, lamps, end tables. His clothing, his books, his electronics. Everything that he's accumulated in his life is burned to ash," she said.
The fire burned so hot his queen size bed is gone.
"It's like the queen bed was never there," she said.
Her room downstairs was ruined by smoke and water damage. "So all my stuff is gone."
Isaac wears a size 33x32 pants, a large in shirts and size 13 shoes. Pfohl will be setting up donation accounts at local charitable organizations today, she said. Yesterday she rented a storage unit and moved all her valuable antique furniture there, which was spared any damage.
Today she'll begin mucking out what's left and saving what she can from water and smoke damage.
She's living in a motel for three days through the Red Cross, then will be staying with a friend for a time before seeking another rental.
But she's originally from California, and the fire has prompted her to decide to move back closer to family next spring. She moved to The Dalles in 2001.
Ironically, she's about to complete a self-paced program to get a certification in property and casualty insurance, "and I didn't even have renter's insurance, isn't that stupid?"
She did have renter's insurance for the first year she lived in the house, but let it lapse years ago. She's lived there for five years.
Lapof said that "Because of the age of the home and that it was insulated with sawdust — because that's how all these old homes were insulated — we had to tear quite a bit of the interior wall out to make sure we got all that, because the fire could've just continued in the walls," Lapof said. "One-hundred-year-old sawdust is quite dry."
"There was moderate water damage from the fire activity," he said. "We were able to protect quite a bit of the furnishing and personal items with tarps," he said.
Some 19 personnel responded from Mid-Columbia Fire & Rescue and Dallesport Volunteer Fire Department.
The cause of the fire is still under investigation and Dan Hammel, a division chief and fire investigator for Mid-Columbia Fire & Rescue, estimated he would complete his investigation sometime today.