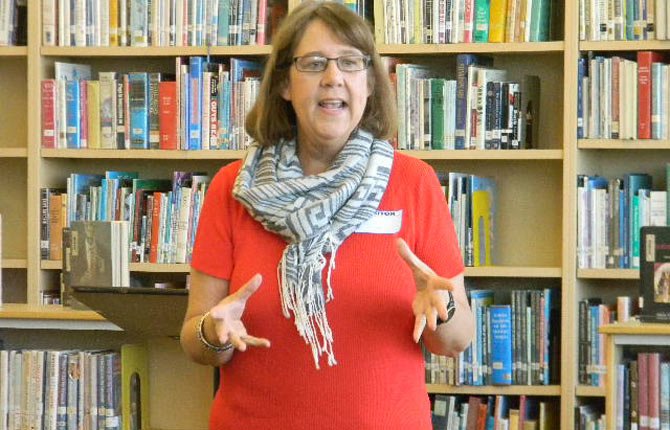 "How many here have experienced bullying?" was the first question author Teri Brown asked of her student audience at The Dalles Middle School on Thursday, Oct. 17.
Over three quarters of the attendees' raised their hands without hesitation. Looking at their classmates with surprised expressions on their faces, a boy in the back whispered to the girl next to him, "Wow, you too?"
Unfortunately, the same question could be asked at any other school in the nation and produce similar results.
Over 3.2 million of today's younger generations have been bullied, while 90 percent of fourth to eighth graders reported they have been bullied in the past. The statistics continue to rise every year.
When asked for details, one student volunteered that he'd personally witnessed a friend with Down Syndrome being physically bullied after other students singled him out for being different.
Raised in Alfalfa, Ore., a small, primarily agricultural town much like The Dalles, Brown said she could relate, confessing that she too had experienced her fair share of bullying as a young adult.
In her short story written for the anthology, "Dear Bully: Seventy Authors Tell Their Stories," Brown describes being repeatedly excluded and mistreated by another student whom she once considered her closest friend.
"Humiliation was her weapon of choice...," Brown reads aloud to her student audience. "She rarely did her own dirty work."
At the story's conclusion, students asked Brown how she thought bullying could best be resolved.
"If you laugh," she said, "you're giving [the bully] an audience... Your open disapproval [of what's happening] is almost always the best way to stop that kind of behavior."
Brown says she feels at home speaking to teens like the group at the middle school.
"It's when I talk to grown-ups that I start to get nervous."
Writing for a primarily middle school audience, Brown says she has a habit of writing what she calls "fish out of water" stories, starring characters who are "very much on the outside looking in."
In her book, "Read My Lips," Brown writes about a deaf girl who can lip read, but who doesn't feel as though she fits in with either the deaf or non-deaf communities. "Of course all of your experiences affect your voice [as a writer], so it makes sense."
Referring to past experiences in which she felt particularly isolated as a teen, Brown said that as a young adult, "You can feel trapped. Trapped by geography, trapped by age... Trapped because all you want in the world is to belong."
That's why she said she thinks it's so important to reach out to young people struggling with issues like bullying or feeling like they don't fit in.
"I think literature is the key to creating empathy. Empathy can change the world because it allows you to step out of yourself and into someone else's life."
Brown's newest book, "Born of Illusion," is out now and available at Klindt's Booksellers for purchase.