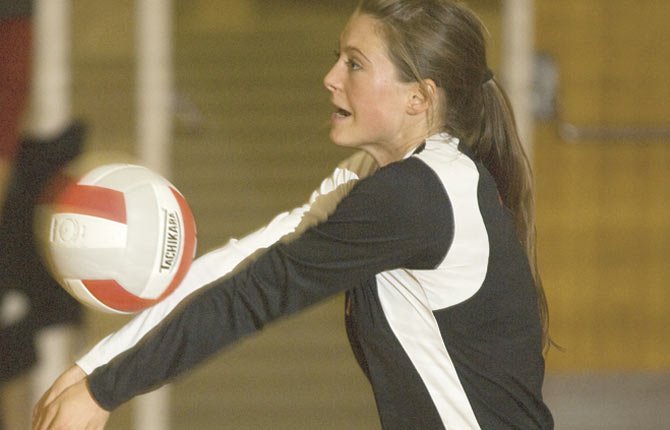 With one final shot at the competition, local teams from South Wasco County, Dufur and Sherman were in action this past Saturday for the annual Ranger Volleyball Tournament at Dufur High School.
Top teams from Country Christian, Condon-Wheeler, Portland Lutheran and other surrounding areas were penciled in as well.
The No. 2-ranked Dufur Rangers, steamrolled their two opponents, No. 1-ranked Lowell and No. 5 Portland Lutheran, in two heart-stopping matches to head into Saturday's district rounds in Dufur with two matches to win.
Against Lowell, the Rangers hit on 69 of 74 serves with 27 aces, and added a 77 for 92 split on hitting swings for 30 kills.
Those numbers paved the way for a lopsided three-game sweep over the Red Devils by scores of 25-20, 25-21 and 25-13.
"A great match against Lowell," said Dufur head coach Kelly Darden. "A lot of great hustle plays by both teams. I thought the girls played with a lot of poise and were patient when we needed to be."
Leading the statistics were Taylor Darden, who laced out 12 kills, two aces, three digs and a block.
Teneille McDonald had 13 kills, two aces, 11 digs and two blocks, and Montana Ferres checked in with two kills, two aces and two digs.
Alexa Macias dished out 25 assists and notched a kill and a dig.
With some pep in their step following a monumental win over No. 1 Lowell, the Lady Rangers kept their foot on the pedal in their match versus No. 5 Portland Lutheran.
After losing the opening set by a 25-22 margin, Dufur bounced back with controlled aggression by final tallies of 26-24, 25-15 and 25-16 to post the impressive four-game performance.
"Amazing," coach Darden said. "After a slow start in the first set and then again in the second set, we battled back from 18-24 and came up with the win. All with defensive hustle."
As a whole, Dufur went 118 for 137 on swings with 42 kills, and added 90 for 96 on serves with 16 aces.
Taylor Darden notched a career-high 26 kills to go along with four aces, four digs and a block.
McDonald chipped in nine kills, 10 digs and two blocks, and Ferres added three kills and 10 digs.
Kyla Johnson reeled off three assists and four digs and Kathryn Johnson was good for two kills, three aces and five digs.
Up front, Macias was her usual steady self with 32 assists, four digs, three aces and two kills.
Once again, Abbey Stelzer, Kelsey Johnson and Tianna Ellis did top work in the time they were on the floor with five aces and four digs combined.
"Tianna Ellis did amazing," coach Darden said. "She came in today and played awesome. She served tough and had great digs. Abbey and Kelsey also came in and played amazing. We have a solid group of girls who love to play together."
The Huskies played in one match against Echo, and lost in three games by scores of 25-15, 25-14 and 25-15.
Although they did lose this match, Sherman still had an opportunity to secure a district play-in berth if it won tonight's No. 3 seed tiebreaker in Maupin against Central Christian.
A win tonight against Central and the Huskies would then head out to Ione for another match in an attempt to extend their season.
South Wasco County lost a pair of matches Saturday, the first coming in three games versus Condon-Wheeler.
The No. 3 Lady Knights won 25-20, 25-14 and 25-20. After that match, the Redsides faced off against Country Christian, and lost 25-13, 25-17 and 25-16.
"We played well at times but are still having trouble with consistency," said head coach Ron Townsend. "We really struggled with our serve receive today."
SWC hosts Echo at 6 p.m. Thursday in a district play-in match.