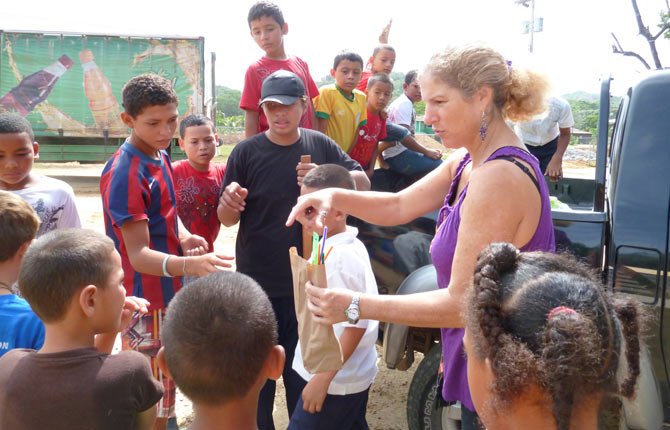 When St. Mary's Academy teacher Lise Larsen went on a diving trip to Honduras this summer, she packed for fun and sun, but also brought a huge suitcase stuffed with $300 in art supplies for impoverished local school kids.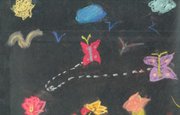 Now, she wants to donate more sophisticated classroom equipment, and hopes to raise the money to do so at a spaghetti dinner this Saturday, Oct. 26, from 5 p.m. to 7:30 p.m. in the St. Mary's gym, at 1112 Cherry Heights Rd. Cost is $6 per person for spaghetti with a choice of sauces, garlic bread, salad, dessert and lemonade.
Larsen, who teaches second grade, first learned about the threadbare public school in the town of West End on Roatan, an island in Honduras, from fellow diving buddies two years ago.
That year, her students donated school supplies, which she shipped down to the school.
This past summer, she went to West End for a week, and not only brought the $300 in art supplies, which she purchased herself, but also taught local students an art project.
She came home with some 30 chalk pastel and oil pastel drawings, all done on black paper, by students in grades two through six. All of those drawings will be available for purchase by donation at the spaghetti feed.
Larsen hopes to buy a $400 computer, a $100 document camera, and a $400 projector for the school. She will match up to $500 of donations with her own money. A cousin has already made a $300 donation. All donations are being funneled through St. Mary's Academy. Cash donations can be given to the school directly by calling 541-296-6004.
The spaghetti feed is a second grade class tradition, and the main goal of the dinner has always been to raise money to sponsor two children through the Christian Foundation for Children and Aging. That costs $720, and the dinner usually raises $800 to $1,000. Larsen hopes to raise more this year to also fund the Honduras school project.
With a computer, document camera and projector, a teacher can project any document onto a screen, and teach from it. "So they can actually have the means to learn, have some visuals," Larsen said.
That eliminates the need to buy books for students. This is a real concern in a classroom that literally only has five books. A large bookshelf sits empty along another wall, and the walls are mostly bare.
"There's no teacher textbooks, there's no books for the children, there's no supplies for the kids," she said.
Larsen said 75 percent of students leave the public school in West End not knowing how to read or write, or how to speak English, a critical skill for getting a job with a decent wage.
Education is a low priority there, and most students drop out by sixth grade. Class is only offered from 8 a.m. to noon, because it gets too hot after that, and there is no air conditioning.
Teacher pay is so low, the jobs are only filled by people who are simply willing to do it, she said. Private schools in Roatan are much wealthier. "There's an incredible disparity between the private schools and the public school in West End," she said.
Her latest goal of providing the computer equipment is a means of "trying to give these kids some type of future besides being menial workers and to me, the least expensive way of doing that is providing the technology so all of the students have access to the information at once [by projecting it on a screen]. And shipping costs to Honduras are astronomical, so books themselves would be cost prohibitive to ship there.
"I'm trying to make a difference in the lives of these kids and give them an opportunity they would otherwise not have because their parents can't send them to the private schools on the island. Because they're beautiful children, they're lovely kids," she said.
With her $300 in school supplies, she worked with a local business owner – who owns a dive shop and hotel in West End and encourages tourists who book with her to bring supplies for the school – to divvy up the goods into paper bags to give students.
There are 90 students in the school, but they only had enough supplies for 71 bags. They had to limit it to students in grades two through six.
Each bag had just a minimal amount of supplies – a few pencils, a ruler, eight crayons, a few markers and a glue stick. "And the kids are thrilled, absolutely thrilled, to get that," she said.
She sees the West End school as a sort of "sister school" for St. Mary's.
Larsen is learning Spanish this year, and plans to visit West End next summer for two weeks, and hopes to bring the school equipment and teach the teachers how to use it.