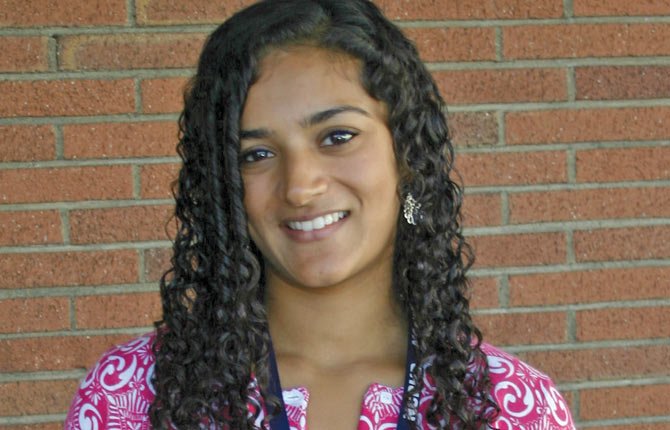 Students at Chenowith Elementary School will have a chance to "Eat Real" this Thursday, Oct. 24, at "tasting tables" featuring locally grown vegetables.
The monthly tasting tables are being launched on Food Day, a nationwide celebration and movement for healthy, affordable and sustainable food.
"This month we are offering sweet bell peppers," said Leela Patel, an Americorps VISTA volunteer with the North Wasco County Public Health District. "Each month after this, we'lll have a different fruit or vegetable."
Patel is working with the OSU Wasco County Extension Service to offer the tasting tables. The aim of the program is to increase what is now relatively low consumption of fresh fruits and vegetables.
Patel hails from New Jersey and is a graduate of Cornell University with a degree in psychology and an interest in nutrition. Her decision to work in Wasco County came after learning of the opportunities here to work in the health and nutrition field.
"It's a great year-long opportunity for me to gain more experience and learn what public health has to offer," Patel said.
As part of Food Day, Patel has also been working with a half-dozen local restaurants that plan to offer special, healthy menu items in recognition of Food Day. Participating restaurants include The Riverenza, Montira's, Clock Tower Ale, Petite Provence, Skyline Grill, Cup of Mud and Casa el Mirador. The specials are left up to the restaurant, but a couple of examples include The Riverenza's curried chicken wrap and Cup of Mud's spinach, celery, apple and carrot juice.
These won't be Patel's only efforts aimed at improving local nutrition. AmeriCorps VISTA volunteers work at alleviating poverty and building community capacity. One of the challenges of poverty is poor nutrition and Patel hopes to do work here that will have a lasting effect in that arena.
Toward that end, she plans to teach an Awesome! class next term at The Dalles Wahtonka High School in cooking. The short Wednesday classes are focused on fun pursuits and avocations like knitting, ping pong and, yes, cooking.
Another woman is already teaching a cooking class, but she and Patel will be working together during the next term to focus on healthy cooking.
"We're talking about polling the students to wee what their favorite meals are and have each class oriented toward doing a healthy makeover," Patel said.
The high school lost its home economics teacher some years ago to funding cuts, she said, but still has a nice teaching kitchen. Patel said her goal is to see the program regain funding by the end of her year here.
Online:
www.foodday.org