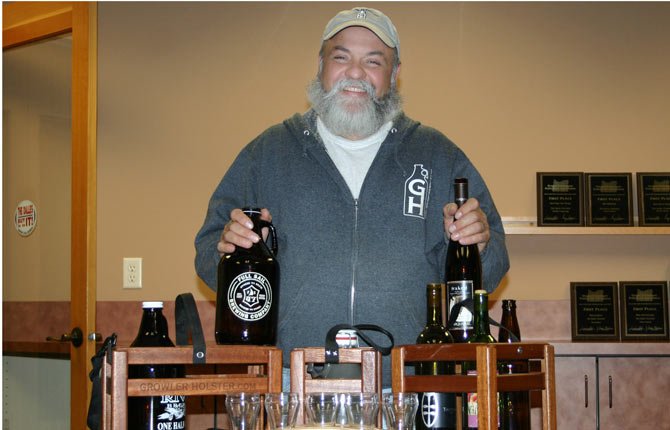 Bryan LaRoque was working for Nordic Tugs in Burlington, Wash., as a longtime trim carpenter and cabinet maker on multi-million-dollar yachts when he conceived of the idea to put his 38 years of woodworking experience to use on a bit smaller scale to provide a safe harbor for growlers — the large refillable bottles in which brew pubs sell their products.
"I got my first growler about a year ago at North Salem Brewing Company," LaRoque said. "I had two and I put them in the trunk of my car and they broke." With a beer-soaked trunk, he was glad he didn't get pulled over during the next couple of days.
LaRoque went online looking for a device to contain and stabilize his growlers for safe transport and storage. After finding nothing, he conceived of the Growler Holster, "protection for your precious cargo."
Now he is known at brewpubs and bars in the Pacific Northwest as The Growlerman. He offers Growler Holsters — wooden carrying cases — in sizes to hold a single standard growler, a double, a deluxe to hold a pair of fancy-handled growlers, and a wine holder that holds four standard wine bottles or four 22-ounce beer bottles made from fine sapele mahogany used in making boat cabinetry.
"At a pub a guy came in and said, 'Now my wife won't get mad at me for having my brown bottle on the counter,'" LaRoque said.
LaRoque's business has seen regional trade press and his products are sold in 31 locations around Washington and in Portland. He is working now to expand his business into Oregon.
A native of The Dalles and graduate of Wahtonka High School, LaRoque recently moved back to town and is now manufacturing his Growler Holster's in the carpentry shop operated by his father. The move allows him to spend more time with his parents, Frank and Paulette LaRoque, his daughters Isabella and Gwen, and his sister Camille Weimar.
In addition to building the Growler Holsters, LaRoque is busy marketing them to the area's many brew pubs. He is also working with other local businesses in producing the holsters. Minor's International Wood Design uses laser engraving to personalize the holsters with the name of the establishment. Rage Graphics handles some of the machine work. LaRoque also hopes to work with Opportunity Connections to find employees to help expand his production line.
"I need to ramp up production," LaRoque said. He believes he is only tapping a small portion of the U.S. brewing industry. "Eighty percent of the U.S. sells growlers. There's lots of room to grow and be a big manufacturers."
LaRoque is also expanding into the manufacture of customized sampler trays.
LaRoque's products are on sale now at Keller's Brew Supply and online at www.growlerholster.com.