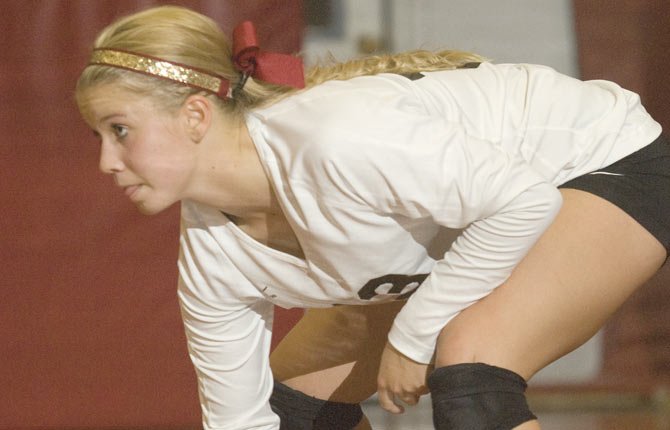 It seems like only yesterday that The Dalles Wahtonka seniors Morgan Triperinas and Danielle Perry were wide-eyed, fresh-faced freshmen learning the volleyball ropes.
Tuesday night, in pretty much a quick flash, those four years came and went.
The duo, along with fellow senior Susanna Telanti, were honored before their rivalry match against Hood River Valley for their years of dedication and hard work for the volleyball program.
"Every year goes by faster and faster," a teary-eyed Perry said. "When the end of the season comes, you always look forward to another year. There is not another year. I am still so sad that I am not going to be able to play anymore in high school with these girls. I am going to miss it a lot."
Perry discussed in length what it meant to be a part of something greater than she is, the bus rides, the laughs, the pranks, the tears and the joyous moments she shares with girls she considers her second family.
She will remember the little quirks every player had to them, whether it was the instant laughs that came with conversations with Lori Cimmiyotti and Maddy Bradford or the comforting leadership Olivia Starks brought to the team.
Morgan Goslin was deemed the positive re-enforcer, Timarra Roth as the cheery go-getter, Triperinas the fearless leader in the huddle and on the court.
"Everyone on this team has something. They are all memorable in their own way," Perry said. "Being with these girls is something you have to appreciate. I will never forget them."
More than the personal relationships and lifelong friendships forged, Perry takes with her many poignant life lessons.
Playing inter-scholastic sports has taught her so much about herself, but has also taught her how to deal with different personalities, establish a strong work bond and settle differences immediately so there are no festering animosities.
She will head to Eastern Oregon University to continue her studies, but she will never forget wearing the black spandex and jersey as she went to battle with her teammates every season.
"I am going to be an Eagle Indian forever," Perry said. "The fact that they are changing the school does not change anything about me. Everything that I have is going to be Eagle Indian forever. My home is The Dalles and I am going to come back later and let everyone know that this town is my heart."
Although her sports career is not over quite yet, with softball upcoming this spring, Triperinas could hardly believe her time had come and gone.
The hardest part will be uniform check-in.
"It hasn't sunk in really," Triperinas said. "It sucks because this is the last time I will ever play here. It is sad, but I still feel proud to be a part of this team. My last match, we won in five games over Hood River. It will definitely be a night I will always remember."
Looking towards a bright future
Although three athletes exit stage left, The Dalles Wahtonka head coach Amy Schwartz is looking forward to working with a solid group of returners and a few newcomers next year, as the goal to make the playoffs and beyond still remain a long-standing program goal.
"We have several returners who are going to be vying for those spots," Schwartz said. "We also have a bunch of JV players who gained experience this year too. It is going to be hard to fill the loss of these seniors, but at the same time, it is going to be exciting to see a new player step up and have that opportunity."
In order to develop the talents coming up through the ranks, Schwartz hopes her athletes take advantage of some opportunities such as club volleyball or extra gym time to get in shape.
She knows there is no reason that players who are not on other sports team should be stagnant.
"My hope is that a lot of these girls play winter club ball," the second-year coach said. "They will get a more hands-on coaching approach and better competition at a higher level. You hope that they are working out, so they get stronger each year and become key components to our teams."
Added to those key components will be Olivia Starks, Lori Cimmiyotti, Keatin Logue, Maddy Bradford, Deysi Velador, Hannah Schechtel, Morgan Goslin and Natalie Moleli to name a few. It is good group of players to build around, though, someone needs to replace Triperinas' libero slot.
"It makes me really excited. We still are a young team," Schwartz said. "We won't necessarily be as young next year; there will be a lot of juniors and seniors, which is good because you want added experience and the wisdom that comes with it at that age. We have been young up until now, which is good, because they are all coming up at the same time challenging each other to get better."
At the start of daily doubles in late August, Schwartz and assistant coaches Neticia Enesi and Kelly DeLeon saw the number of participants rise from the mid-20s up to as 35 athletes, 14 of them freshmen, on hand.
With a handful of standouts coming from a middle school team led by Emma Weir and Jodi Thomasian that went 7-1 this past fall, the roster bodies could swell into the 40s, so there appears to be growing optimism that Schwartz and her staff have a good message going for them in just a two-year span.
"I think it shows that girls are excited about volleyball again," Schwartz said. "That is our goal here as coaches, we want them to want to play volleyball here and enjoy success. We want to build our program even stronger to compete with these other teams in our conference. This is a good start."
In her two years as head coach, Schwartz admitted she has learned a lot about herself, the players and expectations.
She is still learning something new every day, which is a good thing.
"Each year you go in with a game plan," Schwartz said. "Then you get a new group of kids coming up, some other things change and you have to be ready to adjust. You always have that over the summer and at the beginning of the year. You never have anything set in stone, but it is exciting to see all of the possibilities. Each year, you also learn more and more about other coaches from other teams and their tendencies. I believe we are getting there. That makes me excited."