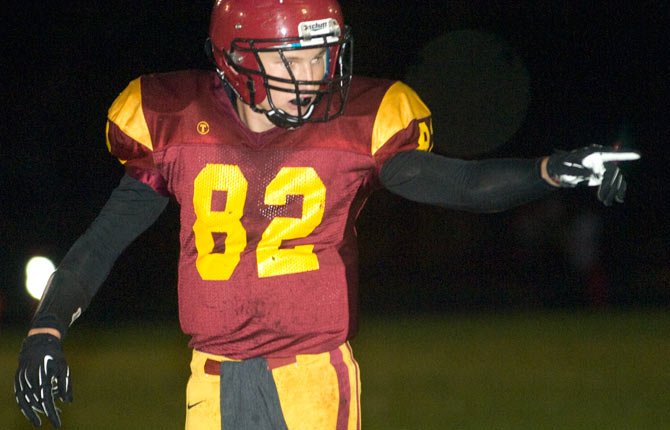 The Dalles Wahtonka will be looking for a little respect Friday night in their long-running running rivalry with Hood River Valley.
For 15 of the past 17 years, the Eagles have had the upper hand and Friday they look to continue the trend.
On a crisp Wednesday evening, with the summer heat now losing its sting and the fall winds howling in a new season, the Eagle Indians and their 12 seniors are hoping the change in climate brings with it a change in bragging rights.
Along with that, TDW lineman Mike Pifer is hopeful his squad can come together for 48 minutes of smashmouth football to attain what has been unattainable: to snatch gorge supremacy from the clutches of their foes from the HRV.
"This is the most important game for us because it's a big rivalry game," Pifer said. "Ever since last year, we have looked forward to this game. This is Hood River's last game, but if we win, we go to the playoffs."
There is also the fight for The Old Wash Bucket.
Bucket?
Bucket.
The winner of the gorge showdown is the proud owner of the aforementioned bucket as bragging rights.
The bucket originally started as a rivalry trophy between Wy'East High School and The Dalles High School in 1965.
Since Wy'East and Hood River High School merged in 1970, HRVHS and The Dalles have met 32 times, with HRV leading the series 18-14.
Since 2002, the first time the teams met since 1993, HRV has won 9 of 11, with the only TDW wins coming in 2009, a 29-6 victory, and 2010, a 38-12 win.
In the past two years, the Eagles have been showing a dominant performance with consecutive wins over TDW by a combined margin of 98-6.
Much like the Loch Ness monster, Bigfoot or the Chupacabra, many of the seniors on the Eagle Indian roster do not even know what color the "bucket" is or even what it looks like.
From the long 365-day wait, and with the sting of last season's 43-0 road loss still deep in the hearts of the squad, the practice intensity all week has hit fever pitch.
Zach Cantrell can attest to that.
"We have been waiting for this game since this last summer. All we talked about was this game," the defensive back said. "We have been charged all week in practice. Fights were breaking out. We are so ready. We have a lot of intensity going into this game."
After consecutive wins over Hood River in 2009 and 2010, TDW has fallen on tougher times with back-to-back one-win seasons.
With new coach Steve Sugg under control, TDW not only has an opportunity to erase years of futility against their cross-town rivals, they have an opportunity to attain something many naysayers felt would never happen — a playoff berth.
TDW is currently 4-4 on the season and ranked 16th in the state. A win Friday solidifies their place in the top-24 and a postseason berth.
"It would mean a lot it," Cantrell said of a playoff possibility. "(It) just shows how hard we have worked to get to this point. If we just do what our coaches have been telling us all week, we will get the job done."
With a depleted roster, TDW came close to knocking off highly regarded Pendleton, holding leads of 22-6 and 28-12 at one point.
Midway through the third quarter, Pendleton rallied to regain the lead by two scores until a touchdown catch by Austin DeHart pulled the Tribe to within 39-34 with six minutes and 23 seconds left in the third quarter.
However, the Eagle Indians could not complete the comeback, while Pendleton padded its lead with a pair of late scores to win, 53-34.
There were nuggets of knowledge taken away from that bitter road loss.
Cantrell likened that outcome to his team not taking their foot off the gas pedal when they establish a sizeable lead – they need to fire out for the entire game.
Pifer agreed.
"Last week's game taught us to never give up and we need to play 48 minutes of b---- out and don't take any plays off," Pifer said.
The next step starts at 7 p.m. Friday, and with so much riding on one game at Sid White Field, the Eagle Indians can almost taste it.
Will there be tears of joy after a monumental win?
Or will the Hood River players continue to revel in their usual dominance, on the road, in front of many rabid Eagle Indian fans?
We will all know in just 24 hours.
The clock is ticking.
The players will decide it.
Who wants to be a hero?
Who is going to be the one who leads his team?
Time will tell.
"It would mean so much for us to make playoffs because it shows even through adversity, we can overcome it and come together," Pifer said.
Radio station 1440 AM broadcasts at 7 p.m.
Historical information from a previous story by Ben McCarty was used in this story.