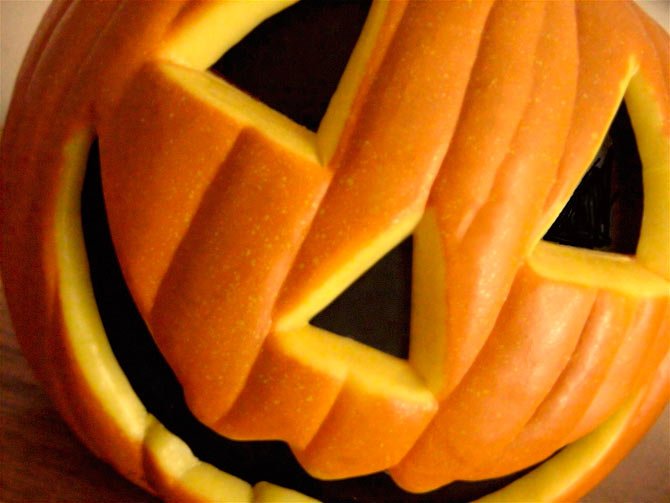 Pumpkin Walk
Enjoy a nice walk along the Sorosis Park Trail while viewing and judging carved pumpkins in the Carv' Me Crazy Pumpkin Walk, Saturday, Oct. 26, from 5 to 8 p.m. at the Sorosis Park Shelter. Kids' pumpkin painting by the fireplace and some festive carved creations are planned. Those who want to enter the contest can do so in three categories: scariest, funniest and best artistic work. T-shirts will be awarded to first, second and third place in each category. All contestants must have their pumpkin carved and at the event no later than 6 p.m.
For more information, call 541-296-9533.
Halloween falls on a Thursday this year, but some venues are starting the party this weekend:
Oct. 25 – Halloween party DJ spinning house and hip-hop, 9 p.m., The Vault, 209 E. Second St., The Dalles
Oct. 26 – Dufur Harvest Festival, 10 a.m.-4 p.m., Bee Grounds, Dufur
Oct. 26 – South Sherman Fire Cadets' Haunted House, Grass Valley Fire Station, 6-10 p.m.
Oct. 26 – Rock-n-roll Halloween Dance Party with The Sceptres, 7 p.m., tickets Columbia River Music and Klindt's Booksellers, The Dalles Civic Auditorium, 323 E. Fourth, The Dalles
Oct. 26 – Disco Halloween Bash and costume contest, 9 p.m., The Vault, 209 E. Second St., The Dalles
Oct. 26-27 – Wake the Dead IV Halloween Ball, 8 p.m.-midnight, hoodriver.org/events-festivals/chamber-events/harvest-festival
Oct. 31 – Downtown The Dalles Trick or Treat for Kids,3-5 p.m., followed by party at Sunshine Mill
Oct. 31 - Safe Trick-or-Treat, 6:30-7:30 p.m., Flagstone Senior Living, The Dalles
Oct. 31 – Halloween Party and Haunted House, 6-9 p.m., Rufus City Hall
Oct. 31 – Dia de los Muertos Celebration, noon-6 p.m., AniChe Cellars, 71 Little Buck Creek Road, Underwood, Wash., info@anichecellars.com, 360-624-6531
Nov. 1 – El Dia de Los Muertos celebration, 5-7 p.m., St. Francis House, 3686 Davis Dr., Odell, 541-387-7060, info@hoodriverlibrary.org
Submit items to Arts & Entertainment by e-mail
at kursprung@thedalleschronicle.com, by fax at 541-298-1365, or at The Chronicle office, 315
Federal St., The Dalles.
This Week
Oct. 25 – Jeff Carrell, 7-10 p.m., Sunshine Mill, 901 E. Second, The Dalles, www.sunshinemill.com
Oct. 25 – The June Bug Boys with Delta Halos, 9:30 p.m., Cebu Lounge, Hood River Inn, 1108 E. Marina Way, Hood River, www.hoodriverinn.com
Oct. 25-26 - Ted Horwitz at the piano, 6-9 p.m., Columbia Portage Grill, Shilo Inn, I-84 Exit 87, 3223 Bret Clodfelter Way, The Dalles
Oct. 26 – The Pink Project Bra Art Contest, following Pink Project Walk at 9:45 a.m. starting at Third and Lincoln streets, arriving at Clock Tower Ales, contest entry deadline is Oct. 25 at Lines of Designs
Oct. 26 – Gorge Paranormal Society, 2 p.m., The Dalles-Wasco County Library, 722 Court St., 541-296-2815
Oct. 26 – Appraisal Fair, 1-4 p.m., Maryhill Museum of Art, 35 Maryhill Museum Drive, off Hwy. 14 19 miles east of The Dalles, 509-773-3733, www.maryhillmuseum.org
Oct. 26 – Big Band music with Dr. Ogden and his five-piece band, 2-4 p.m., Goldendale Middle School, 520 E. Collins St., Goldendale
Oct. 26 – Disco Halloween Bash and costume contest, 9 p.m., The Vault, 209 E. Second St., The Dalles
Oct. 26 - Acoustic Afternoons, all musicians welcome, 1-4 p.m., The Riverenza, 401 E. 10th St., The Dalles, 503-440-9273
Oct. 26 – The Police Cars, 9:30 p.m., Cebu Lounge, Hood River Inn, 1108 E. Marina Way, Hood River, www.hoodriverinn.com
Oct. 26-27 – Heirloom Apple Celebration, 541-386-7696, www.hoodriverfruitloop.com
Oct. 29 – Family Fun Circus, 4:30 and 7 p.m., The Dalles Armory, www.facebook.com/pages/Family-Fun-Circus
Oct. 29-31 - Kramdown Karaoke, 9 p.m., The Vault, 209 E. Second St., The Dalles
Upcoming
Nov. 1 – Komedy 4 Da Kids with Angel Ocasio, 10:30 a.m., The Dalles-Wasco County Library, 722 Court St., 541-296-2815
Nov. 1 – Jelly Bread, 9:30 p.m., Cebu Lounge, Hood River Inn, 1108 E. Marina Way, Hood River, www.hoodriverinn.com
Nov. 1-2 – "Comedy of Errors," 7:30 p.m., Columbia Gorge Community College, Building 2, Floor 3, 400 E. Scenic Drive, The Dalles
Nov. 2 – "Art-a-ritaville" 56th annual art auction for The Dalles Art Association, 6 p.m., The Dalles Civic Auditorium., The Dalles, www.thedallesartcenter.org
Nov. 2 – Lewi Longmire and the Left Coast, 9:30 p.m., Cebu Lounge, Hood River Inn, 1108 E. Marina Way, Hood River, www.hoodriverinn.com
Nov. 8 – Blackberry Bushes String Band, 9:30 p.m., Cebu Lounge, Hood River Inn, 1108 E. Marina Way, Hood River, www.hoodriverinn.com
Nov. 8-9 - "Comedy of Errors," 7:30 p.m., Columbia Gorge Community College, Building 2, Floor 3, 400 E. Scenic Drive, The Dalles
Nov. 9 – Smoke on the Water, 9:30 p.m., Cebu Lounge, Hood River Inn, 1108 E. Marina Way, Hood River www.hoodriverinn.com
Nov. 10 - "Comedy of Errors," 2 p.m., Columbia Gorge Community College, Building 2, Floor 3, 400 E. Scenic Drive, The Dalles
Nov. 15 – Book signing with Karen Spears Zacharias, author of "Mother of Rain," 5 p.m., Klindt's Booksellers and Stationers, 315 E. Second St., The Dalles, 541-296-3355, www.klindtsbooks.com
Nov. 15 – Fashion Gala After-Party with DJ Cooky. 9 p.m., Cebu Lounge, Hood River Inn, 1108 E. Marina Way, Hood River, www.hoodriverinn.com
Nov. 15-16 - "Comedy of Errors," 7:30 p.m., Columbia Gorge Community College, Building 2, Floor 3, 400 E. Scenic Drive, The Dalles
Nov. 16 – Build Your Character writing workshop with Karen Spears Zacharias, 9 a.m.-noon, Klindt's Booksellers and Stationers, 315 E. Second St., The Dalles, 541-296-3355, www.klindtsbooks.com
Nov. 16 – Black Lillies, 9:30 p.m., Cebu Lounge, Hood River Inn, 1108 E. Marina Way, Hood River, www.hoodriverinn.com
Nov. 28 – Community Thanksgiving Dinner, noon, St. Mary's Academy
Nov. 29 – Starlight Parade, 6 p.m., parade route, The Dalles
Nov. 16 – Build Your Character Writing Workshop, 9 a.m.-noon, Klindt's Booksellers and Stationers, 315 E. Second St., The Dalles, 541-296-3355, www.klindtsbooks.com
Nov. 29-Dec. 24 – Juried Holiday Show, The Dalles Art Center, 220 E. Fourth St., The Dalles, www.thedallesartcenter.org
Dec. 6-7 – Festival of Trees, auction Friday evening, Community Day Saturday morning, The Dalles Civic Auditorium, 323 E. Fourth St., The Dalles, www.thedallescivic.org
Dec. 14 – Last Chance Holiday Bazaar, 10 a.m.-4 p.m., Hood River County Fairgrounds near Odell, 541-354-2865, www.hoodriverfair.org
Dec. 22 – Holiday High Tea, 1 p.m., and an evening with St. Nick, 6 p.m., hoodriver.org/events-festivals/chamber-events/harvest-festival
Dec. 31 – New Year's Eve Celebration, 7 p.m., hoodriver.org/events-festivals/chamber-events/harvest-festival