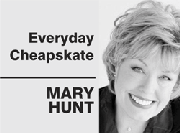 I've traveled a lot in the past 22 years. My American Airlines account shows more than 1.3 million miles on that carrier alone. You can only imagine how many hotels, motels, bed-and-breakfasts and inns I've stayed in. While most have been adequate, a few were downright scary. And I can count on one hand those I would rate with five stars.
Where I live in Orange County, Calif., hotels, motels and inns are pricey. I'm sure that has a lot to do with the popularity of Disneyland, Knott's Berry Farm, Aquarium of the Pacific, Hollywood, Universal Studios and on it goes. Tourism is a big deal here.
Recently we had some work done at our home, which required us to be away from it for two nights. I booked a room at a hotel close by and nearly passed out when I saw the tab: $388 for two nights. Sure, that included parking and breakfast, but come on. All we needed was a place to unwind, shower and sleep.
When I couldn't get that $388 number out of my mind, I decided to check around.
Over the past 30 years I've driven past Don's Turf Motel no fewer than a thousand times, I'm sure. The place gets rave reviews, so I decided to cancel the $388 reservation and book two nights at Don's instead. The rate? $60 per night.
Driving onto the property, I wasn't impressed. It looked a little dumpy. We found our room and chuckled as we walked in. We're talking no-frills here. None. Not a picture on the wall, no Internet service. But what this roomed lacked in fancy upgrades, it more than made up for in cleanliness.
The towels and bath mat were fluffy and pristine. The tub and shower were not new, but there was not a scratch, not a crack, not a hint of mildew, not a stain, not a molecule of scum or residue. The chrome shone like a new penny.
We found two tiny bars of soap, an extra roll of toilet tissue and that's it. No hair dryer, shampoo, conditioner or body lotion; no mouthwash, shoeshine mitt, shower cap or sewing kit.
Don's Turf Motel has no room service, no food options and no binders of information sitting in the room. You will not find valet parking or bell staff, concierge or shuttle bus. Don't expect frequent flyer points or breakfast. You won't find $10 bottles of water or $15 cashews. You won't get an electronic key or a TV with games and movies on demand.
What you will get at this unique vintage motel is a great night of sleep, one of the cleanest rooms I have ever seen in all the years I've traveled, a very nice staff and the services of professional housekeepers. I want to take lessons from the people who care for these rooms. They deserve awards and accolades.
And now for bonus round: Centrally located and close to the freeway on Katella Avenue in Los Alamitos, Don's Turf Motel is 6 miles from Knott's Berry Farm in Buena Park, 9 miles from Disneyland in Anaheim and 10 miles from Aquarium of the Pacific in Long Beach.
Don's Turf Motel gets five stars from your humble columnist. Now that the word's out, I suggest you book early if you see a trip to California in your future and this is the kind of overnight accommodation that appeals to you and your wallet.
Mary Hunt is founder of www.DebtProofLiving.com and author of 23 books, including her 2012 release, "7 Money Rules for Life."
You can email her at mary@everydaycheapskate.com, or write to Everyday Cheapskate, P.O. Box 2099, Cypress, CA 90630.