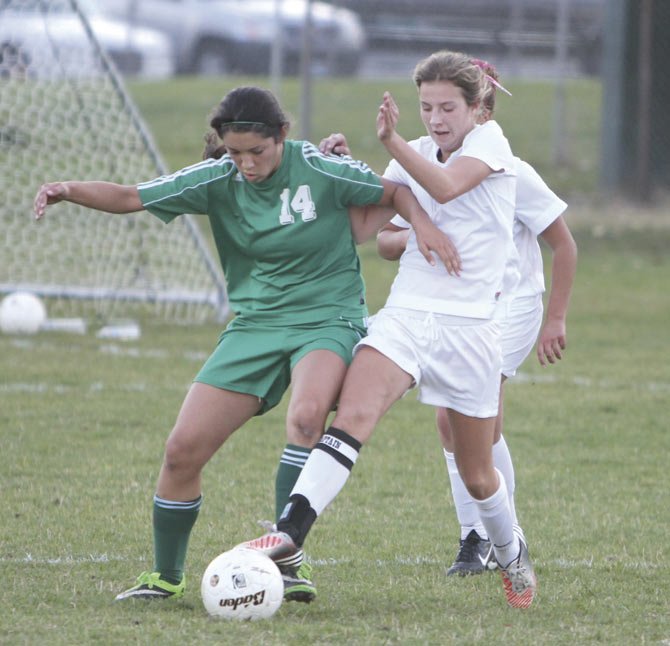 Even with six players on the sidelines due to injuries, The Dalles Wahtonka girl's soccer team put up a spirited effort but could not solve Pendleton, suffering a 2-0 shutout loss Thursday in Columbia River Conference soccer play in The Dalles.
Now the playoff surge depends on next Tuesday's results at home against Hood River and the number crunchers.
"There is still one more game left. I think we are close enough," said TDW head coach Colby Tonn. "You have to win one to see if anything can happen. We need to leave it all on the field. If we can win one great, if not, you have to end on a high note."
After both teams battled to a scoreless halftime draw, the Lady Buckaroos used a quick five-minute span in the opening portions of the second stanza to do all of their damage.
In the first minute, Pendleton's Marisol Argueta grabbed a rebound, while TDW goalkeeper Nayeli Lopez was out of the net and trickled her shot past three Tribe defenders for the first goal to make it, 1-0.
Four minutes later, the Bucks pressured the ball and forced the Eagle Indian defense to fire out a clearing pass to midfield.
Chelsey Parker trapped the ball and dribbled forward for 30 yards past a slew of TDW players into the penalty area before banging home a low left-footed shot past Lopez to run the count up to 2-0.
TDW had just a few scoring opportunities, as Pendleton dropped down to keep the speedy forwards at bay.
When a shot went through, Pendleton's McKenzie Sherman made five saves to keep the shutout.
"I am so proud of our defense. We played great," said Parker. "Our plan was to keep our players back and force them to make a perfect play. We knew they had some fast girls and we did our best to keep them out of the lanes. We did a good job of that."
Aside from what defender Bailey Cordell deemed a mental lapse, she said the spirits of the team were high, based on overall performance.
The last time these two teams played, the Buckaroos had their second-highest scoring output of the season with four goals in a 4-2 win.
"We take a lot out of this, but it is also frustrating at the same time," Cordell said. "We played two times better than we did last time against them."
With a depleted roster of potential all-leaguers on sidelines with a number of bumps and bruises, the team has taken on the mentality of next girl up.
Tonn has been pleased with their effort, Cordell saw a breakthrough from this inexperienced group.
"Our mentality is whoever is on the field is going to play hard no matter what," she said. "Whether it is JV or varsity or we are missing our first 11 girls, we are going to play hard."
Sitting at No. 28, TDW (4-6-2 overall, 1-3-1 league) has one more game at 4 p.m. Tuesday against No. 13 Hood River (6-4-2, 3-0-2) to try to slide into the playoff mix.
Cordell assured that these players are not going to hang their heads — they will be focused on Hood River.
"We make sure to keep up the intensity in practice every day and we always have the hopes (of the playoffs) in our mind," Cordell said. "It is not gone, so we are going to play hard until the last minute and the last second until it's over, and then it is over."
TD boys wallop Pendleton, 6-2
With their backs against the wall, The Dalles Wahtonka boy's soccer team came out in full force with its best offensive output of the season
Leo Hernandez scored two times and added two assists, as five different players hit the scoresheet in a 6-2 road victory over Pendleton in Columbia River Conference play.
Andres Manzo got the Tribe on the board at the 15-minute mark of the opening stanza with a hard shot from just outside the 18-yard mark to make it 1-0.
After Pendleton evened the score at 1-apiece, Tony Morales slipped past the Buckaroo defense and planted his shot for a tally to move the Eagle Indians ahead by a 2-1 margin at the break. Still not satisfied with the outcome at that point, TDW head coach Luis Gamez challenged his team to show added consistency on the field. They responded and then some.
"We came back and played a very solid second half," Gamez said. "I did not want the team to drop their level of intensity. In the second half, we went back to controlling the game. We were attacking well. At practice, we had been working on through-ball situations. They paid off. We had outstanding through-ball runs."
Just seven minutes into the second half, Hernandez tickled the twine for his first goal off a cross pass from foreign exchange student Rocco Cozza to swell the Tribe lead to 3-1.
Eight minutes later, senior Christian Garcia would not be denied, as he retrieved a lead pass from Hernandez and deposited his shot to the back of the net to make it a three-goal lead at 4-1 with 25 minutes still left to play.
Garcia was then fouled inside the penalty area, and Gamez sent out Ernesto Rodriguez to take the penalty kick. Rodriguez blistered his shot past the Pendleton goalkeeper to pad the lead at 5-1.
Finally, at the 70th minute, the Eagle Indians put the cherry on top of a solid effort, as Hernandez lofted a pass into the penalty area for Denis Kazakov.
Kazakov jumped in the air and headed his shot home to run the count to 6-1 with 10 minutes left in regulation.
Pendleton got on the board late on an own goal to cap the scoring.
While the win was huge, there is not much Gamez or his 28th ranked team can do to crunch the numbers for a top-24 berth and the playoffs.
His only focus is the play on the field.
"We have been playing a lot better soccer and doing a lot of great things," Gamez said. "I feel bad that we started late, but we are finishing strong. I am not looking at rankings. I want them to go out there and work hard and do their best to finish out with a successful season."
TDW (3-6-3 overall, 2-2-1 league) travels to take on No. 5 Hood River (11-1-1, 5-0 league) for its final regular season match at 6 p.m. Tuesday.