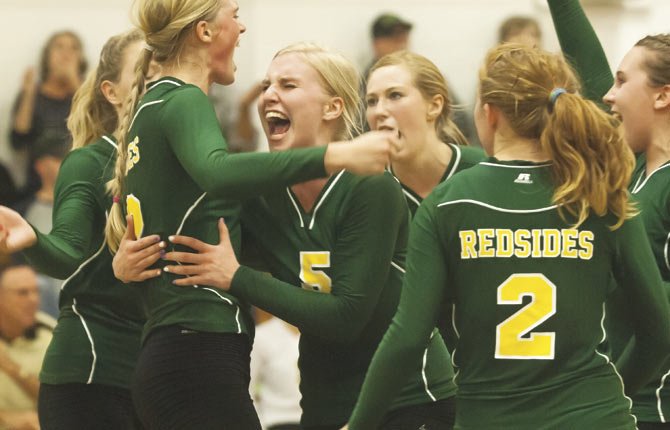 From the first time he evaluated the talent level of the South Wasco County volleyball team, head coach Ron Townsend felt there was a limitless potential ready to blossom for years to come.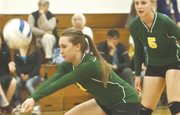 Thursday, the Lady Redsides came through in a pressure situation with a four-game triumph over Echo in a Big Sky Conference volleyball crossover match in Maupin.
"It is great to see this group of girls have some success as they are a great group and work hard together," Townsend said.
From the opening tip, it appeared as though the Redsides were all business against the Cougars.
SWC swung out in great fashion for a double-digit win, a 25-11 tally to jump out in front, 1-0.
The Cougars were not about to go quietly in the night, however, and they responded with their best offensive output in securing a 25-20 win to even things up at 1-apiece.
In these critical best-of-five game matches, the team that can put those swings together to take the third game put themselves in a prime position to pull off a match win.
South Wasco County took control in that third set and then reeled off a 25-15 decision to go ahead, 2-1.
Needing one more set win to keep their season going, the Redsides imposed their will with a 25-7 outcome deciding matters.
"I thought the girls played with great intensity tonight," Townsend said. "We had some unforced errors in Game 2 which let them to pull that game out, but we were able to correct those mistakes and played better as the match progressed."
From the service line, SWC connected on 90 of 96 attempts with 10 aces.
Roxanne O'Neal had four aces and three kills, and Molly Foreaker checked in with two aces.
Kelsie Olson had three kills and two aces, and the swing tandem of Zoe Morelli (15 kills) and Joy Kelly made good on 41 of 47 shots for a combined 25 kills.
Now all that stands in the way of the Redsides punching a state play-in ticket is at least one win.

They hit the hardwood in Dufur for district volleyball action at 10 a.m. Saturday against Condon-Wheeler.

If they can win, the Redsides play at 2:30 p.m. in the title game.
A loss and SWC plays at 1 p.m. for a chance at a No. 3 state play-in berth.