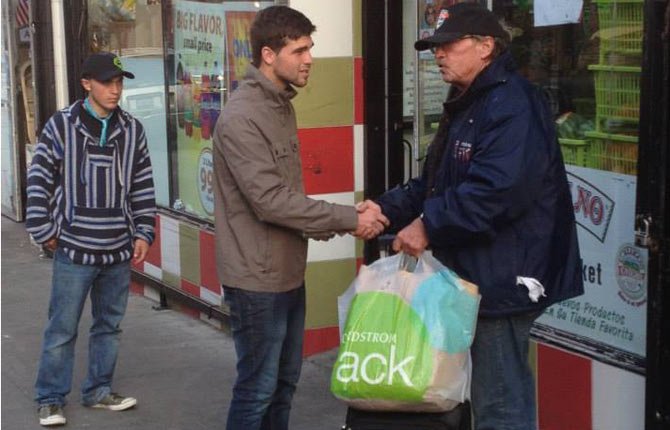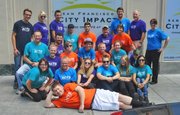 For a third year now, local teens went on a mission to San Francisco's toughest neighborhood, the Tenderloin, to minister to residents there.
The mission trip, taken this last August, was through ACTS (Acclaiming Christ through Sports), a local ministry founded by Joe Martin. The youth came from seven area churches — and about half do not go to a church at all, Martin said.
The 16 youth and nine adults on the mission worked with a group called City Impact, which runs the San Francisco Rescue Mission.
They had a variety of tasks, from taking meals to residents in their homes to working in a thrift store to simply talking to people, in what is called street ministry.
The Tenderloin is a world of poverty, drugs and crime. For their protection, the youth and adults were all paired with local staff of the rescue mission.
Martin stressed to the youth that their most important job was to simply listen to what people had to say.
"I really try to teach the students and the adults that it's not about sharing Jesus, it's about hearing their story first and then if you have an opportunity to do that, obviously you want to, but it's caring about them first," Martin said.
"This is not judgment, this is listening to people's stories, this is introducing people to God and God is going to change whatever in their life, not us," he said.
And when people did open up to them, jaw-dropping tales came out. One drug dealer said he was no longer a user himself, but he said he was providing a service by selling drugs to people who needed them.
"The frustrating thing was he was 45, very intelligent, very sharp, obviously he's a good salesman because he has a lot of customers but it was hard because man, you could be doing so much with your life," Martin said. But he'd been to prison, which limited his job opportunities.
Another man asked that the teens pray for his safety as he went about his job of stealing. He justified his lifestyle by saying he no longer hurt people, but he said there was nothing else he could do that would make as much money.
"He said, 'that's my job, that's what I do, so just pray that God blesses me and watches over me,'" Martin recounted. The man had a rough-looking friend standing to the side. The man asked his friend to come get prayed for, but the man refused, saying, "No, I'm not a hypocrite."
Another homeless woman started crying talking about her daughter who is 14 now, but had been taken away from her when she was 2. "She said, 'I hope I see her some day,'" Martin recounted.
Another resident of the Tenderloin was a prostitute in her 50s, who had an unexpectedly upbeat attitude. She'd been a long-term drug user who had no teeth left. She was "just doing what she could do to get by, and that was all she could do, was the way she looked at it," Martin said. "And to be honest, it's hard to argue with that."
"What was amazing about her is she was as upbeat as any people you could meet," Martin said. "She's like, 'I'm doing really good.'"
The meal delivery was also an eye opener. Residents lived in former motels, each having a single motel room as their residence.
"Sometimes there's a dozen people living in there, sometimes there's two families. Think about basically a motel size is your whole house, one bathroom, the whole bit. Maybe one person in there is doing crack, and your mom is a prostitute and she's bringing people back."
"That reality hit me there, all that reality is happening there. The kids are living there. There's nowhere to hide."
A highlight of the trip was hearing the testimony of one of the workers with City Impact, who grew up in the Tenderloin. She told of stepping over her first dead body at age 12 or 13. Both her parents died when she was young and she was on the streets at a young age. "But God reached out to her through all of that," Martin said.
"Here was someone who saw drug deals and prostitution and murders, and now has turned her life around. Why? Because there were people that had an impact on her life," Martin said.
Martin said another lesson he wanted the teens to understand was that those problems also exist in The Dalles, but are more hidden.
He wanted the teens to come back home and reach out to their peers who might be struggling.
"My big thing is, this is not about a week in San Francisco, it's about changing your life so you make a change wherever you're living, including The Dalles," Martin said.
"You could be that person that makes a difference" in someone else's life, he said. "I think the compassion was amplified. They were saying, 'Ok, I can't continue to know there's a need and do nothing about it.'"
"You think this only goes on in big cities. I've been in homes in The Dalles and you can't believe there's people living in them, let alone kids."
Poverty and drugs are "a lot more rampant than kids know," he said.