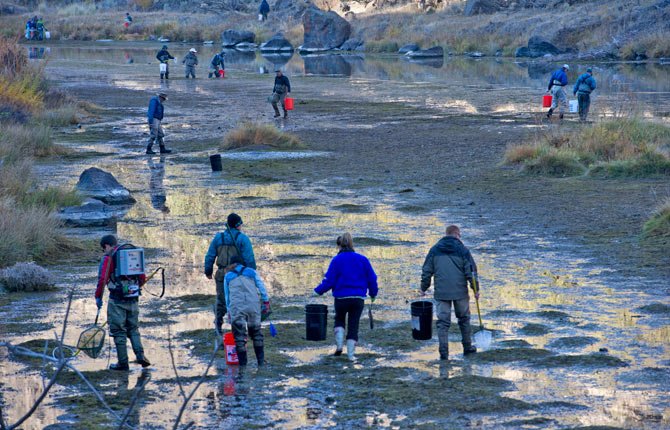 PRINEVILLE, Ore. (AP) — Workers are removing a dam that began when, more than a century ago, a Central Oregon homesteader dumped rocks and logs into a river to divert water to his pasture.
A contractor began dismantling the Stearns Dam on the Crooked River south of Prineville last week after more than a decade of negotiations and planning.
It's expected to take two or three weeks to restore the river, clearing the way for salmon and steelhead, the Bulletin newspaper of Bend reported.
The Crooked River Watershed Council led a tour Thursday to show the progress.
An excavator plucked out rocks and logs, and the river flowed more quickly. The pool behind the dam began shrinking, and about 25 volunteers waded out to dip nets into puddles to rescue stranded fish, which were returned to the stream.
The cost of removing the dam — about $350,000, depending on restoration work — comes from the Oregon Watershed Enhancement Board, the federal National Oceanic and Atmospheric Administration and the conservation group American Rivers.
The project is the latest in efforts to bring back Central Oregon salmon and steelhead. Passage around or over the Rice-Baldwin Dam a mile downstream must also be created.
"There are more challenges," said Michelle McSwain, assistant field manager with the Bureau of Land Management in Prineville.
The dam was named for homesteader Sidney Stearns, who started it in 1911. Over the next two decades, ice blocks and other debris battered the dam, and the family regularly repaired it, said Chris Gannon, executive director of the Crooked River Watershed Council.
In 1934, the Stearns family reinforced it with concrete. The water right connected to the dam now belongs to the Quail Valley Ranch, but it's been decades since it diverted water there. Instead, river water is drawn farther downstream. The dam is on land overseen by the BLM.
The dam is about 12 miles downstream from Bowman Dam along state Highway 27. Of those dozen miles, eight are protected under a wild and scenic designation by the Bureau of Land Management, McSwain said.
Information from:
The Bulletin, www.bendbulletin.com
Copyright 2013 The Associated Press. All rights reserved. This material may not be published, broadcast, rewritten or redistributed.