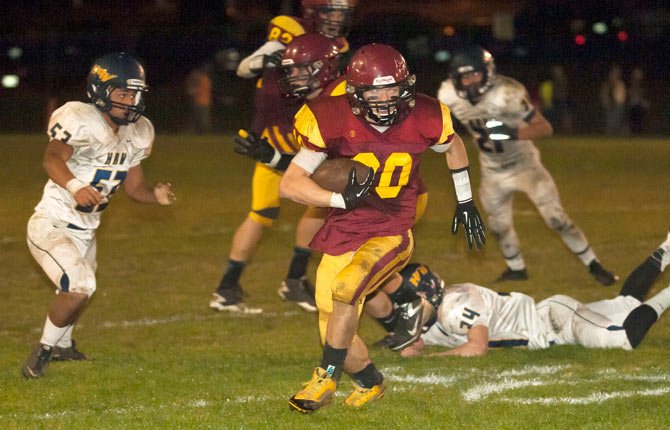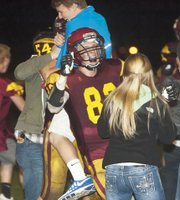 All hope seemed to be lost.
Those postseason dreams a distance away.
In the blink of an eye – click – everything came together.
It all started with a blocked kick, then 'The Drive,' and after that, an overtime score, capped by a defensive stand.
And just like that, The Dalles Wahtonka football team made Friday night at Sid White Field a scene taken straight from the silver screen with a 28-20 overtime triumph over cross-town rival, Hood River Valley.
As senior lineman Mike Pifer put it in his team's postgame huddle, "We planned it that way."
"It was a struggle," said TDW head coach Steve Sugg. "It was a typical rivalry game. It went back-and-forth. Our offense struggled all night until the end. Our kids sucked it up. I have to give them credit. They had that never-say-die attitude and they kept coming back. They made plays at the end when they had to."
With two minutes and 14 seconds left in regulation and the visiting Eagles leading, 20-14, Hood River Valley coach Chad Sperry sent out his field goal unit to add the final nail in the coffin for a 24-yard chip shot field goal – Tribe senior Billy Brace had other plans, however.
The linebacker snuck in from the left side of the line, leapt in the air, and got a fingertip on the ball, negating the three points.
A new life.
TDW retained possession on its own 20-yard line with no timeouts and 2:09 on the watch.
Tribe quarterback Chaise Shroll and the offense then went to work on an 11-play, 80-yard drive where a third down and a fourth down were converted.
Shroll first hooked up with Austin DeHart for 21 yards to move the ball out to the Eagle 41.
Two incomplete passes later, Shroll found senior running back Blake Diede on a third down and 10 for another 20 yards to move the sticks yet again for a first down at the Hood River 39 with 1:31 on the clock.
"I don't know. We just had a feeling that we could tie the score," Diede said. "It was up to us to execute. You don't feel nervous or excited. You are just in the moment."
After an HRV timeout, Shroll hit Nerdin for 13 yards to put the ball at the Eagle 26 with time running out.
On second and 10, Shroll hit running back Devin Wilson for eight yards to make third and 2 from the HRV 18.
Tick, tick, tick.
Shroll then misfired on a pass to make it fourth down and 2 with 31 ticks left on the watch.
The outcome of the game hung in the balance.
A capacity crowd was in silence ready to see what would unfold.
Time was the enemy.
All game long, Hood River had found a way to make the stops.
"They were tough," DeHart said of Hood River's defense. "We knew they were not going to give us anything, we had to take it. Our offense struggled a little tonight, but we never stopped believing that we could get it done."
On fourth down, Shroll rolled to the right and fired a bullet to DeHart for 10 yards and a fresh set of downs.
The clock was moving.
An incomplete pass held things in order for the time being.
On second down from the HRV 8, Shroll rolled left and found a closely guarded Austin Wilson.
Shroll cocked, made the throw, Wilson snared the ball and was hit hard – the call?
Touchdown – game tied at 20-apiece.
For a team that rarely attempted field goals or extra points, the Eagle Indians attempted the kick to break the deadlock and gain the lead for the first time all game.
Bad snap. Overtime.
"We knew coming into this that Hood River was a good team, a lot better than their record shows," Nerdin said. "We knew we were going to have to play four quarters, in this case, five, to get this win."
TDW won the toss and had the first shot at scoring from the Hood River 25.
On second down and 10, Shroll found DeHart open on a slant play for 25 yards and the score to make it 26-20.
No kick this time – Shroll and DeHart matched wits for the conversion to move TDW in front, 28-20.
The once quiet crowd had something to cheer for.
Those postseason hopes still had a pulse.
Hood River's Riley Van Hoose had his team on the TDW 25 looking to even the score again.
The southpaw completed a 16-yard pass on the first play to make it first down and goal from the Eagle Indian 9.
After a false start penalty, Van Hoose took the snap from the 14.
He moved to his left to avoid pressure and lofted a pass for one of his receivers, but TDW defensive back Devin Wilson snuck in front with an acrobatic interception to end the game.
Fans spilled onto the field in celebration.
Hugs and embraces ruled the moment.
Sugg was doused in a Gatorade bath.
Senior linebacker Kauone Sefo led the team in its celebratory chant.
A look into the eyes of the players after an emotionally draining night of football spoke volumes – relief and redemption.
Instead of equipment check-in on Monday, the Eagle Indians prepare for the playoffs next week against an unknown opponent.
At long last.
They planned it that way.
"Honestly, I never felt like a night like tonight would ever happen," Diede said. "Like everyone else, I had my doubts. Starting from last spring, this entire season we have come out and believed. It shows right out here. We have been working our tails off all summer, fall and spring and it is showing right now."