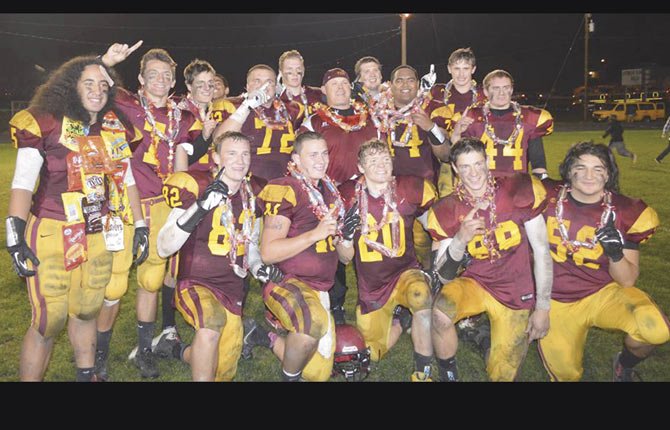 If any group of young men epitomizes the term, "It is not how you start, but how you finish," it is the 14 seniors representing The Dalles Wahtonka football.
In the course of four years, the seniors have endured back-to-back one-win seasons, multiple lopsided losses and feelings of frustration and anger.
With the influx of new head coach, Steve Sugg, and a new philosophy came a new era of winning and excitement – a reason to embrace a football life.
"Coach Sugg and his staff have done great," said senior tight end Zach Nerdin. "They got our offense rolling and put in some good defensive schemes. It is incredible. We have come in every week ready to play our hearts out."
The Tribe blazed a new trail of success this season with five wins, a top-16 ranking and a playoff spot after taking a dramatic 28-20 overtime win over Hood River Valley Friday night at Sid White Field.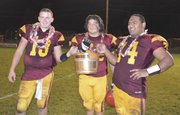 They have had wins over Benson, Crook County, Summit, Jefferson and Hood River.
Three of those wins came against teams that beat them in 2012.
It has been a long journey to get to this point.
"If you would have told me two years ago or last year that we would be going to the playoffs, I wouldn't have believed you honestly," said senior CV Regalado.
"In the last couple of years, I felt like we weren't mature enough or ready for the game, but this is a different season and a different time. We improved much more than we had in the last two years."
One cannot point to one player as the hero from Friday's win, but this group, while faced with adversity all game long, persevered until coming on the winning end.
Down 3-0 at halftime and 17-6 midway through the third quarter, the Eagle Indians never gave in.
Maybe in years past, the players would have closed shop and started thinking about their weekend plans or the start of basketball.
Not this time.
Whether it was words of encouragement in a huddle, a big hit or a clutch catch, the players flipped the switch.
Several seniors had a hand in the comeback.
On the line, Mike Pifer, Regalado, Connor Shortt and Lio Tunai opened holes for the running backs and allowed Shroll an opportunity to complete his late-game passes.
Nolan McCall had some long runbacks and gave the Tribe defense good field position on booming punts.
Zach Cantrell had a few stops at cornerback and subbed in for a few possessions at quarterback with 10 yards passing and four yards rushing.
Blake Diede had a 64-yard touchdown run at the start of the second half, Chaise Shroll added a 39-yard scoring pass to senior wideout Austin Wilson at the 1:37 mark of the third quarter and Kauone Sefo had an interception to stop a Hood River drive.
They never gave up.
"You know what keeps us going is that there were a lot of people who doubted we could ever win," said senior Zach Nerdin. "That kept us going when we were too tired or didn't have it in us. We would find that something extra to motivate us more to prove people wrong."
Perseverance is the apt word to use with this group of veterans.
In the midst of early struggles as sophomores and juniors, doubt crept in and there appeared to be no new hope on the horizon.
Innocently enough, the leaders on this football team organized workout sessions and running routines at the start of their senior year.
"I don't think anybody else knows, except for us, how much work we put into this," Regalado said. "We spent nights until two in the morning at Amaton Field playing football, just tossing it around. Summer workouts with our new coach, we were iffy at first, but he took us to a new level."
DeHart is not one to cry over spilled milk, however.
He uses past experiences as a learning tool to make him a better teammate and a better person.
"The past is the past. I am not concerned about the past. It is all about right now," DeHart said. "This is what time it is. We won and this is what we needed. It feels good."
Several years down the road, the seniors can fondly reminisce about the trials and tribulations they went through together in a daily fight for respect.
They can share a few laughs, share war stories and trade barbs over missed tackles or practical jokes pulled while on the bus or in the locker room.
It is the feelings of respect and admiration they had for each other every Friday night when they went to battle on the gridiron.
It is a feeling unmatched in any other walk of life.
"The seniors here, we are so close," said senior Billy Brace, who blocked a field goal late in the fourth quarter of Friday's tilt. "All of the seniors are best friends. We spend most of our time together. We always hang out. We just like to work as a unit. We push each other, for better or worse. We are a family. We will always be a family."