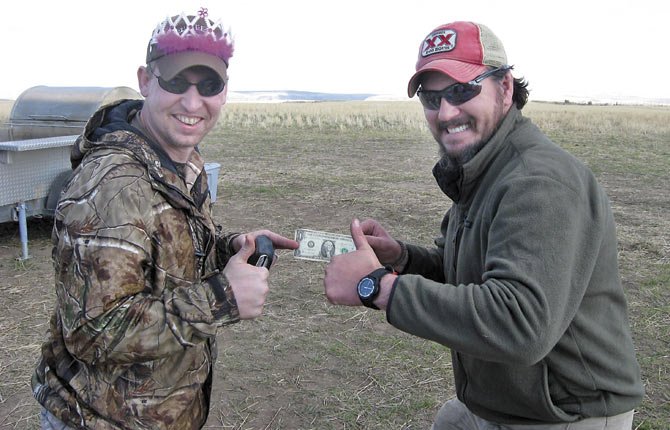 Army veteran Cody Standiford thought he had won a $1 wager with Lucas Wilson, a former Oregon National Guard soldier, after he was first to shoot a doe during a weekend hunting trip for wounded warriors.
"Placing a high stakes wager on who could kill a deer at the longest range upped the ante considerably," said Standiford.
He based that comment on Wilson returning exhausted and empty-handed Oct. 12 to the hunting camp on the ranch of Bill and Barbara Hammel in South Wasco County.
Wilson, who also spent three years as an Army Ranger, had spent a long day climbing in and out of ravines and low-crawling more than 200 feet to even get a shot at his prey on the property of Larry and Vicki Ashley.
Having a prosthetic left leg hadn't slowed him down in the quest to best Standiford. Their contest had been the source of several taunting, but good humored, email exchanges in the weeks before the hunt.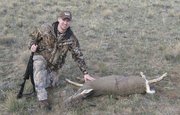 Creeping along the ground with a belly full of pulled elk, homemade coleslaw, baked beans, biscuits and peach cobbler had challenged Wilson, who feared at one point he might lose his lunch. The mid-day feast had been served at the Ashley home.
Joining Wilson at the table was Scott Neet, an Army veteran, Fred Coleman, a firefighter/medic with Mid-Columbia Fire and Rescue, and Mike Caldwell, retired Oregon State Police trooper.
"They were all such honored guests, they deserved to be spoiled," said Vicki, who decided against using paper plates and set up a table in the garage with fine china and cutlery to accommodate the hunting party.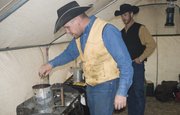 Coleman chairs Outdoor Adventures for Military Heroes, a committee of the Gorge Heroes Club that organized the event. He was given the lead position with the group due to his experience with Ducks Unlimited, a national nonprofit organization. Caldwell is also on the committee, as is Wasco County Chief Deputy Lane Magill, Mid-Columbia Fire and Rescue Firefighter/Medic Hal Woods, a former Marine with combat experience, and Keith Nantz, general manager and partner of Dillon Land and Cattle Company of Maupin.
Outdoor Adventures formed earlier this year and received start-up funds of $5,000 from Eid Passport, Inc., of Hillsboro. A contribution toward the committee's support activities was made later in the year by Bob Stone Freeway Auto Center of The Dalles.
Standiford and Patrick Wilbern, a staff sergeant in the National Guard, were accompanied on their hunt by Bill Hammel and Woods. With more level terrain to navigate than his competitor, Standiford managed to kill and field dress his doe by noon on the first day of the hunt.
Wilbern also got his deer during the morning hours so they returned to camp on the sprawling Hammel property and kicked back in front of a warm stove to enjoy a hearty meal prepared by cowboys Nantz and Eric Hyatt, a former Marine.
The two veterans had already eaten tender slices of beef with several side dishes and a dessert of homemade chocolate cake baked in a Dutch oven by the time Wilson and Neet returned about sundown. Once the exhausted duo had filled their plates, the warriors and emergency responders got down to a serious discussion about how to resolve the problems of the world.
Wilbern was also provided with gag gifts and mostly nonsensical advice to commemorate his recent promotion.
Although Wilson graciously consented to wear the pink princess crown reserved for the contest loser Saturday night, Standiford realized that, with only a 53-foot head shot, he remained in a vulnerable position.
"I knew that if Lucas quit dorking around, he could take it," he said.
That prediction came true on Sunday morning when Wilson dropped a deer at about 15 times the distance of Standiford's shot — but opted to keep the crown for one of his daughters. Wilson and his wife Tonya reside in Hermiston and have six children in a blended family. He lost his leg in a Rocket Propelled Grenade attack on the second day of his 2004 deployment to Iraq.
"That is the best dollar I've ever spent," said Standiford, who suffers chronic pain from having a cadaver bone grafted into his right leg. He was injured in hand-to-hand combat with an insurgent during a 2006-07 deployment to Iraq. He and his wife, Diane, reside in Bend with their two sons.
Vicki Ashley took on the task of skinning Wilson's doe, which she said is a custom for anyone who is successful during a hunt on the ranch.
"When he got here Sunday it was 'do or die' and he was going to get that deer," she said. "This was the first time that I have really been around combat veterans and I wasn't sure how Lucas would do but he was everywhere, hunting like everyone else."
Woods, who fought in Operation Desert Storm, said it was interesting to watch the dynamic develop between the hunters, landowners and other members of Outdoor Adventures. They met at the camp for a steak dinner Friday evening and it wasn't long before a tent full of strangers was laughing and trading jokes.
"These were hardened combat veterans and some of the people involved were unsure how to treat them," said Woods. "But they learned through this experience that these veterans were just human beings like everyone else. They took on a job that nobody else should have to do so it felt really good to provide them with a good time."
Like Wilson and Standiford, Neet experiences PTSD (Post Traumatic Stress Disorder) issues after taking on the grisly task of preparing the bodies of fallen warriors for transport home during a 2007-08 tour of duty in Iraq. He and his wife Tatiana live in The Dalles with their new son.
"The Hammels and Ashleys made us feel like we were part of the family," said Wilbern. "They provided help at the drop of a hat, no matter what, no questions asked, and gave us an unforgettable experience."
He was the only member of the hunting party who still serves and is currently assigned to Alpha Company of The Dalles Armory. He endures chronic back pain, along with severe migraines and seizures tied to a traumatic brain injury that occurred after a roadside bomb exploded under his vehicle during a 2010-11 deployment to Iraq.
"I thought it was a wonderful experience to get together with other veterans, we had a good camaraderie even though we didn't know each other," said Wilbern. "Getting to be around other people with the same issues makes you feel understood and better about life because someone else is going through the same things you are."
He said being outdoors is peaceful and exhilarating, a feeling shared by Standiford, Wilson and Neet, who did not get a deer on his first hunt but picked up tracking skills.
"Words cannot adequately describe how much fun I had," said Standiford. "The company is truly what made the trip memorable, not to mention the food."
Coleman said the highlight of his weekend was watching the veterans have fun, the reward for many hours spent on logistical planning to make sure they had everything needed for a weekend of challenge and relaxation. All expenses for the trip, including gasoline and the cutting and wrapping of meat, were covered by the committee.
"It was the absolute least I can do for all these veterans have given me," said Coleman. "I look forward to working with the next group of veterans and getting to know them as well."
Caldwell credits the success of the venture to having plenty of funding to cover expenses and the generosity and graciousness of the Hammels and Ashleys. He said both families have offered the use of their properties again but the list of area ranchers waiting to serve as hosts is long, so other people are likely to be given the opportunity next year.
"After several months of planning, it was great to get 'boots on the ground,'" said Caldwell. "It was a very humbling experience. I am blessed to be part of a team that totally focuses on our combat veterans."
He said the individuals involved in the inaugural hunting trip were known to either members of the committee or heroes club and selected to provide feedback about what worked and what could be improved upon. He said that knowledge will be incorporated into the next hunt that will take place by a lottery system to ensure an equal opportunity for all interested warriors. He said names will be taken of potential hunters until early spring, when a drawing will take place to select participants.
The ultimate goal of Outdoor Adventures is to have a variety of activities available to combat veterans each year, including rock climbing, hiking, fishing and off-roading.
Standiford and Wilbern have already met up since the hunt and are planning to track ducks with Woods in the near future.
"Getting together like that was a wonderful experience for all of us," said Wilbern. "I think we all took something away from it."
For more information, or to throw your name into the hat for a future hunt, call Caldwell at 541-993-6222 or email mkcaldwell@charter.net. Donations can be sent to Outdoor Adventures with Military Heroes at P.O. Box 9, The Dalles, OR. 97058.