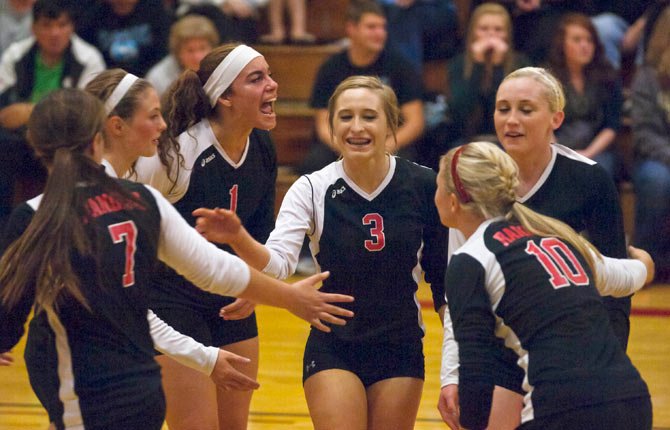 The No. 2 Dufur Rangers did not complete their quest in earning a Big Sky Conference district championship, but they did chalk up a state play-in slot.
From this point on, anything can happen.
The Condon-Wheeler Knights got 26 kills from Ellie Logan to score a four-game victory over the Lady Rangers Saturday afternoon in Dufur to preserve their second consecutive district title.
"We came in focused and ready to go," said Condon setter Bailey Harrison. "We knew Dufur is a tough team and we needed to get off to a good start to get ahead. I thought we passed well and it helped our offense get going to beat them."
Condon-Wheeler broke the seal on Saturday's match with a 25-18 winner to stake early momentum.
Dufur battled back in Game 2 with leads of 10-4, 15-5 and 20-12 before things go interesting late.
Condon erased the eight-point deficit with a 12-4 run capped by a block from Logan to tie the score at 24-apiece.
However, Dufur's Teneille McDonald had a kill, and then Condon fired a kill attempt out of bounds for the final two points, as Dufur claimed a 26-24 win to even the match at 1.
As the match went on, Condon-Wheeler gained more steam and posted wins of 25-13 and 25-20 to secure the district crown.
Matney Jamieson had nine kills, Harlee Woods tacked on 19 digs and the team served at a 45 for 55 clip with seven aces.
Harrison had 43 assists and four kills, and Deana Harris checked in with 14 digs to pace the Knights.
Dufur coach Kelly Darden said it was a tough way to lose. She felt her squad needed to serve tougher and attack smarter.
"It was a good match. There were some good hustle plays here and there and some good hits and stuff, but they just bounced back," coach Darden said. "We were scratching and clawing just to stay in the match, and they just played solid and we did not."
Taylor Darden picked up 12 kills, and 12 digs, and Teneille McDonald padded her stats with 10 kills, two blocks and eight digs.
Alexa Macias passed off 14 assists and had 11 digs, and the combination of Kyla Johnson and Montana Ferres racked up five aces, 24 digs and a block.
Dufur hits the hardwood again at 5 p.m. tonight at home against Cove, out of the Old Oregon league.
All that stands in the way of another trip to the state site is two wins.
Saturday's match had far less to do with the end result the Rangers are searching, but dealt more with adding another brick to the building process.
"I told the girls that this was not the end of our journey," Darden said. "It just really tells us we have got to get back in the gym and we got to get to work. We have to get after it and be more mentally tough. There is still a lot left to our season. They have to make that choice that they are here for the duration and do whatever it takes to get to Redmond."
Redsides lose in five to Ione
South Wasco County head coach Ron Townsend hated to see his varsity volleyball team come so close to earning a state play-in spot only to see Ione pull the rug right from under them.
The Ione Cardinals battled back from a 2-1 deficit with wins of 25-21 and 15-12 to defeat the Lady Redsides in five games in the consolation rounds of Saturday's Big Sky Conference district championships at Dufur High School.
Even in defeat, Joy Kelly had tears in her eyes, but she could only express praise to her team.
"Words can't explain how proud I am of this team," Kelly said. "In the last three years, we have improved so much. We have become closer and stronger and fought our hardest. We did not make it to state, but I still feel like we accomplished a lot more than anybody thought we could."
One of the pivotal moments of the match came in the first game where SWC had four set points, but could not get the clincher.
Ione survived long enough to reel off the final two points on a kill and an ace by sophomore Rachel Holland to give the team a 28-26 decision.
Not ruffled by that outcome, South Wasco County then came back to win the next two games by scores of 25-16 and 25-15 to take a 2-1 match lead.
SWC trailed for the entire fourth game, once by as much as five points, but stayed within range.
A kill by Roxanne O'Neal drew the Redsides to within 24-21, but then on the ensuing serve, the ball went long and Ione won the set, 25-21 to force the fifth game.
In the fifth game, SWC got a kill from O'Neal to tie it at 12-apiece, but then the Redsides had two kill attempts sail out, and Ione's Jessie Flynn slammed down the match-clinching kill.
Ione is on the road Wednesday night for its state play-in match.
"We had too many unforced errors and some missed serves at crucial times," said coach Townsend. "It wasn't because of a lack of effort that we lost."
From the very beginning, Townsend signed on three years ago and saw so much development from this group to the point where they were highly ranked and a tough matchup for any team they came across.
They were the type of players who expected a lot out of themselves.
He was emotionally invested, so it hurt to see the season end abruptly.
"This is a really good group of girls," Townsend said. "They work hard and they are nice kids. I feel bad for them that this is the end of their season. For the last three years, they have bought in to playing power volleyball and play the game the way it should be played. I am awful proud of them for that. It just wish they could have had a little more success with it."